Energy companies, besides financials, are my favorite cyclical sectors for 2014 and 2015. Energy companies, including exploration and service firms, profit from rising energy demand which will be driven by emerging market economies in the coming decades. Latin America and Asia, which include the largest and fastest-growing emerging market economies, will continue to rely on fossil fuels for many more decades as a transition to alternative energy sources is politically not endorsed in developing countries. At the same time, the US and Europe are still heavily dependent on either domestic (as is the case in the United States) or offshore (in the case of Europe) oil and gas exploration growth. Oilfield service companies like Halliburton (NYSE:HAL) offer oil and gas majors drilling, monitoring and evaluation services in order to optimize exploration processes. As such, Halliburton's engineering services are key in order to access commodities that are in high demand by both developed and developing countries. Consequently, Halliburton's know-how is being used around the globe and its extensive drilling experience makes the company one of the premier contractors in the oil and gas exploration sector.
Q4 2013 results revisited
For the fourth quarter of 2013 Halliburton reported income from continuing operations of $798 million ($0.93 per diluted share) compared to $745 million ($0.83 per diluted share) in the third quarter of 2013 which represents a q-o-q increase of 7.1% (12.0%). Analysts expected earnings per share of $0.89 while Halliburton delivered a 4.5% EPS outperformance. Halliburton's revenue for the fourth quarter 2013 came in at $7.6 billion vs. the $7.5 billion booked in Q3 2013. Halliburton also booked record total revenues of $29.4 billion in 2013 compared to $28.5 billion in fiscal year 2012 (up 3.2% y-o-y).
Chief executive officer and Chairman Dave Lesar praised the company performance for the fiscal year 2013 and remained upbeat about 2014:
For the full year, Eastern Hemisphere had industry-leading revenue growth, increasing 17% year-over-year, with a 23% increase in adjusted operating income. In 2014, we expect low double-digit year-over-year growth in Eastern Hemisphere revenue, with quarterly margins consistently higher each quarter on a year-over-year basis, approaching 20% by year-end and averaging in the upper teens.
12-month trailing share performance
Halliburton is the best performing oil and gas equipment and services company in the sector as shares of Halliburton have gained 31% of value since last year. Halliburton reached a new 52-week high in November and has been trading weakly since then. Shares are down nearly 2% after the company announced an earnings beat mainly because investors reacted sensitively to Halliburton's disappointing performance in Brazil.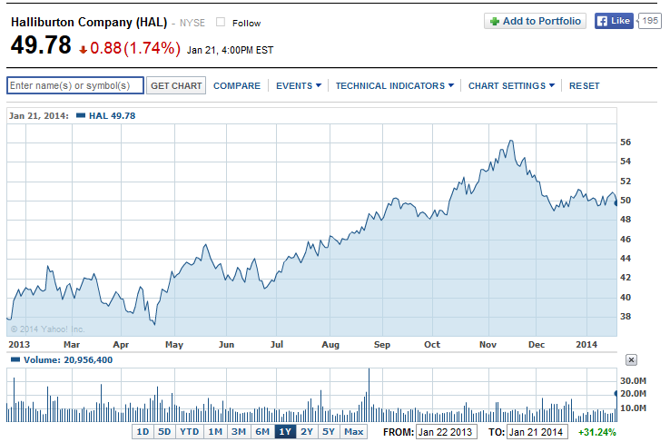 Click to enlarge
Halliburton's outperformance, over a five-year measurement period, is quite striking especially when compared to peer firms Weatherford International (NYSE:WFT) and Baker Hughes (NYSE:BHI). Shares of Weatherford International gained a mere 35% over the last five years and they clearly didn't turn out to be a lucrative bet for shareholders. Baker Hughes, which also delivered an earnings beat yesterday, returned 76% while Schlumberger (NYSE:SLB) gained 122% and Halliburton 173% over the same time period. Halliburton has been a favorite of investors for a long time.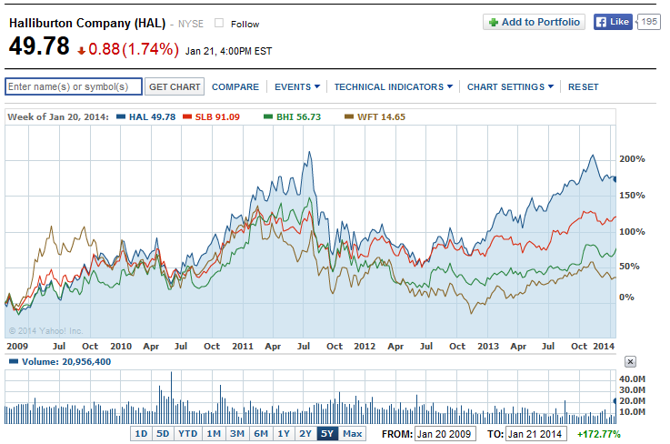 Click to enlarge
Peer group valuation
One of the things that I really like about Halliburton is that the company trades at a reasonable valuation even though the stock price has increased more than 170% over the last five years. Halliburton is quite good value considering that the company's drilling expertise is in high demand and gaining access to deep oil and gas reservoirs is getting harder and becoming more expensive. Halliburton trades at less than 12 times forward earnings which is equivalent to an 8.4% earnings yield. With the exception of Weatherford International, other peer firms fetch higher multiples: Schlumberger, which I think is not a good bet for investors based on its low free cash flow profitability, trades at nearly 16x forward earnings whereas Baker Hughes trades at 14 times forward earnings.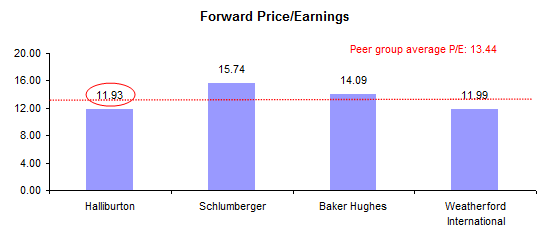 Investors in oil and gas equipment and services companies can expect that their total return will largely be driven by capital gains. Companies in the sector don't have a reputation for remunerating shareholders with high dividends. Income investors who look for steady, predictable income should probably take a look at the telco and utility sectors of the stock market. If investors also desire exposure to energy companies, master limited partnerships that operate a set of midstream assets might be worth a look as well.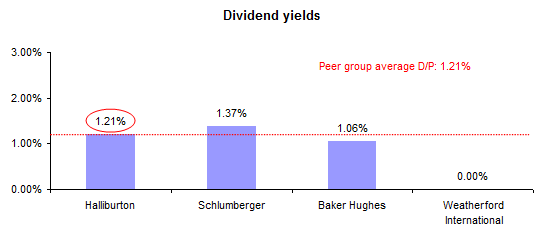 The table below summarizes the results from above and shows that Halliburton trades at an 11% discount to the average oil and gas equipment and services company in the peer group.

Click to enlarge
Conclusion
Investors who share my bullish outlook for stocks and for cyclical companies in particular, could consider Halliburton to gain exposure to the energy sector. The main theme that works to the benefit of Halliburton is that the process of commodity exploration is becoming increasingly difficult, complex and expensive. Experienced contractors need to assist oil majors with feasibility studies, project management, control activities and, of course, drilling itself as those activities are oftentimes outsourced. Halliburton's strong business expertise and good standing with oil majors suggests that the company will benefit from increasingly complex deal work in the future and Halliburton seems to me to be the best value in the oil and gas service sector. I also stand by my assertion that Halliburton could trade at a multiple of 15 when the market prices energy and service companies more optimistically. Since Halliburton currently trades at a forward P/E ratio of 11.93, this implies upside potential of 26% for shares of Halliburton (not accounting for material EPS changes). Long-term BUY on performance results, record annual revenues, good chances of EPS surprises in the coming quarters and a low relative valuation.
Disclosure: I have no positions in any stocks mentioned, and no plans to initiate any positions within the next 72 hours. I wrote this article myself, and it expresses my own opinions. I am not receiving compensation for it (other than from Seeking Alpha). I have no business relationship with any company whose stock is mentioned in this article.