In a column yesterday I started a series of articles exploring the huge impact the "fracking" boom is having on domestic energy production and how tens of billions of annual capital expenditures are being allocated to build the facilities (pipelines, storage facilities, gathering systems, refineries, etc. …) to handle this new found bounty. This build out is in the early innings and should supply numerous investable opportunities for years into the future.
Today we will take a look at a couple of high yield plays that are riding this energy production boom to profits. I hold both within my income portfolio.
CVR Refining, LP (NYSE:CVRR) engages in the refining of petroleum in the United States. It owns one oil refinery located near Cushing, Oklahoma; and the Wynnewood crude oil refinery located approximately 65 miles south of Oklahoma City, Oklahoma. The company also owns and operates approximately 350 miles of feeder and trunk pipelines; 125 crude oil transports; 6.0 million barrels of owned and leased crude oil storage capacity storage tanks.
The stock had a tough year in 2013 and was a horrid performer while the market shot up ~30% during the year. The decline was caused by weakening crack spreads during the summer, significant downtime for its fluid catalytic cracking unit in Coffeyville and higher interest rates which impacted almost all high yield equities. However, over the past few months the stock looks like it has put in a bottom (See Chart).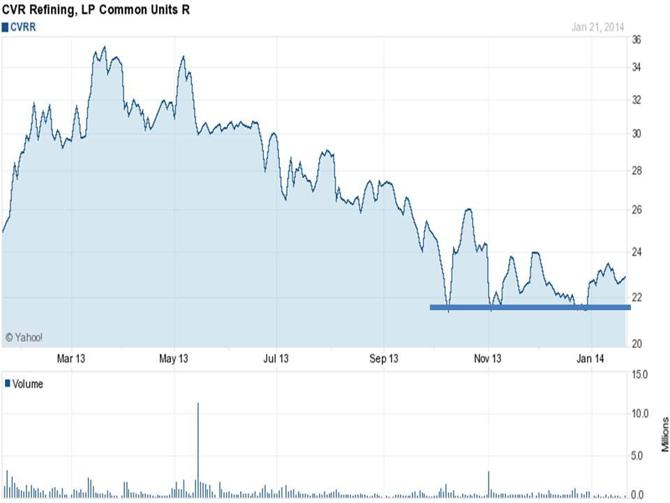 On the bright side for investors, the company did pay out $3.13 a share in distribution payouts during the year in three different payments. The shares are also cheap at under 5x this fiscal year's estimated earnings. In addition, like all refiners the company should benefit from the recent widening between WTI & Brent oil prices as well as the relaxing of the EPA's biofuel mandates in 2014. The company has more than tripled operating cash flow since the end of FY2010.
Tesoro Logistics LP (NYSE:TLLP) assets consist of a crude oil gathering system in North Dakota and Montana, eight refined products terminals in the Midwestern and western United States, a crude oil and refined products storage facility, and five related short-haul pipelines.
Revenues grew over 90% in FY2013 and analysts believe another 60% increase is in store for FY2014. A good portion of this growth will be driven by a recent acquisition. The company recently purchased two marine terminals, a marine storage terminal, a products terminal, a petroleum coke handling and storage facility, more than 100 miles of active crude oil and refined products pipelines, and other related properties, for $650M from its previous parent Tesoro (NYSE:TSO). This acquisition significantly increases the size of the entity and should power growth in revenues, cash flow and payouts in the years ahead.
TLLP yields over four percent (4.1%) and Tesoro Logistics has raised its payout by over 60% since coming public in 2011. Insiders have been small net purchasers of the stock over the past year. The mean price target by the 10 analysts that cover the shares is $62 a share, ~15% above the current price level of TLLP in the market. Merrill Lynch recently upgraded the shares to a "Buy" and Tesoro Logistics is one of its top picks in the energy master limited partnership sector.
Disclosure: I am long CVRR, TLLP. I wrote this article myself, and it expresses my own opinions. I am not receiving compensation for it (other than from Seeking Alpha). I have no business relationship with any company whose stock is mentioned in this article.