Editors' Note: This article covers a stock trading at less than $1 per share and/or with less than a $100 million market cap. Please be aware of the risks associated with these stocks.
Founded as a garment manufacturer in Hong Kong after the Second World War, Lai Sun Garment (OTC:LSIHF) has today morphed into a diversified conglomerate with interests in commercial and residential property in Hong Kong and The People's Republic of China, hospitality, media and entertainment industries.
LSG (HKG:0191, OTCMKTS:LSIHF) acts as a holding company which owns roughly 50% of another HK listed corporation, Lai Sun Development company (LSD). LSD (HKG:0488) is a property investment and development company and also owns roughly 40% stake in another HK listed corporation, eSun Holdings. eSun Holdings (HKG:0571) is in the media business and also holds roughly 50% stake each in two more listed corporations: Media Asia Group Holdings (HKG:8075) and Lai Fung Holdings (HKG: 1125). Lai Fung Holdings (LFH) invests and develops in property market in Mainland China.
The somewhat complicated corporate structure is shown in the below graphic:
The Opportunity
At the time of this writing, LSG and its subsidiaries trade at incredible discounts to their net asset values (NAVs). The various NAVs and current market prices across the group are shown below:
| | | | | | |
| --- | --- | --- | --- | --- | --- |
| Company | Stock Price | Market Cap | NAV /share | Discount to NAV | P/E Ratio |
| Lai Sun Garment | 1.12 HKD | 2.1 Billion | 6.8227 | 83.6% | 1.15 |
| Lai Sun Development | 0.199 HKD | 3.99 Billion | 0.9534 | 79.1% | 1.57 |
| eSun Holdings | 0.970 HKD | 1.21 Billion | 6.6818 | 85.5% | - |
| Lai Fung Holdings | 0.197 HKD | 3.17 Billion | 0.7094 | 72.2% | 4.20 |
(All figures except P/E in HKD; 1 USD = 7.75 HKD)
These discounts seem excessive considering that all the companies across the group are conservatively financed with gearing ratios well within tolerable limits.
| | |
| --- | --- |
| Company | Debt/equity ratio |
| Lai Sun Garment | 28% |
| Lai Sun Development | 13% |
| eSun Holdings | Net Cash |
| Lai Fung Holdings | 4% |
All these companies have traded at much less discount to NAV in the past. I believe that LSG may be trading at such deep discount to NAV due to the current temporary aversion of the market towards Hong Kong and China based real estate companies. The aversion may have resulted from the efforts of the Hong Kong and China governments to tighten the residential property market since 2010-11 to make housing more affordable. These efforts have not yielded much result till date but the possibility of a mild correction may not be completely denied. However, it is important to note that Lai Sun's NAV does not derive only from residential property but also from commercial property and other diversified businesses.
Relative Valuation
An important question must be raised: Is it normal for Hong Kong based family-run conglomerates, with interests in the property market, to trade at steep discounts to NAV? Here is a list of such conglomerates:
| | | | | |
| --- | --- | --- | --- | --- |
| Company | Stock Price | Market Cap | NAV /share | Discount to NAV |
| Lai Sun Garment | 1.12 HKD | 2.1 Billion | 6.8227 | 83.6% |
| Wheelock & Co. | 34.9 HKD | 70.9 Billion | 74.800 | 53.3% |
| Cheung Kong Holdings | 121.6 HKD | 282 Billion | 144.1362 | 15.6% |
| Henderson Land | 44.9 HKD | 121 Billion | 84.95 | 47.1% |
| Hang Lung Properties | 24.6 HKD | 110 Billion | 26.34 | 6.6% |
(All figures in HKD; 1 USD = 7.75 HKD)
Relatively speaking, Lai Sun is selling at by far the highest discount and the bridging of discount to even 50% will lead to tripling of the shares. It is to be noted that these companies do not always sell at such discounts. Lai Sun was selling at 50%-60% discount as recently as three years ago. Since then, NAV has more than doubled but the share price hasn't followed at the same speed resulting in a much wider discount even though the shares have appreciated.
The Quality of Assets
When there is such a large discount to readily available NAV, it is important to check whether the assets are of high quality or low. Since the commercial property market is much more immune to temporary price fluctuations than residential property, we can check the rental income that Lai Sun group's commercial properties are earning: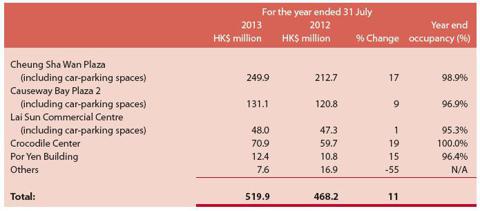 This year's rental income: 520 million HKD
At an extremely conservative cap rate of 10%: commercial property worth 5.2 billion HKD
At a more realistic cap rate of 6%: commercial property worth 8.6 billion HKD
Lai Sun's commercial property is earning stable and growing rental income with high occupancy rates and great locations. A brand new commercial property is completed this year and almost completely leased out. It will contribute to the bottom line from next year onwards. In addition to this, one residential project is currently on sale and three more will be completed and ready for sale by next year.
Past Problems
Lai Sun got beaten down bad during the Asian financial crisis in 1997 due to the ill-timed, debt financed purchase of Furuma hotel. The result was Lai Sun having to offload assets at distressed prices to survive which had a severe impact on the share price. Several years and several family dramas later, LSG seems to be moving in the right direction with the hiring of an outside non-family CEO and stepping up efforts to attract analyst coverage. They are clearly putting in efforts to bridge the gap between the market price and NAV of the company. In addition, Lai Sun has recently bagged the order to build the first hotel in front of the famous Ocean park in Hong Kong.
Looking to the Future
Lai Sun has been compounding its NAV at high rates each year.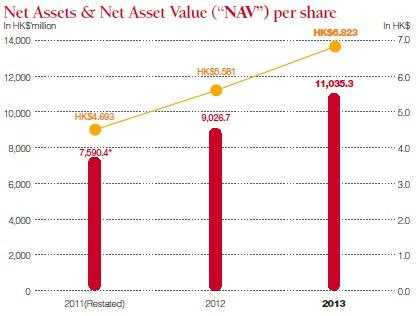 The prospects for the company seem good in that real estate in Hong Kong is almost always in short supply due to land constraints resulting in some of the most expensive real estate in the world. In addition, Lai Sun also has a significant and growing presence in mainland China, which is going to grow and see massive urbanization for decades.
Major Stakeholders and Management
Lai Sun Garment is 44.36% owned by the Lam family -- i.e., the descendants of the original founder Lim Por-Yen. The chairman is Dr Peter Lam who is a respected businessman in Hong Kong and China. The management has major skin in the game and their interests are certainly aligned with the minority shareholders. Other notable investors are Third Avenue Management who own 15% of the company's outstanding shares.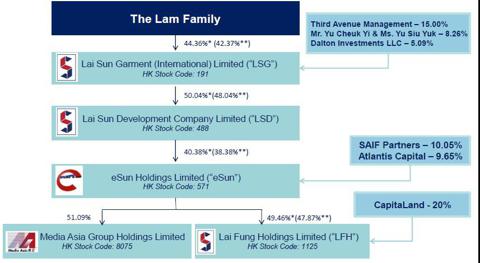 Rights Offering
One recent development is worth mentioning. To raise capital, LSG announced a rights offering in early January (four rights shares for every 25 shares held). This will have a dilutive effect on per share NAV, and we must see how much that will be.
Current NAV per share: 6.8227 HKD
Current shares outstanding: 1,617,423,423
Current NAV: 11.035 Billion HKD
No. of rights shares to be issued: 258,787,744
Subscription price: 0.834 HKD per right
Total capital raised: 258.8 million X 0.834 = 215.8 million
Post rights-issue NAV: 11.035 Billion + 0.2158 billion = 11.2508 billion HKD
Post rights-issue shares outstanding: 1,876,211,167
Post rights-issue per share NAV: 5.996 HKD
So the rights issue has about 12% dilutive effect on per share NAV. Still, at the current market price of 1.12 HKD, the shares are exceedingly cheap and trading at 81.4% discount to post-rights issue NAV. The management might have used rights issue instead of debt to raise capital in order to keep the gearing ratio of the company in check. This is understandable given their past problems with debt. Also, a rights issue rewards the shareholders who can participate in it by letting them increase their proportional interest in the company at below-market prices. Note that the NAV is probably going to compound further over next few years and hence the dilution is not too alarming.
Insider Buying
The major shareholders of Lai Sun have been buying substantial amount of shares on the open market. They have also fully participated in the recent rights offering. Here is a list of the notices filed by major shareholders over the last year: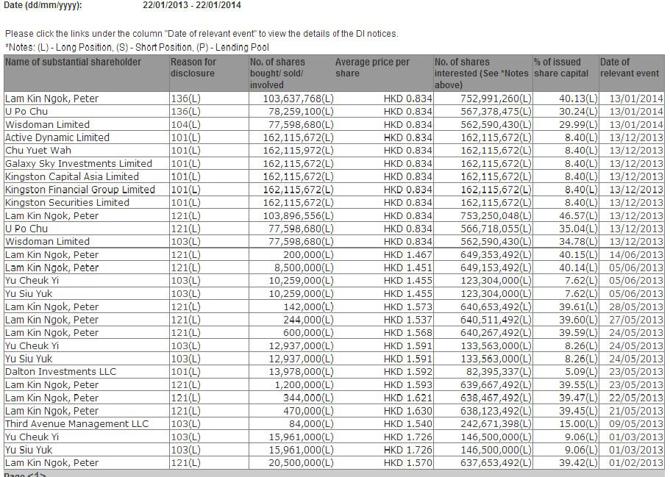 The top half of the table shows the participation in rights offering at the price of 0.834 HKD. The bottom half shows the purchases on open market and the corresponding prices paid. Chairman Peter Lam has purchased 12 million shares last year at prices around 1.5 HKD (higher than current market price of 1.12 HKD).
Risks
The macro risk is that Hong Kong and China property prices plummet significantly and cause some impairment in the value of Lai Sun's assets. But at the current price, this scenario in more than accounted for and the shareholders may end up making money even in the event of such a drastic scenario playing out.
Regarding company-specific risks, it may happen that the PR efforts of the company fail to wake up the market and this steep discount to NAV is maintained. An even more risky scenario will be that Lai Sun takes on significantly more debt to fuel expansion and gets caught again in a property downturn at the wrong time. Given the past problems with debt, I would consider this unlikely. As the recent rights offering shows, the company is looking at better ways to raise capital for expansion.
Conclusion
LSG has conservative financing, a sustainable business model, attractive prospects and management with skin in the game. The NAV and book value growth year over year is impressive, and the company has huge room to grow especially in mainland China. At an almost 84% discount to NAV (81% after the rights offering), I consider LSG common to be a highly attractive opportunity for investment. This discount could stay this wide forever or perhaps increase, but that seems to be a low-probability scenario. The recent positive changes in the company (like hiring a non-family CEO and stepping up PR efforts) suggest that there are much greater chances of the discount getting smaller and shares appreciating significantly from here.
Disclosure: I am long LSIHF. I wrote this article myself, and it expresses my own opinions. I am not receiving compensation for it (other than from Seeking Alpha). I have no business relationship with any company whose stock is mentioned in this article.