"By the end of March 2014, 50 percent of the German population will live within 320 km of a Supercharger," says Tesla. "and 100 percent of the population will be covered by the end of the year."
It's been a wild run up for Tesla (NASDAQ:TSLA) over the last two weeks since "recall-gate" and the company's newly introduced production guidance for its fourth quarter. For full coverage of those two catalysts, you can read my article from last week here.
Since then, the stock has had a good start to 2014 after an outstanding 2013. Tesla stock is up 17.1% since the beginning of the calendar year.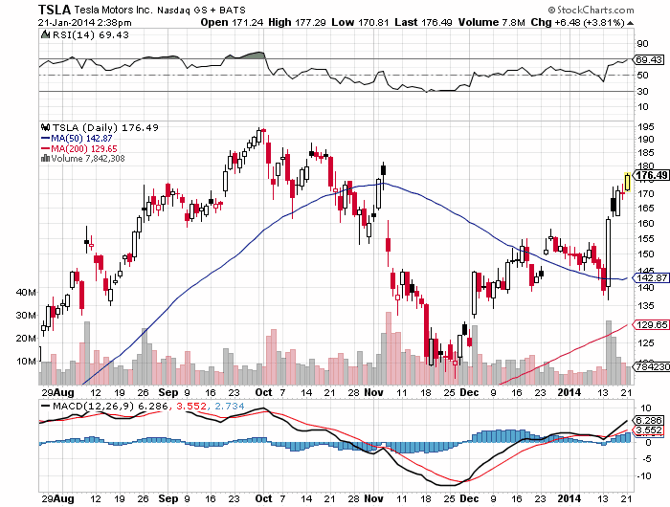 One of the bigger bullish points that I've brought up over the last few months with Tesla - aside from production of vehicles - is the company's expansion all over the U.S. and into Europe with its Supercharger stations.
The Superchargers allow Model S owners to "travel for free between cities along well-traveled highways in North America and Europe." In other words, Tesla has a vision of free, emissions free travel - and we're witnessing them execute this paradigm shifting feat.
In essence, it's also a way for Tesla to have a presence all over the world.
It was reported Tuesday morning:
This week, Tesla officially opens new Supercharger locations connecting the Netherlands, Germany, Switzerland, and Austria. These newly-energized routes will enable Model S customers to enjoy free, convenient, 100 percent electric trips on the German Autobahn and to destinations in the Alps and elsewhere.

Tesla's first six Superchargers were energized in California in September 2012, with the first network of European Supercharger stations opening in Norway less than a year later. As of today, 81 Supercharger locations are energized worldwide, with 14 locations in Europe. More than 11 million kilometers have been charged by Tesla Superchargers and nearly 1.13 million liters of gas have been offset.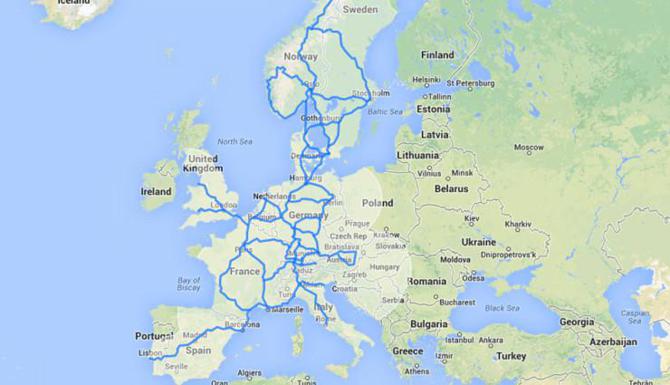 Tesla's Superchargers seem to be on pace for what the company predicts the U.S. is going to look like by the year 2015, as well: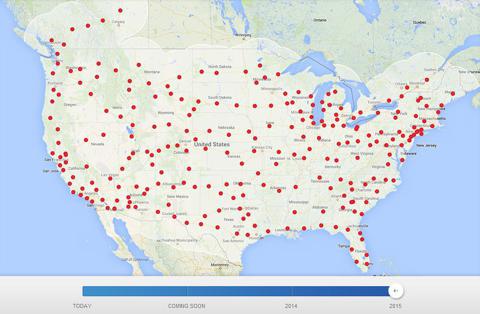 What I find really interesting is the fact that Tesla is doing this right in front of our "conventional" automakers, as well as petroleum companies - and there doesn't seem to be a thing they can do to stop it. Though I'm sure lobbyists for these industries are working in the background to try and make life miserable for Tesla - by going public and creating the equity that exists within the company, Tesla has done all they can to try and level the playing field.
These companies are watching a revolution in their respective industries - and there doesn't seem to be a thing they can do about it.
Additionally, as Tesla continues to blanket the entire face of the Earth with its Superchargers, we can expect more and more to be seeing headlines like these on a daily basis: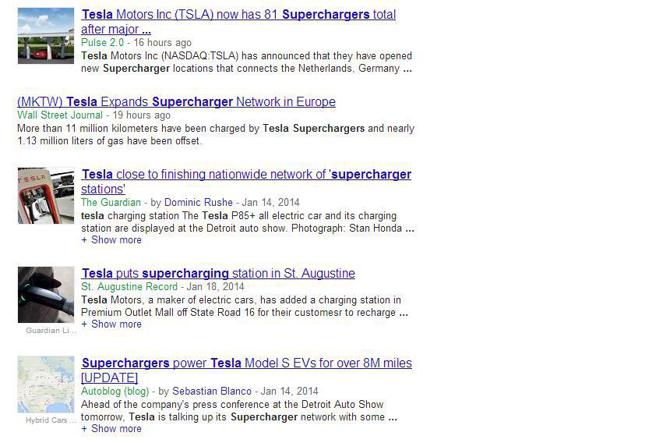 Let's talk about the company's goal for a minute. The goal is to provide emissions-free travel via their electric vehicles for everybody, all the time, all over the world.
Now, let's talk about the company's track record. So far, Tesla has executed with everything they've said they were going to do as a company. In addition, they've provided excellent customer service to their customers and have done everything necessary to maintain that the vehicle and brand continue to carry a respectable and prestigious reputation. They have vetted and re-vetted the safety features of their vehicles throughout the last year, as well.
Ipso facto, if Tesla comes out and says they're going to blanket the Earth with Supercharger stations, I have to take them at their word at this point. In the company's short history, they have met or exceeded expectations to this point - and there's no reason to not think they will continue to do so in the future.
I remain long-term bullish on Tesla Motors. Tesla opened up $0.33 to $177.01 Wednesday morning.
Disclosure: I have no positions in any stocks mentioned, and no plans to initiate any positions within the next 72 hours. I wrote this article myself, and it expresses my own opinions. I am not receiving compensation for it (other than from Seeking Alpha). I have no business relationship with any company whose stock is mentioned in this article.