By James Osbiston, High Alert Capital Partners
Starwood Waypoint Residential Trust (SWAY) will be one of the first single-family rental companies to list on the exchanges when it begins trading on the last day of January 2014. The spin-off marks an opportunity for retail investors to benefit from the trend of institutional investment and management in the single-family housing environment. Investors may consider building a position in Starwood Property Trust (NYSE:STWD) before the spin-off to get immediate access to the new shares.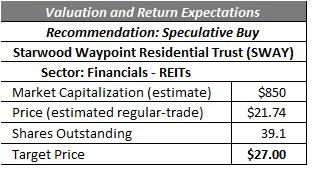 Key Investment Drivers
Aggressive growth targets - estimated 50% growth in the acquisition of distressed rental properties
Pure-play on continued US housing recovery, growth in the US rental market and projected increase in interest rates
Achieving REIT status for attractive tax-efficient distribution of income
Estimated Distribution Detail
On January 31, 2014, Starwood Property Trust intends to separate its business in a 1:5 distribution to holders of record of common stock on January 24th, 2014. The distribution will be in the form of a taxable dividend to be comprised of Starwood Waypoint Residential Trust common shares.

The business, which will be publicly traded as Starwood Waypoint Residential Trust, acquires single-family homes below market value to renovate and lease to qualified residents. The firm also purchases pools of distressed and non-performing residential mortgages (NPL). Starwood Property Trust would focus on commercial mortgage loan and other commercial debt investments, creating two distinct entities.
There are 195.5 million shares of Starwood Property Trust common stock outstanding as of January 13, 2014. Based on the intended distribution ratio of one common share for every five shares of Starwood Property Trust common stock, 39.10 million common shares will be distributed to stockholders. The business's portfolio has an estimated book value of $750 million in property/NPLs plus $100 million in cash, creating an assumed fair market value of $21.74 per common share on the distribution date.
As of September 2013, Starwood's portfolio consisted of 4,268 owned homes and 1,549 homes underlying distressed and non-performing residential mortgage loans with an unpaid principal balance of $413.4 million on the NPL portfolio. Assets are predominantly in the demographically favorable Texas region and the distressed Florida market where strong rental demand and a continued rebound from the market crash should drive values. Management has expansion plans in place to pursue property acquisitions in seven additional states through 2014, including Arizona, California, Colorado, Georgia, Illinois, Nevada and North Carolina. As of November 30, 2013, the business had contracted to acquire an additional 1,218 owned homes and distressed and non-performing residential mortgage loans, bringing an asset base of 5,486 owned homes and 1,549 NPLs.
Real Estate Industry Overview
The single-family market has traditionally been fragmented with less than 1% institutional ownership. This has created an environment of reduced competitive pricing compared to the multi-family market favoured by institutions.
As measured by the Case-Shiller Composite 20 Home Price Index, from its peak in 2006 to its trough in March 2012, house prices declined over 35% in some of the largest U.S. housing markets. While national prices have begun to recover, with a 15% recovery off of the bottom, Real Estate consultancy JBREC believes that a substantial number of non-performing residential mortgage loans will still need to be resolved over the next five years. Starwood executives estimate potential supply for acquisition of non-performing loans at $400 billion for the next five years.
The current total U.S. housing inventory is greater than $17.5 trillion (133.2 million units) with 14 million single-family units for rent. At present, a substantial shadow inventory exists with about 11.5 million homes with negative equity. While the opportunity remains to acquire discounted properties, current management forecasts for the period 2013-2017 are for a compounded appreciation on 40.6% in house prices within regions which represent more than 5% of the initial property portfolio. We believe this offers a substantial opportunity for Starwood Waypoint Residential Trust to grow their asset base and witness NAV appreciation in the company's property portfolio over the next three years.

Source: Starwood Property Trust Investor Presentation, October 2013
Several factors drive rental demand, including constraints on home mortgage financing, displacement of homeowners and an increase in the preference to rent rather than own. According to JBREC, these factors have led to a 20% growth in the rental market over the last five years, compared to a 6% decline in home ownership over the same period. The Mortgage Bankers Association has shown that every 1.0% decline in the homeownership rate creates an estimated 1.1 million prospective renters. On ownership demographics, rented household growth should outpace owner household growth for 25-34 year olds through 2015.
Strong rental demand has helped to support an annualized increase of 1.6% in rental rates over the last three years, even on low inflation and a still recovering market. Recent economic data suggest that rent rates in some regions may experience faster growth on stronger demand.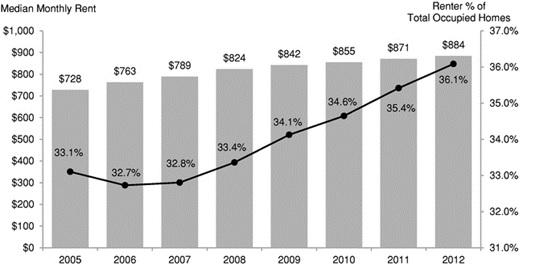 Source: U.S. Census Bureau, 2005-2012 American Community Survey
Concurrently with the completion of the separation, SWAY will grant undisclosed executive employees 977,565 restricted share units. This should help to create a greater insider ownership base than currently exists within present Starwood Property Trust shareholders.
The firm is expecting to be granted REIT status in 2014, which implies a minimum of 90% EBT will be distributed to common shareholders. We believe that as a REIT, the firm would likely be attractive to income investors looking for tax efficient distributions as part of a diversified portfolio. Starwood Property Trust has an existing dividend payout ratio of 106.74% and a current dividend yield of 6.41% based on quarterly dividends of $0.46 per common share.
Capital Structure
As part of the spin-off, Starwood Property Trust expects to contribute $100 million in cash to the anticipated unlevered balance sheet of Starwood Waypoint Residential Trust to fund its growth and operations. At the time of the spin-off, Starwood Waypoint Residential Trust also expects to have a fully committed financing line of credit with an initial available borrowing capacity of $500 million. Together, the available cash and credit facility should provide Starwood Waypoint Residential Trust with significant financial capacity to support its growth and operating plans in the short term. As a REIT, the company will need to access capital markets on a regular basis for additional financing.
Risks
Management has highlighted some of the risks involved, including changes in real estate market conditions, declines in the value of residential real estate, inability to lease or re-lease homes to residents and the general illiquidity of real estate investments. We believe these are risks related to REITs in general and the best in class management in place through ties with Starwood Property and Waypoint should see that these risks are at least well managed.
An additional risk is in the new company's classification as an Emerging Growth Company under the JOBS Act. Under this designation, as a company with less than $1 billion in prior fiscal year revenue, Starwood will only be required to file limited financial statements ahead of the IPO. The company will also be able to file draft IPO registration statements on a confidential basis along with other special privileges that might conflict with normal disclosure.
Management Projections
Recent third-party broker price-opinions suggest that the estimated fair value of Starwood's portfolio is between 1.10 and 1.20 times cost basis. Management has suggested that these third-party valuations on net asset value will be provided on an annual basis.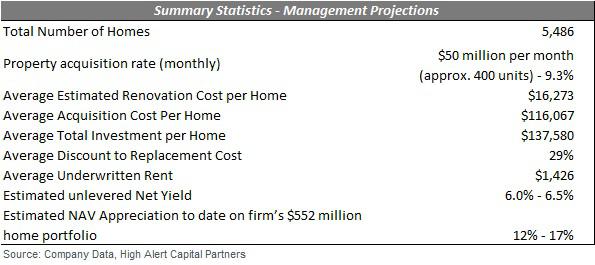 An analysis of the balance sheet for pre-split assets and valuation on book values presents a net asset value of $24.90 per share. While the NAV per share is above the current stock price for Starwood Property Trust, the shares could trade at a premium to NAV on the first day of trading.
Pro-rata Balance Sheet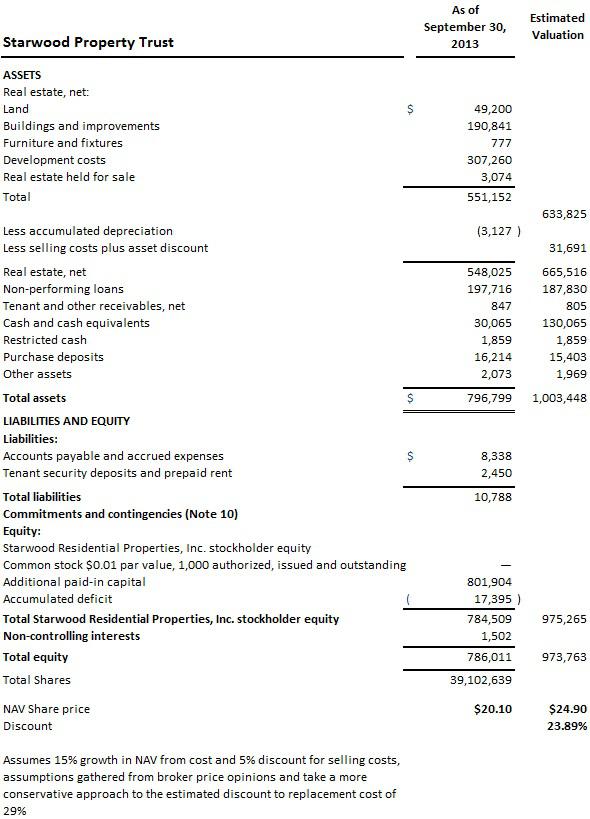 We have an initial rating of Speculative Buy with a $27 12-month price target. This is based on NAV growth of 25% through acquisitions and regional property value appreciation, with an estimated 15% share base dilution. Investors with a position in the parent company before the spin-off will gain immediate access to the new shares.
Disclosure: I have no positions in any stocks mentioned, and no plans to initiate any positions within the next 72 hours. I wrote this article myself, and it expresses my own opinions. I am not receiving compensation for it (other than from Seeking Alpha). I have no business relationship with any company whose stock is mentioned in this article.