Although we have had a pretty good track record recently in picking names within the retail sector, our long-time readers know a few months back we discussed the need to wind down winning positions and allocate portions of portfolios to retail ETFs as opposed to individual names within the retail space. When compared to some of the options that readers were discussing at the time, this posturing has worked wonderfully.
The diversification actually led to better returns on the way up, and now that the market is beginning to see that the retail sector has become a wasteland it is leading to better returns on the way down. The diversification in both instances blunted the body blows some large and popular retailers have been taking in recent months.
Chart of the Day:
Readers still wonder why we want diversified exposure to retail, even after the recent events which have taken down both good retailers and bad. Rather than picking certain names and hoping for the best, we would rather allocate fresh capital to the sector via the SPDR S&P Retail ETF (NYSEARCA:XRT). Yes there has been considerable weakness in the chart as of late, however there has been even more weakness in some of the more popular turnaround names.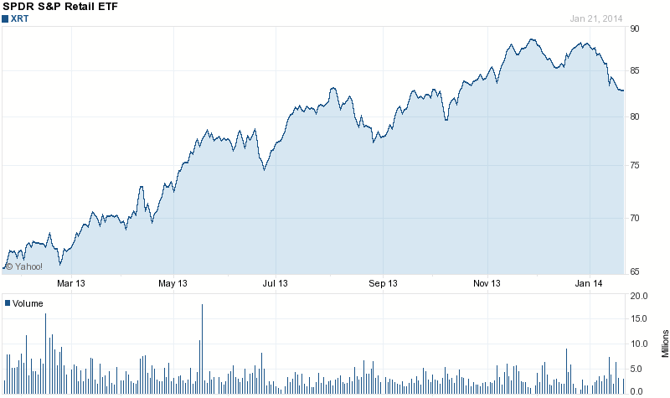 Source: Yahoo Finance
We have economic news today and it is as follows:
MBA Mortgage Index (7:00 a.m. EST): Est: N/A Act: 4.7%
Asian markets finished higher today:
All Ordinaries -- down 0.22%
Shanghai Composite -- up 2.16%
Nikkei 225 -- up 0.16%
NZSE 50 -- up 0.58%
Seoul Composite -- up 0.33%
In Europe, markets are trading higher this morning:
CAC 40 -- up 0.26%
DAX -- up 0.16%
FTSE 100 -- down 0.01%
OSE -- up 0.62%
The Retail Wasteland...
It is beginning to look more and more as though Coach (NYSE:COH) is not experiencing an easily correctable sales trend but rather something reminiscent of a death spiral. Now we are not saying that the company is going to go out of business, but trying to articulate that the easy turnaround the company led many to believe was possible is not. The problems are not shallow, but structural and seem to highlight a trend we see developing in the retail sector.
The volatility in Coach shares highlights the confusion investors have about the company as well as the company's inconsistent results.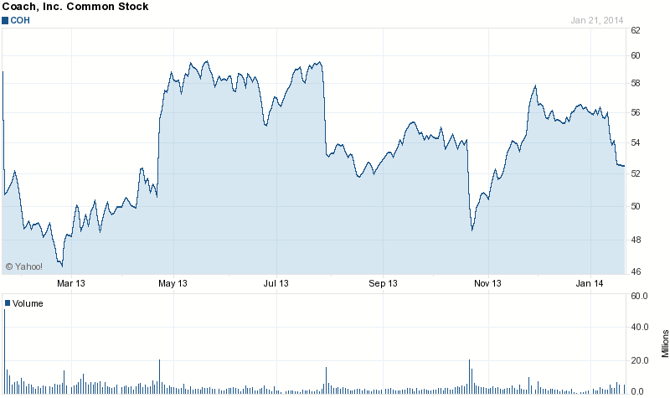 Source: Yahoo Finance
Coach, like Lululemon (NASDAQ:LULU), was a market leader in key retail sectors and demographics not that long ago. As new competition emerged we have seen inroads made into what once seemed insurmountable market leaders. Coach is seeing competition from a myriad of competitors, and believe it or not but the fact is that they are not necessarily losing sales to direct competitors to its products but retailers offering a better value proposition for exciting new designs and fashions. The first name that comes to mind as an example is Michael Kors (NYSE:KORS).
Long-term we think there is value in both Coach and Lululemon, but at the moment the momentum is behind competitors such as Michael Kors and Gap (NYSE:GPS) which continue to attract consumers with their fresh designs and new product and/or brand launches.
What makes this retail investing environment so difficult is that even those who should be winners have run into headwinds, with Gap being a perfect example of a company seeing good operating results but poor returns for shareholders in recent months.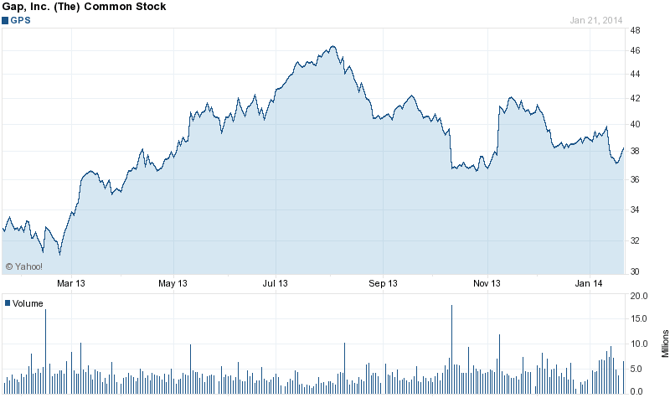 Source: Yahoo Finance
Coach has some serious issues moving forward, especially in North America where comps fell by 13.6%. Sales remain strong in international markets, however Coach derives around 70% of its revenues from North America so gains in international markets barely made a dent in the continued weakness in North America.
Coach missed the analysts EPS consensus by $0.05 as the company reported EPS of $1.06 on revenue of $1.42 billion. Analysts had expected revenue of $1.48 billion.
Disclosure: I have no positions in any stocks mentioned, and no plans to initiate any positions within the next 72 hours. I wrote this article myself, and it expresses my own opinions. I am not receiving compensation for it (other than from Seeking Alpha). I have no business relationship with any company whose stock is mentioned in this article.