Apple (NASDAQ:AAPL) is probably the most talked about stock in the market and it regularly leads option related trading volume by a large margin. It certainly is the most commented on stock on SeekingAlpha and most other financial sites based on the feedback I have seen on my articles.
This volume of commentary seems to have picked up both from investors and analysts over the last month as the stock has traded in a narrow range after having posting a huge run since late June (See Chart).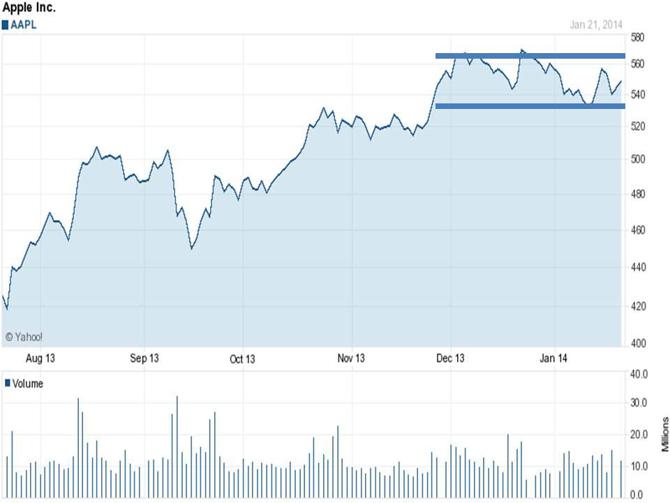 This consolidation seems like a natural and predictable event after the company signed two major distribution deals [China Mobile (NYSE:CHL) and NTT Docomo (NYSE:DCM)], launched new versions of its iconic iPhone and iPad franchises and after the stock advanced ~40% from its lows in late June.
Investors are also getting whipsawed by analysts who continue to offer divergent takes on the Apple's near term prospects. Jefferies recently raised its earnings and revenue estimates ahead of Apple's next quarterly report to be delivered on January 27th. The analyst firm has a "Buy" rating and a $650 a share price target on Apple.
Goldman Sachs also just raised quarterly guidance on Apple and also raised its price target on Apple $15 a share to $635. In addition, according to Barron's, BMO Capital was "reassured" that Apple would sell at least 15mm iPhones this year in China through the deal with China Mobile.
On the other side of the ledger, Societe Generale cut the shares from a "Buy" to a "Hold" on Tuesday citing concern around iPhone sales. There are also worries about the lack of foot traffic at China Mobile stores during its recent iPhone launch day as well as around pricing on these phones.
So what is an investor to do? In a word, Chill. Nothing much is going to happen with the stock until the company releases its quarterly earnings report next Monday. If we do get a pullback in the market that pushes AAPL down to technical support of ~$525 a share, consider it a gift and pick up a few more shares in front of earnings. Other than that, investors will have to wait for Apple to deliver results next week.
What to look for within next week's earnings report:
Expectations are for Apple to have sold ~55.3mm iPhones in the quarter which would be up nicely from the 47.8mm phones the company sold in the same period a year ago. The company is also expected to show Y/Y earnings growth for the first time in five quarters.
Margins are also expected to stabilize from the new product launches. This would arrest a yearlong decline in this critical and hugely watched metric.
Investors should be able to glean how the NTT Docomo positively impacted iPhone sales in Japan in the quarter. They will also be anxious to hear any comments about how the initial sales are going in China after China Mobile officially launched the iPhone on January 17th.
My own expectations are the company will report earnings/guidance that will be well received. I also think margins will reassure investors. The company is set up well in 2014 for significant growth in Asia this year given it now has access to 800mm potential new customers in Japan & China through these recently signed distribution deals with two of the largest carriers in the world.
I also expect long awaited larger screens with be a part of the iPhone 6 later in the year. I believe the earnings report will trigger the next growth spurt in the stock as analysts raise their earnings estimates and price targets on Apple after the earnings results.
Despite its recent rise, the shares go for under 11.5x forward earnings (~8x forward earnings if the company's over $140B cash hoard is taken into account) and should show 8% revenue growth in FY2014. This compares with the overall market going for just over 15x forward earnings on an expected 4% rise in sales in 2014. The stock has a five year projected PEG of under 1 (.83) and also pays a 2.3% dividend yield. BUY
Disclosure: I am long AAPL, CHL. I wrote this article myself, and it expresses my own opinions. I am not receiving compensation for it (other than from Seeking Alpha). I have no business relationship with any company whose stock is mentioned in this article.