The NBI index (Nasdaq Biotechnology Index) is close to an all-time high, and nothing can seem to stop it now. But a comparison with its older brother the NASDAQ composite seems to be welcome in order to survive 2014 in this major area.
It is difficult, not to say impossible, to spot a bubble before it has burst. It is even more difficult to spot it when it is on the verge of booming.
Yet it might well be the case for the Nasdaq Biotechnology Index, which is underlying to a number of ETFs, long and short. Among these, one from iShares (NASDAQ:IBB), from SPDR (NYSEARCA:XBI), and on the leveraged side, the PowerShares long (NASDAQ:BIB) and short (NASDAQ:BIS).
Psychology and valuation difficulties are two types of reasons why bubbles are difficult to spot.
Psychological biases, like the need for confirming evidence or wishful thinking, can lead investors to see only the positive news, mostly in a qualitative manner.
Valuation difficulties can easily be overlooked when it comes to predictions in uncertain markets. Overestimation of future revenue or margin is a likely pitfall.
Quantitative facts:
For these reasons irrational exuberance signs are the best indicators of a starting bubble, and quantitative analysis is one of the tools available to spot these signs.
At 2586 the NBI is 2.23 standard deviations above an arbitrary 10 weeks average of 2356, 8.9% below. By historical standards it is a relatively rare event, with a 1.5% historical probability of occurrence, measured over the last 987 weeks.
It does not mean that the NBI is going to lose 9% tomorrow. Depending on whether the NBI exhibits a mean-reverting or mean-fleeing behavior as of now, we could see high variations on the downside or on the upside.
This is where analogical reasoning comes in place. Of course, analogy is not a valuation method of financial assets, but it helps when trying to spot what valuation methods have quite consistently failed to warn us about along history.
Remember what happened in 1994. Three letters: WWW. At the end of 1993, the WorldWideWeb had started to become of public interest. Yahoo has been created in January 1994, the company founded in March 1995. Netscape navigator 1.0 has been released in December 1994.
This was the start of the internet becoming a part of our lives, and the future of investment. The comparison with biotechnology appears in the following chart, where NASDAQ (IXIC) has been based at 1 on December 12, 1994 and NBI has been based at 1 on March 2, 2009 (weekly data), and lagged for comparison purpose.
NASDAQ vs NBI lagged 742 weeks, rescaled: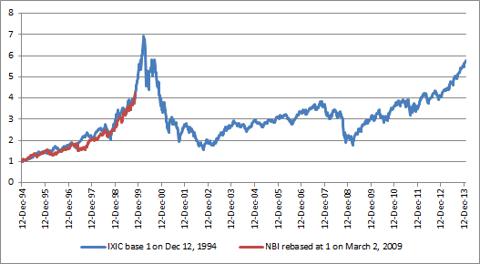 NASDAQ:
Between December 12, 1994, and October 25, 1999 (end of week prices), the NASDAQ has been multiplied by 4. It then started a new ride, and gained nearly 75% to reach the high in the March 6, 2000 week. After the fall, we are still in a long drawdown (admittedly, not taking into account any dividend).
NBI:
March 2, 2009, is the week when the lowest point has been reached post Lehman's collapse. It is a starting point for the NBI rebound. The end of January 13, 2014 week has seen the NBI multiplied by 4 since the lows. One can argue that the lows where very low due to the unusual intensity of the crisis, but the performance for the early investor is here to be seen.
Do investors ever learn? Back to psychology.
Confronted to such an amazing performance, you need to ask yourself these questions: do investors ever learn, and what?
There are two main scenarios to be discussed, among all the potential future ones.
First scenario: irrational exuberance. Investors keep buying past performance, and step in the biotechnology train, with a year 2000 NASDAQ-like follow-up. A lot of money can be made on the upside quickly, then a lot to lose for the late comers.
Second scenario: investors have learnt from the past. They don't rush into biotech stocks, and wait-and-see for the expected revenues and profits to be demonstrated. It does not exclude a further rise for the NBI over the long term, but short term performance might not be as stunning as it has been so far, and pullbacks are possible.
Conclusion:
You need to choose whether you think the herd has changed or not since the early 2000s.
For those who would think that there is no way to prevent a bubble once the ambiance is here, think of Chuck Prince's sentence: "As long as the music is playing, you've got to get up and dance". Being bull can be profitable, but asymmetrically hedging might also be advisable as the risks increase at the same time.
And for those who would think that investors have learnt from the past and will double check their valuations in order to justify the performance, they can try and be the early contrarians. The risk for them is that going against the herd can lose a lot before the bulls realize they are wrong.
Thomas Neveux, CFA, FRM, ERP
Disclosure: I have no positions in any stocks mentioned, and no plans to initiate any positions within the next 72 hours. I wrote this article myself, and it expresses my own opinions. I am not receiving compensation for it. I have no business relationship with any company whose stock is mentioned in this article.