Over the last day or so, Microsoft (NASDAQ:MSFT) has alluded to finally filling it's CEO position - a decision that the company could likely explain during it's coming conference call. CNBC.com just reported yesterday:
The selection of a CEO to take over Microsoft may come sooner than expected, according to re/code.

The company has been seeking a replacement for Steve Ballmer since he announced in August his plan to retire. An earlier report said the announcement was not expected to come before February. Now, chatter says it could come before the end of January.
And what better time to announce this information than on the company's earnings call? Microsoft is set to report earnings this Thursday, January 23rd, after market close.
(Source - Nasdaq.com)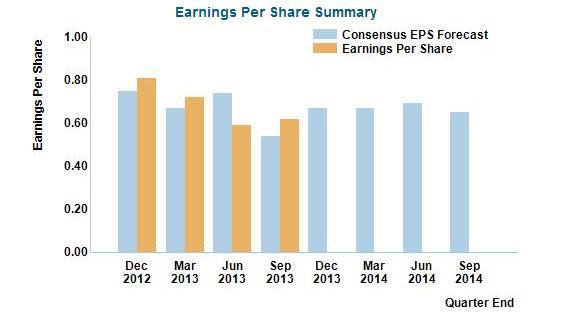 Analysts are expecting Microsoft to earn $0.68/share, which is 10% lower than the $0.76/share they earned for the same quarter last year.
Analysts are mostly leaning bearish as estimates have dropped from $0.73-$0.75 over the past few weeks.
Revenue estimates average $23.68 billion, representing a 10.4% increase from last year.
Microsoft has beaten earnings expectations three out of its last four reports.
(Source - Nasdaq.com)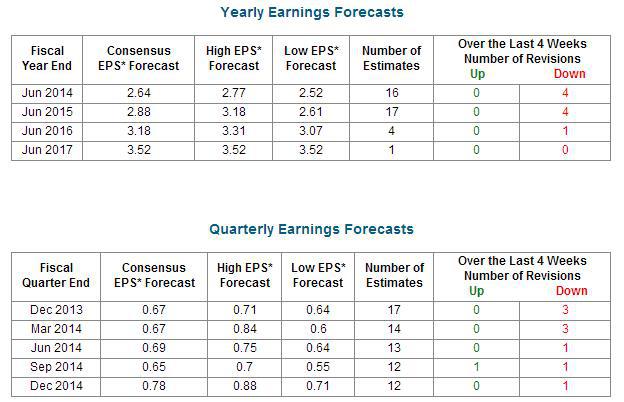 Microsoft continues to ride its core money makers: Windows, Office, and now even search advertising.
Bulls (like myself and SA contributor Michael Blair) are going to be looking for increased penetration into mobile. We both consider Windows Mobile to be one of the company's most under-utilized assets at the moment. In the same vein, eyes will continue to be on Microsoft's Surface 2 traction and sales in the tablet market.
The PC market, which analysts are starting to concede has bottomed, could continue to be a driver of Windows, along with mobile. A metric to keep watch on is Mac's (NASDAQ:AAPL) continued penetration into the operating system market - Apple's Mac OS has shown increased market share in an altogether downward PC market. If the market swings upward on a macro level, I'll be keeping a close eye on how much ground Windows can hold. Mobile and tablet will continue to push the Windows "ecosystem" into the hands of the consumer in the coming year.
Bears are focusing around some of the confusion around Microsoft right now. Steve Ballmer is hanging out in limbo while the company has searched for a replacement CEO. Names like Steven Elop and Alan Mullaly have both come and go from the discussion over the last six months.
In that vein, investors and analysts are going to be looking for revised vision and forward thinking with regards to the company's overall business strategy: what is the focus going to be on for 2014 - and what will the new CEO's directives entail?
Additionally, the company's new Xbox One isn't likely to turn a major profit for a couple of years to come. However, that isn't a bad thing, as the Xbox gets the Microsoft brand implanted into the media centers of millions of households worldwide - and this is something the company will be able to monetize going forward. For my full write-up on Xbox, you can read my recent article here.
Like analysts, I'm not expecting much with earnings and I'm not in any hurry to open a position beforehand. Microsoft is, no doubt, a safe bet for the long-term. It yields a dividend over 3%, has plenty of cash and equity to do its business with, and will continue to be a staple in tech. I'll be waiting on potential CEO news and a revamped vision as to where Microsoft is heading in the coming years before investing here.
I'm expecting news on the new CEO with earnings this week.
I wish all investors the best of luck.
Disclosure: I have no positions in any stocks mentioned, and no plans to initiate any positions within the next 72 hours. I wrote this article myself, and it expresses my own opinions. I am not receiving compensation for it (other than from Seeking Alpha). I have no business relationship with any company whose stock is mentioned in this article.