The FDIC has decided to be less generous in its loss sharing with banks that acquire failed banks (see here). Up till now, the government covered the first 80% of loan losses to an agreed upon amount, and then 95% of the rest. Now, it's a straight 80%, a deal that should prove less appealing to financial institutions and shareholders alike.
That's why it's a good idea to circle back and look at some of the sensational deals done at the far better 80/95% covered losses. New York Community Bank (NYB) has acquired two banks under the FDIC's more favorable terms: AmTrust Bank in December and Desert Hills Bank just last Friday. It's no stranger to merging other financial institutions. Since 2000, it's bolted on a total of 8 banks successfully. Through its acquisitions, its assets have gone from $5 to 42 billion nine years.
click to enlarge images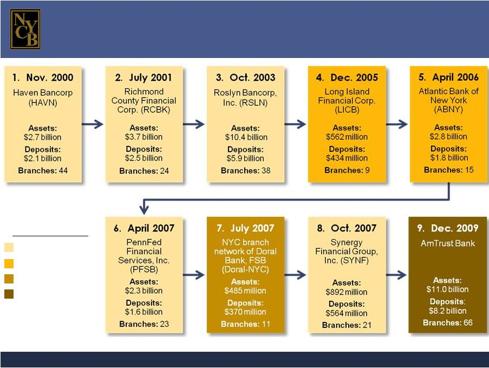 NYB is a holding company comprised of a community bank network of 243 branches and a commercial bank division of 35 branches. Prior to December, NYB was strictly a Northeast Regional. With its AmTrust Bank and Desert Hills acquisitions, it is now in Ohio (29), Florida (25), and Arizona (18). Its core business has been making loans to multifamily rent-controlled apartment buildings that have held up extremely well during the "Great Recession". (After all, what tenant wants to be evicted from a rent-controlled apartment; thus, making building owners relatively more secure in getting paid). Their charge-offs and non-performing loans have held up well: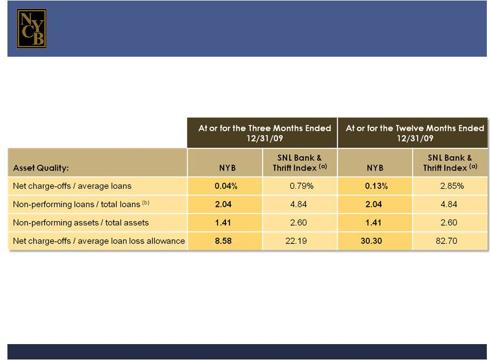 The purchase of AmTrust Bank in December was quite ambitious taking on "assets of approximately $11 billion, including covered loans of approximately $6 billion, securities of approximately $1 billion, and cash of approximately $4 billion; liabilities of approximately $11 billion, including deposits of approximately $8 billion; and 66 branches in Florida, Ohio, and Arizona." Remember, the FDIC covers 80% of the losses to $907 million with 95% coverage after that. That deal resulted in a $140 million gain for last quarter, not a bad deal. The purchase made NYB a national player, added $8 billion in deposits, all with a safety net from the FDIC.
Last Friday, NYB picked up Desert Hills Bank of Phoenix, tacking on its 6 branches onto its 12 AmTrust Bank Arizona branches, in what may be one of the last 80/95% FDIC deals (see here). That takeover covers $500 million in assets in an 80/95% loss guarantee. NYB acquired $450 million in liabilities (of which $400 million were deposits) with no deposit premium (a nice sweetener).
The strategy of buying failing banks has worked. Compare NYB's performance to HCBK, an extremely well run and profitable bank that has eschewed buying failed banks' assets. Since December, when NYB started to buy failed assets, the stock price has vaulted over HCBK.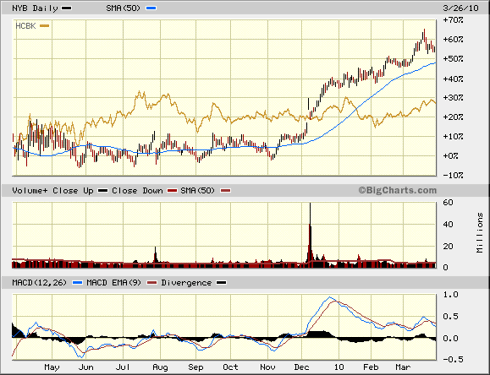 NYB has been a success story tacking on bank after bank and is aggressively acquiring failed financial institutions with generous FDIC support. The New York bank has quickly moved to become a national player in Ohio, Arizona, and Florida and represents a great growth story.
Disclosure: Author holds a long position in NYB