"Any idiot can face a crisis - it's day to day living that wears you out." - Anton Chekhov
Let's face it, Turkey is in a free fall. Political instability, a complete lack of faith in monetary leadership, and on-going flight to safety has made what was once a country with significant potential a market with significant risk. US investors tend to not put significant weighting on political turmoil given stronger laws and norms than those that exist in emerging economies like Turkey. That variable clearly can create significant volatility and disruption. The Lira has been in utter free-fall with high volatility, and currency movement has been disheartening for foreign investment capital that Turkey desperately needs for its own deficits. The crisis is real, but one should always be attentive to junctures where crisis becomes opportunity.
I don't think we are there yet, but much like India last year, fortunes and thinking can reverse in the blink of an eye. To increase confidence, Turkey's central bank likely must make the hard choice of aggressively raising interest rates. Doing this would calm downward pressure on the Lira, which could result in speculators re-entering financial markets. The problem is that Prime Minister Erdogan has been publicly making it a point that the central bank should not take such measures because of the fear that it would restrict growth. What Erdogan is missing is that in order to generate growth, investors need confidence and lowered volatility. That clearly isn't happening here.
Yet, at some point the market will force policymakers' hands, just like how US stocks forced TARP by signaling that an imminent collapse in the economy was coming if it was not passed. We may be near that point, but political catalysts need to be in place, and the central bank needs to take a hard stance as India's did last year. Take a look below at the price ratio of the iShares MSCI Turkey Investable Market Index Fund ETF (NYSEARCA:TUR) relative to the S&P 500 (NYSEARCA:SPY). As a reminder, a rising price ratio means the numerator/TUR is outperforming (up more/down less) the denominator/SPY. A falling ratio means underperformance. Yes - it's an ugly chart.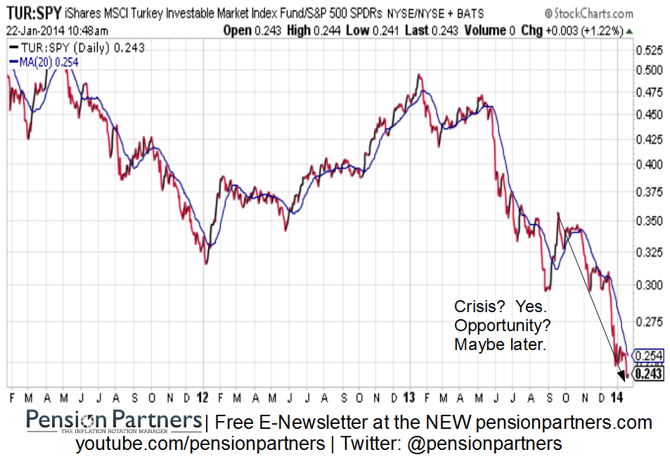 Click to enlarge
It certainly isn't worth trying to catch a falling knife without some real catalyst to stabilize the Lira, but I do think one should keep an eye out on the country for a possible washout move which could result in a tradeable long move. Remember that at the end of the day, the business of trading is ultimately about whether price now is underreacting or overreacting to future prospects. Overreactions tend to occur more frequently on the downside than on the upside, but strong handed actions need to be taken. India is very much the playbook.
Personally, I wouldn't mind a falling Lira so long as the speed is steady. Should hopefully make buying Turkish pistachios cheaper…
Disclosure: I have no positions in any stocks mentioned, and no plans to initiate any positions within the next 72 hours. I wrote this article myself, and it expresses my own opinions. I am not receiving compensation for it (other than from Seeking Alpha). I have no business relationship with any company whose stock is mentioned in this article.
Additional disclosure: This writing is for informational purposes only and does not constitute an offer to sell, a solicitation to buy, or a recommendation regarding any securities transaction, or as an offer to provide advisory or other services by Pension Partners, LLC in any jurisdiction in which such offer, solicitation, purchase or sale would be unlawful under the securities laws of such jurisdiction. The information contained in this writing should not be construed as financial or investment advice on any subject matter. Pension Partners, LLC expressly disclaims all liability in respect to actions taken based on any or all of the information on this writing.