Investors love making money through good stock selection and love to brag when they get things right. More often than not, these decisions include healthy doses of luck and emotion, as well as research. At investorMetrix, our goal is to assemble all of the relevant information the investor needs to make a decision, even if that information introduces doubt into their thinking. We spent the last three months analyzing 50 global oil and gas companies earning over $1 billion in revenue. While there are bright spots, we now feel doubtful about the future prospects for the industry, in spite of the growing demand for energy and huge sources of oil and gas being discovered currently.
Our concerns stem from the fact that companies within the oil and gas industry continue to operate in ways that served them well in the past, but will not serve them well into the future.
In Part I of our 3-part series on oil and gas, we outlined five macro trends that will pull the industry downward unless executives in oil and gas companies evolve their strategies. Staying competitive in the energy industry has always been a challenge; a reality that is getting more complex and difficult every year. Now, in Part 2, we dive into the trends and see who is navigating them with success.
Global Supply and Demand Seesaw
If you read ten different analyst reports about supply and demand in the oil and gas sector, you will get ten different opinions. In fact, on April 11, 2013, two different articles were written about the announcement by the International Energy Agency about oil and natural gas supply for the coming year. Market Watch reported slower growth coupled with supply risks, and Bloomberg reported that supply would likely outpace demand. The fact is that demand for energy is growing in emerging markets like China, whose requirements are forecast to grow 300% by 2020. The global demand for liquid natural gas (LNG) will likely double from 2014 to 2020 and the Asian market, including China, India, Thailand, South Korea and Japan, will account for 60% of this energy demand. The hungry Asian market will have to import 70% of that energy from other regions. This kind of demand might lead investors to believe the oil and gas industry will continue to be a rock solid investment.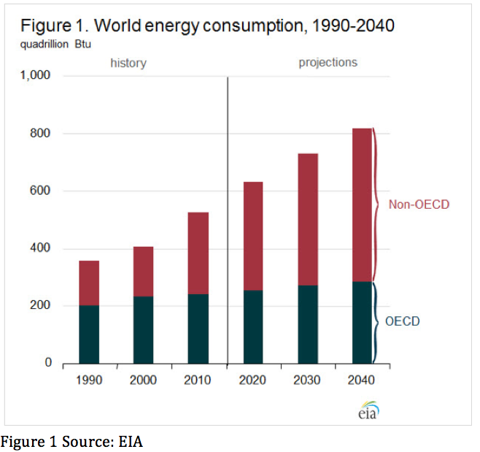 Supplying oil and gas for the growing markets is a foregone conclusion, however, it rests squarely on the ability of the companies to get product where it is most needed at a price that ensures profitability. There are many factors that dictate how that distribution can and will occur. For example:
There is a domestic supply glut of natural gas that will be eased up by the growing number of export permit applications in the U.S. This will allow domestic oil and gas producers to ship their product to the more lucrative global regions where demand is growing.
Oil indexation (Henry Hub pricing) will likely remain the predominant pricing approach due to concerns over gas and oil price volatility risk. However, oil and gas markets will likely begin to see a mixture of contract pricing approaches; prices set lower from oil price parity, hybrid indexation, spot pricing, and full gas hub indexation.
National oil company (NOC) acquisitions reached an all time high of $112.6 billion in 2012. The NOCs from energy-hungry, developing countries, such as China and Brazil are transitioning from being passive partners of independent oil companies seeking supply security, and are becoming technical leaders in riskier plays.
PetroChina (NYSE:PTR) and Sinopec (NYSE:SHI) hold most of the rights for the vast shale gas reserves in China, but are struggling to extract it due to a lack of experience with unconventional shale plays. Royal Dutch Shell (NYSE:RDS.A) has leveraged partnerships in the region, but appears to be in a tug-of-war with the government over tightly controlled resources.
The actual number of wells in production has decreased, but capacity has increased as drilling technology and ongoing innovations increase productivity. This won't last forever and new sources are constantly being sought out.
Joint Ventures and Production Sharing Contracts (NASDAQ:PSC) are becoming the norm: The 2012 spin of by Repsol (OTCQX:REPYY) of newly nationalized YPF (NYSE:YPF) did not go as planned. The Argentine government quickly secured a joint venture with Chevron (NYSE:CVX) who promised a $1.24 billion initial investment in the vast reserves of Vaca Muerta. CNOOC (NYSE:CEO) also signed two PSCs with Chevron, assigning 51% stake in any commercial discoveries in the region and further stipulated that all exploration expenditures will be borne by their new foreign partner.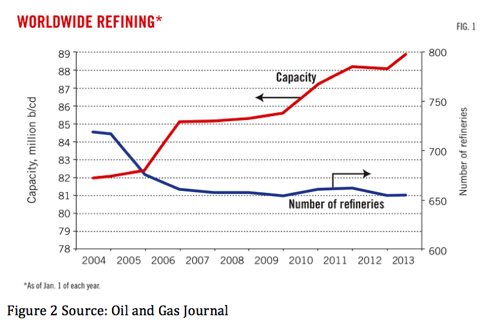 Technology and Security
The oil and gas industry spends a tremendous amount of time and energy ensuring the safety of their employees in dangerous environments. But, according to cybersecurity expert Sean McGurk, the same cannot be said for the safety of the vast computer networks in the industry. Cyber attacks are happening on a regular basis in every industry, but attacks on the oil and gas industry, which are growing at an alarming rate, made up 40% of all attacks in 2012. The consequences of hacked systems in the industry are quite dangerous and include grid failure, chemical leaks at refineries and plants, human lives lost, oil spills, and pipeline explosions. Any one of these things separately would be cause for concern, but these scenarios occur in cascading sequence, costing companies millions of dollars in lost productivity and revenue. The issue is so important that the CEO of Saudi Aramco, Khalid Al-Falih, whose company produces more hydrocarbons than ExxonMobil (NYSE:XOM), Chevron and BP (NYSE:BP) combined, speaks out about it to warn others within the deeply intertwined oil and gas industry. He recently stated that, "What happens to one company affects us all."
The major security weaknesses found in companies are fairly common and include things like a lack of security on a LAN network, an overwhelmed single-source firewall system, secure access to computer systems, and a lack of physical security at sites. Another industry-specific weakness comes from the actual equipment being used in the field, such as flowmeters and processors that use older USB, COM and serial ports for access. Sometimes the weaknesses are due to the interlinked reality of the industry itself. In August 2012, a virus called Shamoon hit Saudi Aramco destroying data on 30,000 computers. This attack was blamed on Iran as suspected retaliation for the 2010 Stuxnet virus that crippled Iran's nuclear program before accidentally disabling Chevron's systems as well. Other companies have reportedly been attacked, including ExxonMobil, BP, and Gazprom Neft (OTCQX:GZPFY).
Dealing with the issue of cybersecurity is complex and sensitive. The companies in the oil and gas industry have a deep responsibility to protect their intellectual property, hard assets and people from these risks. It would be foolish to assume that the companies would discuss what they are doing to prevent or circumvent cyber attacks. However, in reading over the annual reports for each of the 50 companies we analyzed, over 75% of them failed to even mention cybersecurity or the threat of cyber attacks. The remaining 25% that did discuss cyber threats did so through vague language in one small sentence. It would seem that the issue will become more public only when the next Shamoon is unleashed and some very real damage is realized.
Wooing the Next Generation
When the oil industry consolidation into "Supermajors" occurred in the 1990's, over 1 million jobs were lost, setting the stage for the current talent gap in the industry. The good news is that the U.S. Bureau of Labor Statistics reported a 40% increase in employment in the industry from 2007 to 2012. This hiring boom follows years of intermittent hiring and firing practices of the industry, whose fortunes are closely linked to economic prosperity. The ongoing problem in the industry is that nearly half of key job skills are set to retire in the next few years and not nearly enough younger people are capable of filling those roles.
Further exacerbating this problem is the fact that the required younger workforce is shying away from key energy jobs such as field engineering and geosciences. In the U.S., enrollments in petroleum and geosciences have declined 90% since 1982. Many companies have started bringing in higher priced employees from outside of company ranks, a solution that will drive up operational costs and mean that currently nearly 40% of the workforce has less than 5 years of experience.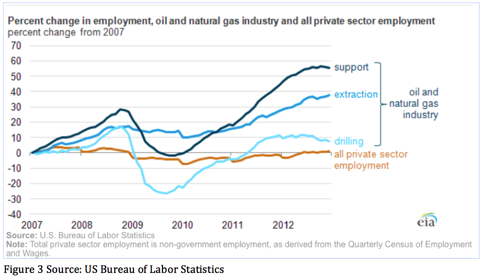 One way the industry is attracting new talent is through offering higher pay. Foreign countries, eager to exploit their growing gas industries are paying overseas workers a premium, ranging from $132K in Mexico to $171K in Australia. Additionally, nearly half the respondents in the Hays 2012 Oil and Gas Salary Guide are enjoying 5-10% annual salary increases. Attracting skilled recruits out of college and then developing them internally is another key way to fill the growing number of jobs in the industry. Industry recruiters are increasingly using tactics employed by the technology industry to attract professional workers aged 30 and under.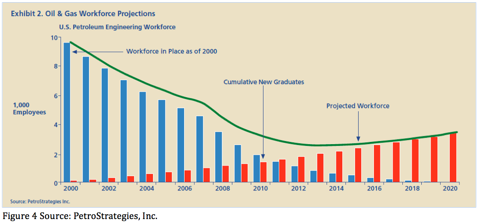 There is ample writing about workforce aging, talent recruitment and retention issues, but oil and gas companies are decidedly private about their demographics and how they are dealing with these issues. The companies discussing these issues openly are ExxonMobil, who is building a huge new consolidated "Google" style campus in North Houston, designed to attract younger, talented workers. Royal Dutch Shell does a number of things to recruit younger talent including seeking out veterans, recruiting through the economic downturn, and offering flexible retirement to older workers to ensure succession planning. BP is partnering with 19 academic institutions and investing $500 million in training to ensure it has the skilled workforce it needs.
The Tightening Noose of Water and Carbon
The state of Texas is home to several lucrative shale sites. It is also a region where high heat and drought have wreaked havoc for the past two years. Over 47% of the producing wells in Texas are in areas of extreme water stress. It's even worse in Pennsylvania where 70% of the wells are water stressed and in Colorado a whopping 92% of the wells are located in areas of extreme water stress. Production in Kansas, Texas, Pennsylvania and North Dakota has all been impacted during extreme summer heat when municipalities restricted water for fracking operations. Low water levels on the Mississippi disrupted transportation of petroleum and coal. Globally, the water issues are even worse. North Africa, South Africa, the Middle East, and Australia, all lucrative oil and gas regions, are experiencing extreme water stress. China, which sits on vast oil and gas reserves, is experiencing high water stress as well.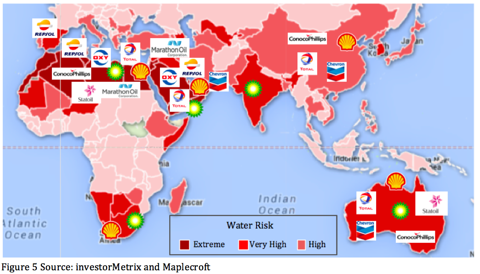 Why is this a problem? Because the EIA reports that shale gas production, which requires large volumes of water injected into the deposits, will account for half of natural gas production by 2035. In Texas, water requirements for agriculture, drinking, aquatic ecosystems, fuel extraction and power generation are forecast to increase by 7.2 trillion gallons by 2060, but will only have 5 trillion gallons available.
And it is not just water that has the potential to impact the oil and gas industry. Extreme weather events caused by climate change can bring the wheels of industry to a grinding halt. Higher ambient temperatures cause increased water temperatures, which reduce electricity supply and increase demand simultaneously. In the hot summers of 2011 and 2012, nuclear and coal fired power plants were either shut down or required special permission to operate due to excessive cooling water temperature, and millions of customers went without power due to consecutive days of triple digit heat. The companies that decreased their water use and Greenhouse Gas (GHG) emissions the most were ExxonMobil, Noble Energy (NYSE:NBL), Royal Dutch Shell, OMV Ag (OTCPK:OMVKY) and ConocoPhillips (NYSE:COP). Each of these companies operates in areas of high to extreme water stress and are taking measures to use less water.
Hurricane Sandy caused cascading system failures including flooding, power outages to 8 million customers in 21 states, the shuttering of ports, power plants, oil refineries, fuel pipelines, and petroleum terminals. During hurricane Isaac, refineries shut down in the Gulf of Mexico resulting in a loss of 13 million barrels of oil over 18 days. As the Gulf region produces approximately 50% of US crude oil and natural gas and contains nearly half total U.S. refining capacity, this creates a nightmare for oil companies. There are growing problems in Alaska, where 22% of undiscovered global oil and gas resources reside. The price tag for getting at these reserves could increase by $3-$6B as melting permafrost can no longer carry rigs or hide waste, oil pipelines crack with the warmer temperatures and floating sea ice damages equipment and delays drilling.
In a recent report by HSBC, the IEA was reported to state that 90% of the world's oil and gas is in the hands of governments or state oil companies. This means that water and carbon regulation is imperative to secure the government's own interests and will continue to tighten globally. Adaptive strategies are also working their way into oil and gas corporation boardrooms as executives see their margins falling year after year. Adaptive measures undertaken include process water cleaning and reuse, restoring or preserving coastlines for flood protection, deploying portable energy sources during storms, creating an internal price for carbon for new projects, capturing fugitive emissions, carbon sequestration and preparing for more restrictive government regulations.
Funding Future Demand
An April 2011 study by the EIA estimated that technically recoverable resources of world shale outside the U.S. were 5,760 trillion cubic feet (Tcf), an increase of more than 40% in world gas resources. Additionally, tight oil grew 42% per year from 2009 to 2012 and shale gas now rivals all conventional sources in spite of its relative obscurity a decade ago. Barclays reported that 2014 company spending for exploration and extraction will grow to an all time high of $700 billion, an increase of 6% over 2013. Ironically however, NOCs are outspending independent and Supermajor producers by 25% and are creating strategic partnerships with those same companies to ensure development of their reserves.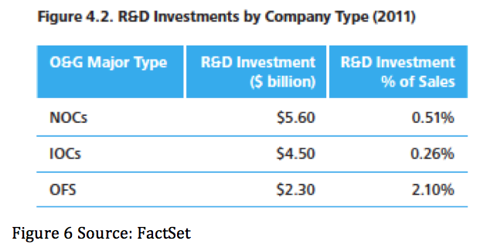 Companies report their reserves volumes and associated projected dollar value in SEC filings, but have little certainty about the ultimate cost per developed well or revenue per volume sold. According to BAIN, for an independent oil and gas company to grow by 100,000 barrels of oil equivalent (BOE) per day, they must find between 35 million and 45 million BOE per year. For the Supermajors and NOCs, this number climbs to over 1 billion BOE per year. A tremendous challenge for companies spending more on operations, but not always realizing increased activity or production volumes. Many oil and gas companies are either restructuring exploration programs, reviewing projects midway or abandoning fields altogether.

The biggest spender in Exploration, Development and Acquisition (E.D.A.) in 2012 was PetroChina, who dished out nearly $41 billion, followed by Royal Dutch Shell, who spent nearly $34 billion. PetroChina also sits on 14% of the total gas reserves reported by the companies analyzed, second only to the whopping 21% share of total reported gas reserves at Unit Corporation (NYSE:UNT). Whiting Petroleum (NYSE:WLL) sits on 13% of reported oil reserves and 22% of reported gas reserves, which might explain why they spent a modest $2 billion on exploration and development in 2012. Several smaller companies showed substantial growth of reserves in 2012 led by a 184% increase in oil reserves at Encana Corporation (NYSE:ECA). Murphy Oil (NYSE:MUR) enjoyed a 158% increase in oil reserves and a 113% increase in gas reserves, even though the proportion of total reserves is still quite low for both companies compared to the group as a whole. Lukoil (OTCPK:LUKOY), in spite of smaller reserves of both oil and gas, incurred over $10 billion in costs in 2012.
The Way Forward
An industry as vital as integrated oil and gas will never be without its share of risks. And, as it literally powers the world, its continued stability is absolutely essential. The five trends we have outlined above will become increasingly important over the coming years and should not be ignored by the companies or the investors whose fortunes are tied up with them. The oil and gas industry conundrum can be summed us like this:
The growing number of middle class populations on the planet require the production of increasing amounts of energy, which is becoming more expensive to extract and refine in an industry that is plagued by growing issues such as cybersecurity threats, shortages of talent and climate change related issues.
Does this mean that investors should sell their oil and gas company stocks in the short term? No. It does mean, however, that investor expectations need to be adjusted to accommodate lower margins, declining stock prices and increased volatility in the already turbulent industry. Pay attention to what the companies report about their evolving strategies to minimize the impacts of the trends outlined above. A business-as-usual attitude or deafening silence should be cause for alarm.
The final installment in our Integrated Oil and Gas series will examine the industry service providers. These providers live largely in the shadows of the companies that extract and refine oil and gas, but they make continued smooth operations possible. How are the service providers faring in the current economic times? In Part 3 we will examine and discuss the service providers using FiRM analysis.
Disclosure: I have no positions in any stocks mentioned, and no plans to initiate any positions within the next 72 hours. I wrote this article myself, and it expresses my own opinions. I am not receiving compensation for it. I have no business relationship with any company whose stock is mentioned in this article.