United Parcel Services (NYSE:UPS) released a disappointing fourth quarter earnings update last week, blaming the weather for the shortfall in earnings. Despite the short term headwinds, the long term prospects remain good, driven by e-commerce growth.
While the valuation is full, the company still offers long term prospects, notably in terms of the solid dividend track record.
Update On Fourth Quarter Results
UPS announced an update for the fourth quarter. Earnings for the final quarter are now seen at $1.25 per share. This would result in full year adjusted earnings of $4.57 per share, below the previous guidance of $4.65-$4.85 per share.
The compressed peak season, including a surge of last-minute online orders caused difficulties for UPS in handling those transactions while maintaining service standards. Combined with the difficult weather, UPS did not manage to meet its delivery standards, despite hiring 85,000 temporary employees.
Note that the official release for the fourth quarter earnings report is planned at the 30th of January.
Online Orders Peak
To illustrate the peak demand which companies like UPS have to handle, the logistics company released some interesting details. On the 23th of December, UPS handled 31 million packages, 13% more than the peak day on 2012. This means that the company had to manage 360 packages every single second that day.
Including the temporary employees as hired by UPS, its workforce approached 500,000 workers for the peak season. This means that on average each employee still had to deliver more than 60 packages that day.
UPS did not expect this as the company expected the peak day to occur six days earlier, while total shipments were seen approaching 29 million packages.
2014 Outlook
Despite the disappointing end to 2013, UPS remains confident for 2014. Adjusted earnings are expected to increase by 10-15% compared to 2013, in line with its long term targets.
This implies that 2014 earnings are seen between $5.03 and $5.25 per share.
Long Term Growth And Track Record
UPS remains confident towards the future as seen by the aggressive 10-15% long term earnings per share growth target. Strong pricing, based on activity based costs, economies of scale, and a superior competitive advantage should continue to drive operating margins. As can be seen, its margins are far ahead of competitors, including FedEx (NYSE:FDX).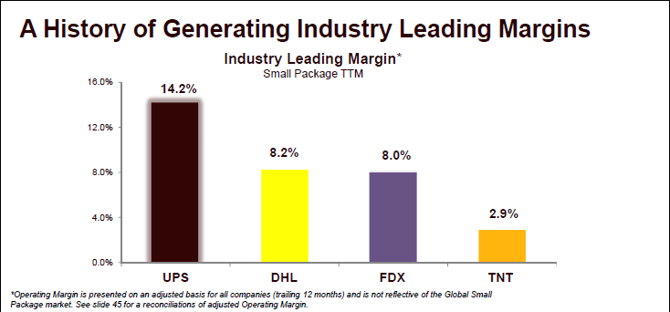 Click to enlarge
The company has still identified many opportunities for growth. The company is still very much US focused, with roughly 80% of its 399,000 in permanent staff located in the US. Yet the business is focusing more and more on Europe and Asia, finding superior economies of scale. The company remains committed to growth despite the failed acquisition of Dutch-based TNT. To illustrate the size of the company, UPS uses nearly 100,000 delivery vehicles while operating over 500 planes.
Besides emerging growth, the major source of growth in the US and on a global scale is e-commerce. As can be seen below, between 2010 and 2016, Forrester Research estimates that e-commerce sales are expected to show a compounded annual growth rate of 11%. As such sales could total $327 billion in 2016, driven by the likes of Amazon.com (NASDAQ:AMZN).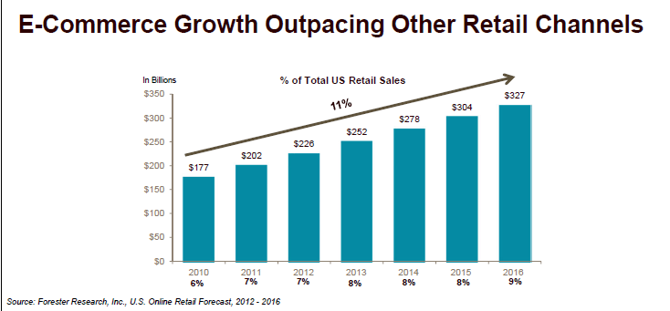 Click to enlarge
Takeaway For Investors
UPS remains very optimistic about the growth prospects, despite the lack of earnings growth in 2013. While the 10-15% growth target is impressive, the company failed to deliver a few times, including in 2013.
Despite this, the market values UPS at around $100 per share at the moment. This values the business at roughly 22 times adjusted earnings for 2013 and 19-20 times earnings for 2014.
These are quite high valuations, yet investors are happy with the long term track record of the firm as UPS maintained or increased its dividend for 44 years in a row. Despite some stagnation during the 2008-2009 recession, dividend growth has resumed in recent years.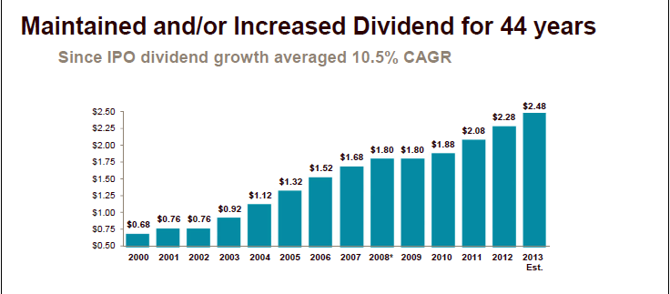 Click to enlarge
So it is understandable why investors give UPS a break despite the profit warning. Note that the profit warning was a result of too much demand and poor weather. Despite the short term headwinds, the long term prospects for UPS remain rock solid, supported by a strong track record.
Don't expect spectacular returns in the short to medium term, yet the company remains well positioned, supported by the dividend for very long term investors.
Disclosure: I have no positions in any stocks mentioned, and no plans to initiate any positions within the next 72 hours. I wrote this article myself, and it expresses my own opinions. I am not receiving compensation for it (other than from Seeking Alpha). I have no business relationship with any company whose stock is mentioned in this article.