By: David Russell
Option activity surged in aerospace companies such as Raytheon (RRN) and Lockheed Martin (NYSE:LMT) on Friday after North Korea was suspected of sinking a South Korean naval vessel.
Volume was more than 12 times average in both stocks amid heavy call buying as investors targeted front-month contracts looking for a sudden rip to the upside. RTN's April 60 strikes were the most active, changing hands 14,718 times for $0.10 to $0.25 against open interest of just 870 contracts, according to optionMONSTER's Heat Seeker program.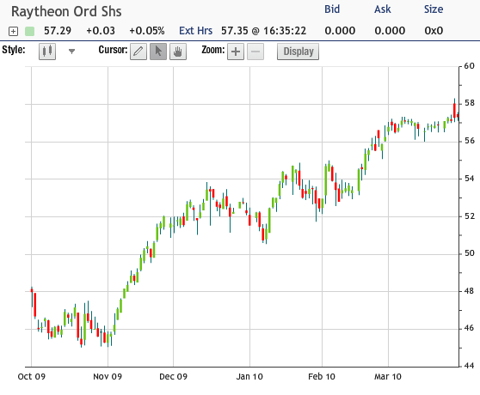 Click to enlarge
The trades demonstrate how investors can use options to position for a potential rally in the stocks while risking only a small amount of capital because they stand to lose only the premium if RTN fails to rally. In contrast if they were to purchase the stock, they would risk considerably more capital and receive much less leverage on a move higher.
RTN rose just 0.05 percent to $57.29 on Friday and appears to be stalling around the same levels where it traded before plummeting in October 2008. Some chart watchers may fear the danger of a correction from this level, which increases the reason why it makes more sense to use options rather than buying the stock.
In LMT, investors paid $0.09 to $0.30 for April 90 calls. The stock needs to rally more than 7 percent by expiration for the calls to turn a profit.
The Heat Seeker also detected similar activity in General Dynamics (NYSE:GD) and Northrop Grumman (NYSE:NOC), which both saw April call buying at near-the-money strikes.
Overall in the four names, calls outnumbered puts by a bullish 16-to-1 ratio. Contracts expiring in April accounted for 79 percent of the activity, compared with a 46 percent proportion for the total market.
(Chart courtesy of tradeMONSTER)