Alpha Pro Tech, Ltd.(NYSEMKT:APT) is a small-cap company that has now posted three straight annual profits, including profits in the last four quarters. The profit acceleration, that we will detail later in this article, has been very impressive over the last year. APT is a company that over the last few years has fallen off the radar of investors. This situation is reflected in the extremely low market cap being assigned the company right now. For investors looking for an undervalued, profitable small-cap stock with exposure to some large revenue growth areas, APT is a company to strongly consider.
Background:
APT engages in the development, manufacture and marketing of disposable protective apparel, building supply and infection control products. It operates in three business segments: Building Supply, Disposable Protective Apparel, and Infection Control. The Building Supply division is responsible for 75% of APT revenues and is the major contributor to the turnaround witnessed in the company over the last year.
Building Supply division of APT offers construction weatherization products, such as housewrap and synthetic roof underlayment.
Disposable Protective Apparel division provides disposable protective apparel, such as shoe covers, caps, gowns, coveralls and lab coats.
Infection Control portion of the company offers face masks and eye shields.
Financials:
As we mentioned above APT is a profitable small cap company. Some key highlights from the most recent earnings report include:
Third Quarter Revenues Increased 18.2% to $12.7 million
Third Quarter Net Income Increased 118.6% to $.05 Per share
Building Supply segment sales increased by 41% to a record $8.2 million
Cash increased to $7.7 million as of September 30, 2013, from $4.6 million as of December 31, 2012, an increase of 69% year over year.
Current ratio of 25:1 as of September 30, 2013, compared to 19:1 as of December 31, 2012.
The positive cash flow generation from APT is a major reason for the new share buyback plan announced last year. As of September 30, 2013, APT had $2,306,000 available for additional stock purchases under its stock repurchase program. For the nine months ended September 30, 2013, APT has repurchased 1,543,250 shares of common stock at a cost of $2,422,000. Under the current repurchase agreement the company has repurchased a total of 10,136,878 shares of common stock at a cost of $13,214,000 for an average per share cost of $1.30. APT has zero debt and also has an untapped $3.5m credit facility. Based simply on these cash management numbers APT appears to be a very financially sound and well run company. As you can see from the chart below APT is consistent in its quarterly cash flow generation and its repurchase of stock.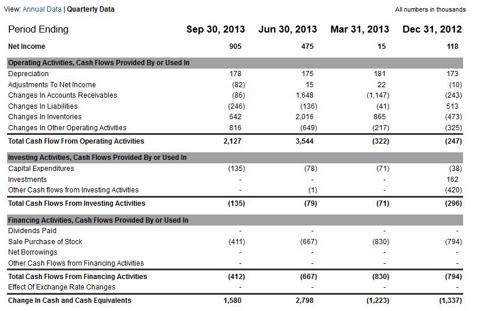 APT currently has 18.92 million shares outstanding with a float of 15.4m. The company is still very undiscovered as noted by the low institutional ownership of 7.8%. This is actually a very bullish sign for this profitable company. As the story of APT becomes more widely known, and institutions discover APT, the upward pressure on the stock price could be very nice. Insiders also currently own 15.4% of the company, another bullish development. APT has doubled its EPS over the last quarter with only a small incremental increase in revenues. This indicates a strong business with very under-control expenses. In the last quarter revenue increased $1.5m with cost of revenues growing $1m. This resulted in $500,000 in additional profit for the quarter. Over the last four quarters APT has averaged a 63.6% cost of revenues. Average growth rate quarter over quarter has been 15%.
Potential Sales Growth:
The infection control division of APT is where potential sales increases could come in the upcoming quarter. Infection control segment sales for the three months ended September 30, 2013, remained flat at $1.1 million as compared to the same period of 2012. Mask sales were up by 0.8% to $773,000. This area could offer nice upside potential to the next quarterly number. The current flu season, which as of today was officially designated an epidemic, is where the opportunity for increased sales comes from. The last large scale Flu epidemic was in 2009. During the 2009 bird flu epidemic APT saw its sales of infection control products, namely masks, grow 600% from $520k in 2008 to $3.3m in 2009. If we are to assume a similar uptick in sales growth during this current epidemic we could see APT post an earnings surprise in the upcoming quarter. Typically when there are flu epidemics there is an increase in protection mask sales. Not only do hospitals use more but individuals use them too. Recent bid flu news from Asia is likely to lead to more images of people wearing face masks. History has proved that this leads to increased sales for APT. The sales growth seen in the last flu epidemic can be seen below.

The numbers from APT show a 15% quarterly growth rate right now with a stable SG&A and a 63.6% cost of revenues. Using these numbers we get a potential profit for the December quarter of $1.9m and for the current quarter of $2.7m. These numbers can be seen in the chart below.

These numbers do not include potential revenue and profit growth from an uptick in Infection Control products. If we assume a small 25% increase in Infection Control sales for the current quarter, with the corresponding 63.6% cost of sales, APT would be an looking at an additional $100,000 in EPS. 50% and 100% growth in Infection Control product sales would add an additional $200-400k in EPS. APT has proven in past epidemics that this size of growth we used here is actually conservative.
Conclusion:
APT is a profitable small cap that is growing revenues double digits over the last year. Net income has increased 70% over the last quarter after growing 3000% in the previous quarter. The company has an active share repurchase agreement that has reduced the outstanding shares by 10 million. It is cash flow positive. Revenue growth is strong with stable SG&A expenses. Additional revenue growth is very likely in the current quarter for Infection Control Products. Based on financials and everything we have outlined above APT is extremely undervalued right now and offers tremendous investment potential for investors.
Disclosure: I am long APT. I wrote this article myself, and it expresses my own opinions. I am not receiving compensation for it (other than from Seeking Alpha). I have no business relationship with any company whose stock is mentioned in this article.