VMWare acquired Airwatch for $1.5 billion today putting itself squarely into the Mobile Device Management business and head to head with BlackBerry (NASDAQ:BBRY). The price seems to be about 6 times Airwatch revenues which are reportedly somewhere around $125 million.
The move follows Microsoft (NASDAQ:MSFT) putting its own oar in the water in what seemed to some to be a collision course to Airwatch and Mobile Iron just last October.
BlackBerry continues to be the bigger player in the MDM field, although its recent problems were without doubt a setback.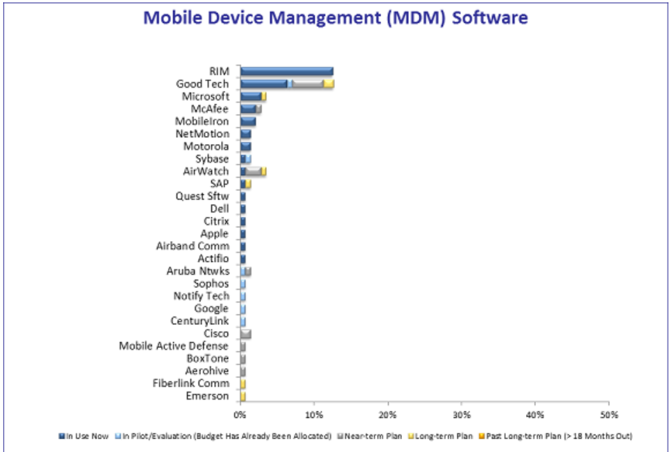 Click to enlarge
The market has shown more enthusiasm for BlackBerry recently with the appointment of John Chen as CEO, new financing to shore up its balance sheet by more than $1 billion, the sale of its Canadian real estate holdings, and the recent decision by the Department of Defense to use BlackBerry management and devices for the bulk of some 80,000 employees.
BlackBerry has a good understanding of the MDM space and made the wise decision last year to expand its BES 10.1 software to iOS and Android platforms. BlackBerry also distinguishes itself on the device end by having its handsets able to separate work from personal on the same device. Often ignored by market watchers, but high on the list of employee concerns, is the problem of sharing too much personal information with one's employer.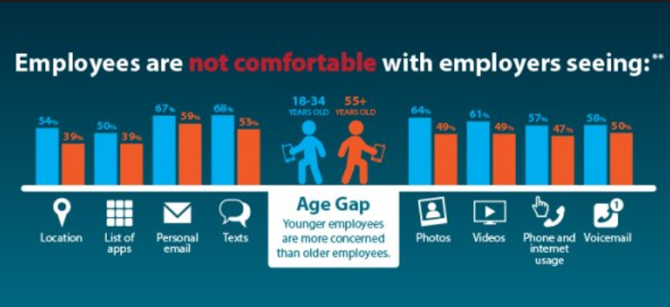 Click to enlarge
While BlackBerry 10 handsets did not set the market on fire, the BlackBerry Balance feature was of value and may be something the firm can build on as it tries to resurrect itself.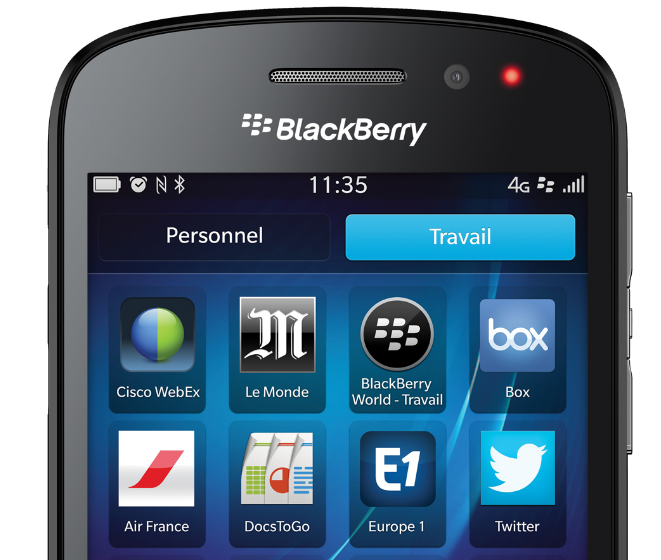 In any event, the Airwatch purchase by VMWare has established a value for MDM players that suggests BlackBerry's MDM operations may be worth several billion by themselves. The bad news for BlackBerry is that VMWare will be able to sell Airwatch services to thousands of VMWare clients in competition with BES 10.1 with its vast customer base.
The Airwatch deal makes it clear if it was not clear already that BlackBerry has valuable assets that can be built upon. John Chen may just be the man for the job.
I am long BBRY and MSFT calls.
Disclosure: I am long BBRY, MSFT. I wrote this article myself, and it expresses my own opinions. I am not receiving compensation for it (other than from Seeking Alpha). I have no business relationship with any company whose stock is mentioned in this article.