By Craig Bowles
Overview
Microsoft Corp. (NASDAQ:MSFT) is slated to report 2Q2014 earnings after the bell on Thursday, January 23. The earnings release is expected at approximately 4:00 p.m. EST with a conference call to follow at 5:30 p.m. that is webcast through Microsoft Investor Relations. A member of the Dow Jones Industrial Average, Microsoft has significant market influence and the potential to impact the broader market gauges.

Outliers & Strategy
Key measures:
Non-GAAP EPS: The current Street estimate is $0.68 (Source: Yahoo! Finance).
Revenues: Revenues are seen rising 10.4% y/y to $23.68 bln.
Insider selling continues with the last six months having sold 40 mln shares but the company is attempting to offset this with a new $40 bln stock buyback program that was announced this past September.
Microsoft is compared to other software and service companies with quarterly results possibly impacting Apple (NASDAQ:AAPL), Google (NASDAQ:GOOG) and Oracle (NASDAQ:ORCL).
Microsoft shares have been seeing increasing movement off earnings during the last year, so the 1-day average price change on earnings of just -0.2% is deceiving. Microsoft's earnings releases have recently produced roughly a dollar of price change for every 3-4c that earnings vary from consensus. The technical setup could make Thursday even more interesting. Index futures are more apt to be impacted by surprising results from Microsoft given what appears to be a leadership change out of some of the momentum stocks.
Recent News
01/14: Citigroup downgraded Microsoft to Neutral from Buy but admits price in the short-term will be driven by the CEO search, according to a post on StreetInsider.com.
01/10: Barclays upgraded Microsoft to Overweight from Equal Weight citing a lower probability of an outsider becoming CEO will allow investors to refocus on improving fundamentals, according to a post on StreetInsider.com.
Technical Review
Microsoft shares after being basically flat for a decade are attempting to move higher again after 2007's failure. This breakout from consolidation has resulted in a bumpy uptrend since 2011 supported by the general market. Shares recently have fallen into an interesting wedge pattern over the last couple of months. The 20-day MA being below the 50-day, the weak Relative Strength Index (RSI) and MACD suggests some urgency for the share price getting back above $37.25. Should earnings disappoint, the stock would test this uptrend pretty quickly down at around $34.00. Microsoft shares are at an important technical point that puts increased importance on Thursday. (Chart courtesy of StockCharts.com)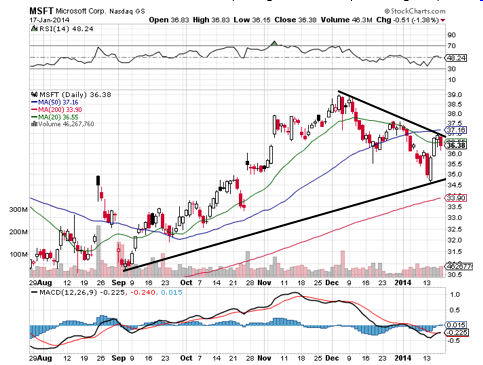 Summary
Microsoft bulls are hoping this second attempt at moving higher will have a longer duration than the last one in 2007. The company is in the process of finding a new CEO and has launched a large buyback program to offset insider selling. Expectations for the current release have been reduced by analysts over the last three months, so should be easier to beat. While Microsoft's earnings release has produced roughly a dollar of price change for every 3-4c earnings vary from consensus, the interesting technical position and news surrounding the company suggests price change could be enhanced. Whether that reward if directed to the bulls or bears could soon be determined and the bulls are getting a 2.7% yield to wait.
DISCLAIMER: By using this report, you acknowledge that Selerity, Inc. is in no way liable for losses or gains arising out of commentary, analysis, and or data in this report. Your investment decisions and recommendations are made entirely at your discretion. Selerity does not own securities in companies that they write about, is not an investment adviser, and the content contained herein is not an endorsement to buy or sell any securities. No content published as part of this report constitutes a recommendation that any particular investment, security, portfolio of securities, transaction or investment strategy is suitable for any specific person.
Disclosure: I have no positions in any stocks mentioned, and no plans to initiate any positions within the next 72 hours. I wrote this article myself, and it expresses my own opinions. I am not receiving compensation for it (other than from Seeking Alpha). I have no business relationship with any company whose stock is mentioned in this article.