Recently I was asked about the best method for valuing upstream MLPs such as Linn Energy (LINE). Traditional methods for valuing companies such as TTM PE ratios or EV/EBITDA multiples simply do not work well for these names due to the large amounts of depreciation expenses and other related issues. However, there is one metric which stands head over heels above the others, namely the share price to distributable cash flow, or P/DCF, multiple. Using this metric it becomes apparent that Linn Energy is perhaps finally regaining the premium it used to trade for compared to its peers. Linn Energy currently offers a $0.2416 per month distribution and yields about 9.06%.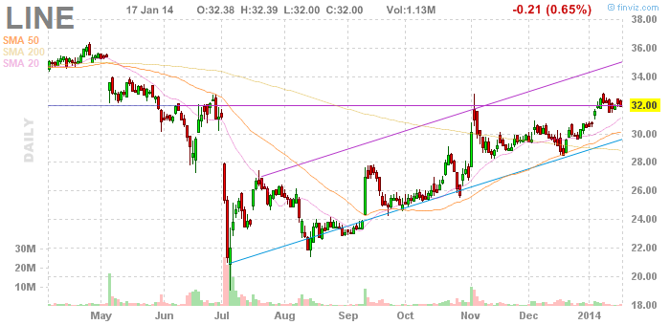 Linn Energy's valuation compared to its peers
As I noted in the intro, Linn Energy is now trading at a premium compared to its peers. Below is a list of the major upstream MLPs ranked by P/DCF multiple. This metric is determined using the annualized TTM DCF per share and the share price as of Friday, January 17.
VNR: 11.90x

LINE: 11.10x

BBEP: 10.30x

MEMP: 9.90x

QRE: 8.90x
With its current P/DCF multiple of 11.10x, Linn Energy is near the top of the list among the upstream MLPs. Only Vanguard Natural Resources (NYSE:VNR) trades at a higher multiple. However, that stock well deserves a premium given its very stable and consistent track record. BreitBurn Energy Partners (BBEP), QR Energy (NYSE:QRE), and Memorial Production Partners (NASDAQ:MEMP) round out the bottom of the list which may imply some undervaluation from the market for these stocks.
Higher natural gas prices should boost Q4 2013 results
I believe Linn Energy is now trading at a premium due to several factors. The first and likely most important factor is the sharp increase seen in natural gas and NGL prices in Q4 2013. As I noted in a previous article, Linn Energy will benefit greatly from these increases. Do note that while Linn Energy's upside for natural gas is limited due to hedges, the same is not true for NGLs. As Linn Energy's NGL production goes essentially unhedged, changes to its pricing has an outsized impact to DCF than implied by its production size. As a result, I estimate that Linn Energy's coverage ratio may improve to about 1.10x for the quarter.
Turmoil regarding Berry merger is now over
The second factor for Linn Energy resurgence would have to be the completion of the Berry Petroleum (BRY) merger. This transaction took nearly a year to complete and faced numerous hurdles along the way. Linn Energy was attacked multiple times by bears arguing that the stock and its distribution were essentially a "house of cards". In addition, Linn Energy faced an informal SEC inquiry regarding its hedging policy which ultimately resulted in some disclosure changes and financial re-filings, though it had no material impact. Arguably the most important result from this turmoil was that Linn Energy had to sweeten the deal significantly, changing the exchange ratio to 1.68 shares of LinnCo (LNCO) from the previously announced 1.25 shares.
With the merger now complete, Linn Energy will now likely see some sort of accretion to its DCF per unit metrics. Berry's assets fit the mold nicely as to what upstream MLPs want, namely mature, low-decline production with high margins. Berry's production is also likely to benefit from further investments in enhanced oil recovery, or EOR, techniques which for relatively little costs, can boost production meaningfully. These assets will also benefit from being in the tax-advantaged MLP structure rather than in C-Corp. I expect the company to provide more details as to the level of this accretion during its year-end report.
Conclusion
If I were to guess, the market may now be factoring in some level of DCF per unit growth for Linn Energy. Q4 2013 results are likely to come in strong. Meanwhile, FY 2014 DCF will likely benefit from the addition of Berry's assets. In essence, Linn Energy's forward multiple may put its valuation more inline with its peers than implied by current DCF levels.
That being said, I would still advise caution regarding Linn Energy. We still need to see how exactly the company plans to integrate Berry's production as well as how accretive the transaction actually is given the increased exchange ratio. Any setback or surprise in that regard may send the stock lower.
Disclaimer: The opinions in this article are for informational purposes only and should not be construed as a recommendation to buy or sell the stocks mentioned. Please do your own due diligence before making any investment decision.
Disclosure: I am long VNR, QRE, MEMP, . I wrote this article myself, and it expresses my own opinions. I am not receiving compensation for it (other than from Seeking Alpha). I have no business relationship with any company whose stock is mentioned in this article.