(Editors' Note: This article covers a micro-cap stock. Please be aware of the risks associated with these stocks.)
Although just a small portion of my overall portfolio (10% to 15%) is allocated to small cap stocks, it is the part of my portfolio I have the most fun researching. Most small cap equities are relatively underfollowed by analysts and it is from this slice of the market that an investor can find their biggest winners - and sometimes their biggest losers.
It is this volatility and potential for outsized gains that excites growth investors that don't mind doing a little work to uncover hidden gems. Here are two small cap stocks in my portfolio that are going for less than $7 a share but look poised for big things in 2014.
Hercules Offshore (NASDAQ:HERO) is a small (~$900mm) oil services concern. Hercules provides shallow-water drilling and marine services to the oil and natural gas exploration and production industry worldwide and possesses the third largest jackup fleet (~40 jackup rigs) in the world.
Hercules is a classic 2014 earnings' story. The firm lost approximately 45 cents a share in FY2012 but is tracking to post 20 cents a share in profit in FY2013. Earnings are poised to explode in FY2014 with the consensus calling for 75 cents a share in earnings for FY2014.
Driving earnings is an acceleration of revenue growth. Sales grew more than 20% in FY2013 and analysts believe revenues should gain almost 30% in FY2014. HERO is priced at just under $6 a share and is selling right at book value.
Hercules is Deutsche Bank's top small cap pick in the energy services sector and it is has a $10 a share price target on HERO. $10 a share is also the median price target held by the 17 analysts that cover the stock. The stock is too cheap at under 8x forward earnings and approximately one time annual revenues.
I picked up a small alfalfa seed producer S&W Seed Company (NASDAQ:SANW) yesterday at $6 a share as I saw a small blurb on SeekingAlpha and decided to investigate further. I liked what I found and purchased a small position.
The stock had a tough 2013 and was one of the rare small caps that posted significant declines in 2013 while the market rose some 30%. However, it has performed much better since bouncing at around $5 a share late in the just completed year (See Chart).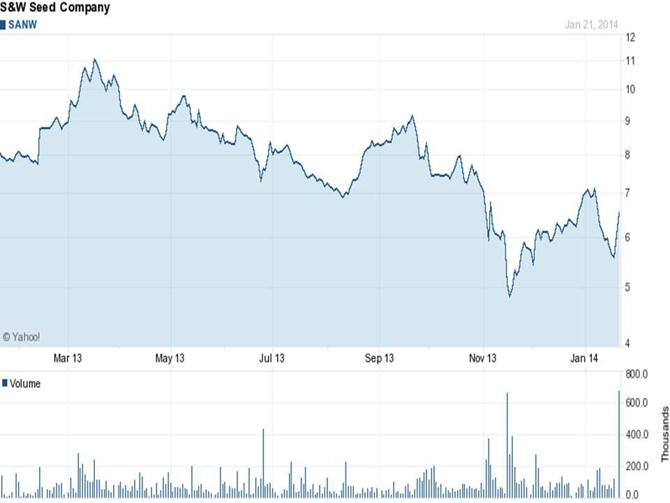 Driving this change in momentum is a couple of positive analyst takes. Craig-Hallum initiated the shares as a "Buy" yesterday with a $10 a share price target. Roth Capital has also recently been positive on the shares and has a similar $10 a share price target on SANW.
This is another small cap (~$85mm market capitalization) that posted a loss (8 cents a share) in FY2013 (Fiscal year starts in June for S&W) but looks poised to post a dime a share in profit in FY2014. Analysts believe that will double to 20 cents a share in FY2015. Revenues are projected to grow ~50% in FY2014 and another ~15% in FY2015.
Neither of these small caps is for the faint of heart as they are likely to be more volatile than the overall market. However, both are selling substantially below analysts' price targets and are poised for strong earnings & revenue growth in the New Year.
Disclosure: I am long HERO, SANW. I wrote this article myself, and it expresses my own opinions. I am not receiving compensation for it (other than from Seeking Alpha). I have no business relationship with any company whose stock is mentioned in this article.