Earnings estimates continue to rise for Natus Medical (NASDAQ:BABY) after management delivered bullish guidance for 2014. It is a Zacks Rank #1 (Strong Buy) stock.
While shares might seem expensive at first glance at more than 20x forward earnings, relative to its peers and its growth projections, it seems reasonably priced. If Natus can continue to deliver better-than-expected financial results, then there is still plenty of upside left in the stock.
Natus Medical Incorporated provides healthcare products used for the screening, detection, treatment, monitoring, and tracking of common medical ailments in newborn care, hearing impairment, neurological dysfunction, epilepsy, sleep disorders, and balance and mobility disorders. Its products address two primary end markets: Neurology and Newborn Care.
Bullish Guidance, Rising Estimates
On January 13, Natus Medical announced bullish guidance for 2014. For the full year, the company expects:
Revenue of $345-$350 million
Adjusted EPS between $1.12 and $1.16
These were both above consensus and prompted analysts to revise their 2014 estimates higher, sending the stock to a Zacks Rank #1 (Strong Buy).
Impressive Earnings Momentum
Natus Medical has delivered 4 consecutive positive earnings surprises going back to the fourth quarter of 2012. Over that stretch, its stock has soared more than +120%.
Natus delivered record third quarter results on October 24, 2013 as revenue rose 5% year-over-year and adjusted EPS surged 88% as profit margins greatly improved.
You can see the nice jump in price and estimates over the last several months in the company's 'Price & Consensus' chart: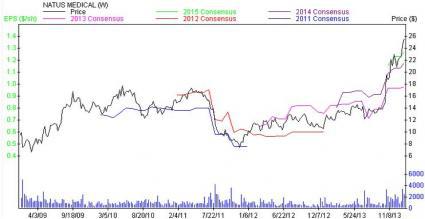 The company is scheduled to report its fiscal 2013 fourth quarter results on January 29.
Valuation
Natus Medical doesn't look cheap at 22x 12-month forward earnings. But that is below the industry median of 28x and a discount to its historical median of 26x.
And considering that analysts are projecting stellar 58% EPS growth in 2013 and 20% EPS growth in 2014, shares don't seem that pricey.
The Bottom Line
With excellent earnings momentum, strong growth potential and reasonable valuation, Natus Medical offers investors attractive upside potential.