Activities in the vast Permian Basin continue to advance in 2014. More players continue to join the action, and good well results are encouraging firms old and new to stake their claims. Occidental Petroleum (NYSE:OXY) has been a cornerstone conventional-focused independent, with the track record of being the number one oil producer in the Permian Basin. In 2012, Oxy produced nearly 43 million barrels to Pioneer's (NYSE:PXD) 21 million and Apache's (NYSE:APA) 19 million. Much of this was through conventional development and water and CO2 injections, or advanced recovery methods.
In the Permian, Oxy is one of the largest acreage holders of all of the larger independents, with more than 1.7 million net in the Delaware and Midland Basins. In the Delaware and Midland, their management estimates that more 570,000 net acres are prospective for the Bone Springs intervals (1-3), and 400,000 for the Wolfcamp Shale. Specifically, in the Midland Basin, they cite 310,000 acres in the Cline Shale (150K) and Wolfcamp Shale (150K), where equity performance of pure-plays among five top players was 71% as of early December 2013. In the Northern Delaware Basin, two players, Concho (NYSE:CXO) and Cimarex Energy (NYSE:XEC) averaged 49% (YTD) growth, or 28% and 71%, respectively, according to the Global Hunter Securities analysis. Oxy is the least leveraged firm, notes the report.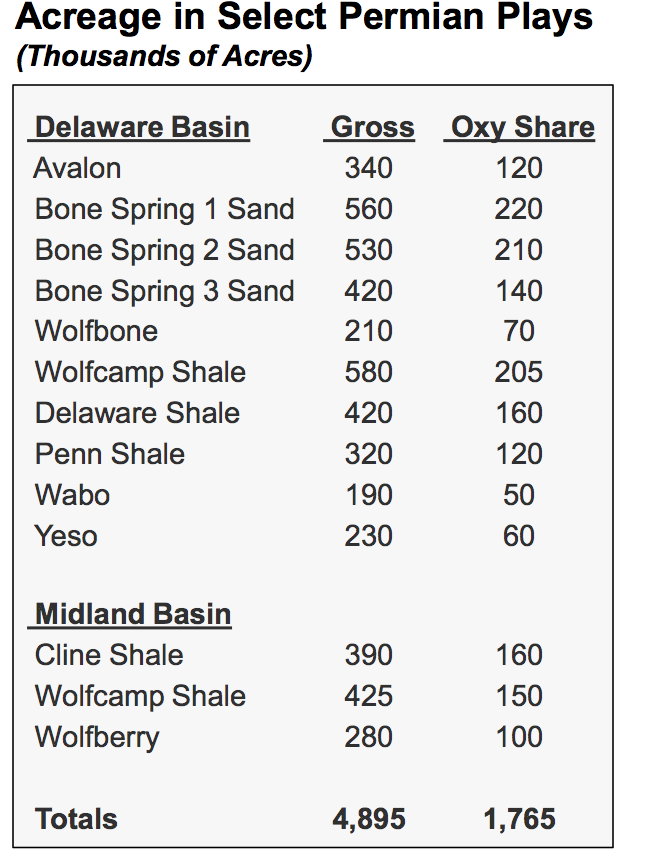 Occidental Petroleum, a $73 billion firm (as of 1/22/14), offers a more conservative opportunity to access the Permian Basin. They intend to spend an additional $500 million in 2014 to increase their horizontal drilling activities. This would be a five-fold increase from their 2013 target of 30 wells. They continue to reduce their operating costs as all E&P firms are doing because of the shift to economic risk that comes with the commodities' business but also the performance metrics expected in shale plays. Oxy is diversified throughout the Permian's many plays.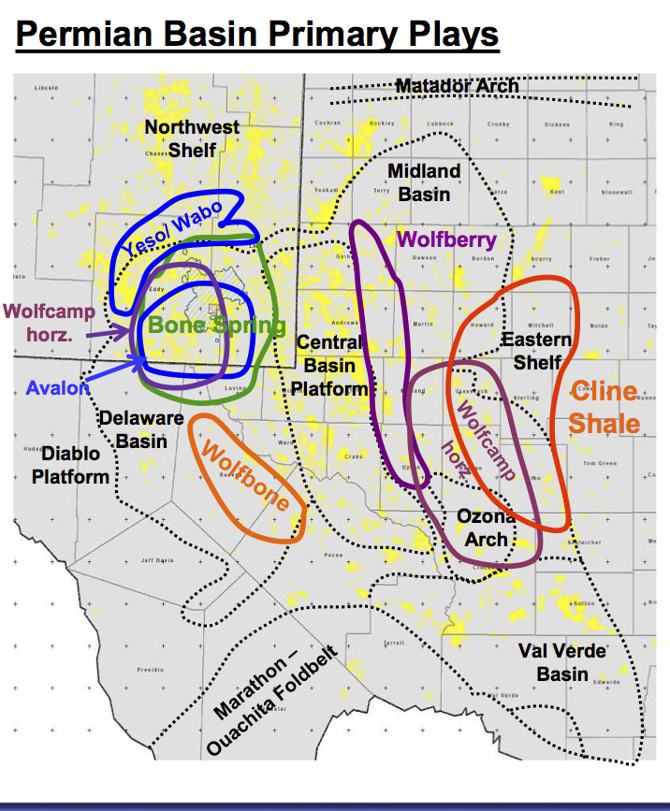 Oxy is a diversified, large independent, that is also attempting to shrink its size. Their Middle East-North Africa (MENA) operations are profitable and they continue to sell off assets in areas considered higher risk or not in alignment with their reduction strategies. The combination of using advanced recovery techniques coupled with horizontal drilling, a sort of conventional/unconventional interplay, gives them new offerings for government-owned MENA assets. They have massive projects in Qatar (Dolphin), Oman (3rd largest steamflood project in world) and the UAE, the Al Hosn gas mega-project. Its California operations, consisting of 1,000,000 prospective acres for unconventional activities, will receive an extra $500 million in capex to ~$2.1 billion in 2014.
Aside from their oil and gas assets, they are joint venture partners in the much-needed Bridge Tex pipeline that is to be operational in mid-2014. With partner Magellan Midstream Partners (NYSE:MMP), Occidental Petroleum is constructing and operating the 300,000 b/d pipeline to transport crude oil from the Permian Basin to the Gulf area. Their subsidiary OxyChem is also riding the waves of the natural gas and NGLs supply boom.
That the largest independent, after a number of housecleaning measures, is finally deploying in the Permian's shale development, signals the staying power of the Permian Basin's potential. The leaders in the Midland Basin such as Pioneer and the Delaware Basin's Concho, have blazed a trail. Continuing in manufacturing mode, Pioneer's 50-acre downspacing testing in the Southern Midland Basin may yield interesting results in 2014. Oxy may have some specific Permian results to report in their upcoming conference call of January 30th regarding the 30 horizontal wells they were to bring online in 2013. They claimed to have reduced their drilling costs by 20% as well. Oxy has a lower P/E than its peers at 16.0 and recently paid a decent 2.8% dividend yield.
Disclosure: I am long CXO. I wrote this article myself, and it expresses my own opinions. I am not receiving compensation for it (other than from Seeking Alpha). I have no business relationship with any company whose stock is mentioned in this article.