The Rebirth of a Badass
I remember when Research in Motion first came out with the original BlackBerry (NASDAQ:BBRY) - they were unlike anything in the world of mobile phones at the time. No one had heard of the brand, no one had heard of the cool name - "BlackBerry" - and no one had seen anything that physically looked as cool, for its time.
The 6200 and the 7200 series were the first two phones from BlackBerry that I laid eyes on. Immediately, my T-Mobile Sidekick (or whatever piece of crap) I was using didn't look nearly as cool. You have to remember, this was years before we had even seen anything like an iPhone, which would eventually come out in 2007.
The original BlackBerry line predated the iPhone by nearly 10 years.
If BlackBerry were a rapper, it would be an original gangster - a trend starter.
When the iPhone launched in 2007, the very first thing I thought of was how futuristic it looked in comparison to other brands. It looked years ahead of its time, and its launch was coming as part and parcel of an Apple (NASDAQ:AAPL) boom, where the company had reinvented its brand and its products under the vision of then CEO Steve Jobs.
Make no mistake about it, the company's death blow was the fact that it missed the smartphone revolution. While companies like Apple, Nokia (NYSE:NOK) and Microsoft (NASDAQ:MSFT) were focusing on touchscreen smartphones, BlackBerry was trying to hold its ground instead of evolving.
That led us through the muck - the Heins era came and went, the BlackBerry 10 came and went, and we woke up in 2014 with a new CEO, a new plan, some dilution, but plenty of cash in the bank.
BlackBerry has officially dug in for their last licks - and the market is finally rooting for this underdog. As am I.
My History With BlackBerry
My history with BlackBerry is as follows, in easy bullet point form for your convenience:
In February of 2013, I predicted that the BlackBerry 10 was going to fail, and mark a significant downturn for the company.
Through November 8, I wrote a series of articles explaining why, with Thorsten Heins as CEO, the company remained a significant risk.
On November 20, 2013, at what I predicted was going to be an all-time bottom for the company, I took a long position in the company that I have since sold.
On January 9, 2014, I wrote "BlackBerry Digs In," commenting, "Even with the dilution, there is a decent common sense argument for the company being able to reach the $10 (or potentially above) once again. The question remains, do you think that John Chen is the man for the job? I do, and although I have no position, I remain cautiously optimistic about the future of BlackBerry."
Today, January 22, 2014, I took a long position in BlackBerry and am reiterating my bullishness on both Chen, and the company.
In many past articles, both myself and SA contributor Michael Blair had repeated time after time that BlackBerry's focus should be on security. As early as September of 2013, we made the following postulation:
Contributor Michael Blair and I traded short quips during conversation about the potential of the company to have this niche going forward. The important thing is that it really is a niche in the super-saturated mobile phone market. At one point, Sprint/Nextel looked as if they were going to focus on this crowd - right when the two-way feature was developed and Sprint/Nextel was making phones that you could run over with an 18-wheeler. They strayed from this idea, and it was ultimately semi-abandoned from a marketing standpoint.

Just as companies like Panasonic (who makes the Toughbook) have to make the laptops that are used in the military and law enforcement field, BlackBerry could tailor themselves as the company that's going to provide the security, toughness and innovation necessary for specialized needs like those of government employees.

The focus on BlackBerry during its heyday was strictly for business - could a return to roots be in order?
Well, Mike - looks like we might have hit this nail directly on the ole' head. I know my buddy Mike has probably had some Pepto-Bismol days, holding onto his BlackBerry calls since the $6 region. Now, holding on is likely paying off for him, and according to his last article, he's loading up more calls.
So, with my buddy in, and now that they're heading in the direction we wanted them to, did I really have any other choice but to stake a long position and give Chen a chance?
How BlackBerry Has Traded
Let's put the last 6 months of 2013 behind us, which basically saw BlackBerry head into freefall. The company's 12-month metrics show it down 40% still, even after the recent run up in the past week.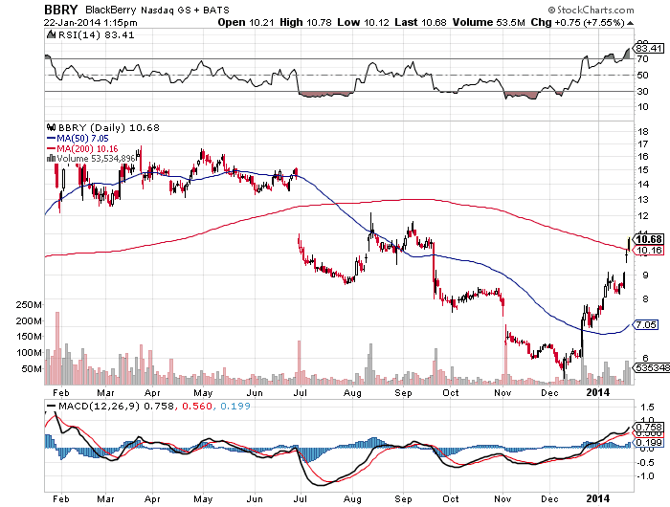 Now, let's turn the prism a bit and look at BlackBerry from 2014 on - what we'll call the John Chen era. BlackBerry has traded up 43.5% since the beginning of 2014 - an indication that the public has confidence in Chen and his plans.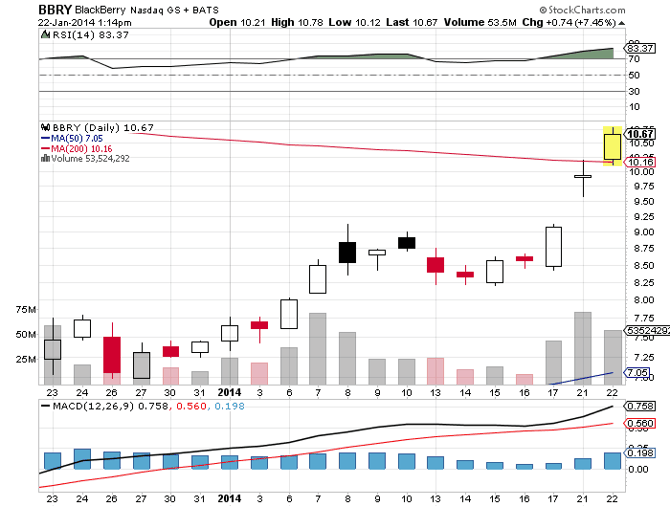 On the heels of a couple of upgrades, BlackBerry continues to fuel an ascent upward.
RBC upgraded BlackBerry in the second week of January, citing a $10 price target. Paul Treiber, the man responsible for the upgrade, looks like a genius - and it only took him 11 days:
In a report published Friday, RBC Capital Markets analyst Paul Treiber upgraded Blackberry to Sector Perform from Underperform, raising its price target to $10.00 from $6.00.

According to the report, the upgrade to Sector Perform follows the new management team's move to quickly to improve liquidity and strengthen the balance sheet. Firming asset metrics and transfer of liabilities may provide cushion to BlackBerry's stock. "BlackBerry's new CEO is moving fast," the report said. "We expect more changes over the next six months as no stone is left unturned at BlackBerry, which at one point had 17k employees and is now down to 7k. The move into the MDM segment is not without risk and the market is seeing sharp ASP erosion. We expect bridge products between BB7 and BB10, and a focused approach to servicing the high-end enterprise." BBRY closed Thursday at $8.72.
Last week Citron Research, who is notorious for shorting companies, came out and claimed that BlackBerry has a minimum $15 price target.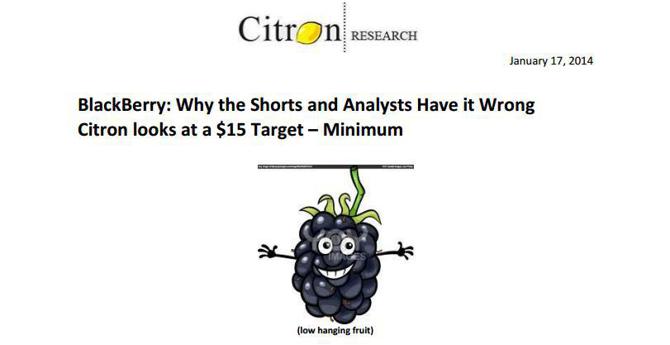 Citron's thesis revolved around Chen's past successes, the securing of BlackBerry's balance sheet, and squeezing out a short position that is short for "the wrong reasons." Citron's full report can be read here.
When I talk about momentum potentially being a barrier for BlackBerry, this is the type of 180-degree momentum shift bulls should be looking for.
Progress in 2014
On January 10th, Chen dropped the "interim" from his title, showing the world he's in it to win it:
With little fanfare, John S. Chen has dropped "interim" from his title as chief executive of BlackBerry, the struggling smartphone maker .

Adam Emery, a spokesman for the company, confirmed the title change and said that this week during at International CES, the large electronics trade show in Las Vegas, Mr. Chen promised to stay on at BlackBerry, which lost $4.4 billion in its last quarter.
Then, after Citron's upgrade of the company and $15 price target, the Department of Defense came out and provided a vote of confidence on the company, stating that they support 80,000 BlackBerrys versus just 1,800 iOS phones.
Then, on January 21st, BlackBerry came out and announced they were selling three million square feet of real estate, which it no longer needs due to job cuts. BlackBerry's press release read:
In partnership with CBRE Limited, BlackBerry intends to strategically divest the majority of its commercial real estate portfolio through a combination of sale-leaseback and vacant asset sales. The properties to be offered for sale comprise over 3 million square feet of space.

"BlackBerry remains committed to being headquartered in Waterloo and having a strong presence in Canada along with other global hubs," said BlackBerry CEO and Executive Chair, John Chen. "This initiative will further enhance BlackBerry's financial flexibility, and will provide additional resources to support our operations as our business continues to evolve."
Divesting of this real estate will continue to bolster BlackBerry's balance sheet as they get leaner and meaner. Elephant Analytics just wrote an excellent piece trying to determine how much BlackBerry's real estate is worth:
BlackBerry's real estate sale portfolio is worth approximately $362 million, although there are potential deal hindrances. Any purchaser would need to assess the viability of relying on BlackBerry as a long-term tenant, and any properties that BlackBerry vacates in Waterloo would add substantial amounts of inventory to a city that currently has an 8% vacancy rate on 6 million square feet of office space.

BlackBerry's net lease rates are likely going to be around $9 US per square foot, so BlackBerry's expenses will increase by $9 million per year if it leases 1 million square feet of office space. It makes sense for BlackBerry to monetize its real estate to improve liquidity as it attempts a turnaround.
The Team That's Going to Get it Done
Chen has spent the better part of his tenure at BlackBerry hiring executives that he is confident in to surround himself with. Mostly, he's hiring executives that he's familiar with from Sybase and SAP - people he likely knows are capable of getting the job done the way he wants to do it. His new team consists of:
Eric Johnson - President of BlackBerry Global Sales (fmr. VP at SAP)
Mark Wilson - Senior VP of Marketing (fmr. VP at Sybase)
John Sims - Chief of BlackBerry Enterprise Services (fmr. Pres. at SAP)
James Mackey - Executive VP for Corporate Development (fmr. VP Corporate Development at SAP)
Chen is a specialist of sorts - he specializes in finding what he can monetize from a company like BlackBerry, and then executing with that. By surrounding himself with his colleagues from Sybase/SAP, he's looking to do exactly the same thing in this case: take BlackBerry's enterprise service, the failing hardware, and BlackBerry messenger - and monetize them.
Need another reason to like Chen? He's putting his money where his mouth is, picking up 25,000 shares on the open market to start off 2014:

Chen is confident in himself and his team.
Chen is the specialist, and this is his Delta Force.
BlackBerry's Book Value
BlackBerry's current value as a company simply makes it a good fundamental buy at this stage of the game.
With 518 million shares outstanding and $9.4 billion in stockholders' equity (as of 3/13), BlackBerry has a back of the napkin book value of $18.14 if you don't exclude items. Yahoo Finance puts its tangible book value at $7.78/share. The point here is to show that there's value in BlackBerry stock, and that it's hardly trading at a wicked multiple to what its value on paper is.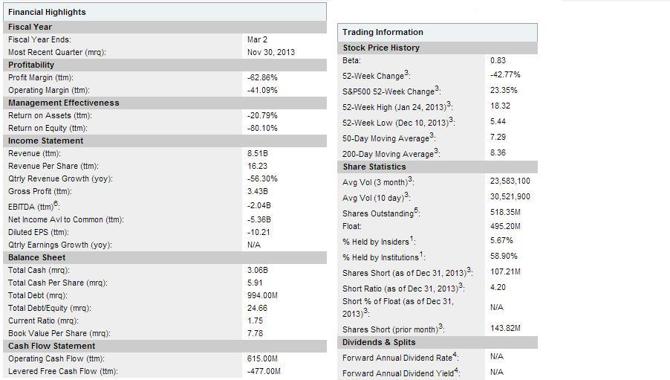 The company currently has $5.91 cash per share on hand.
Short Interest Vanishes
One thing that shorts like to do when they feel they've squeezed all the juice they can get out of a fruit like BlackBerry, is load up and go long for the ride in the other direction. As you can see from the below data provided by Nasdaq.com, BlackBerry's short interest is starting to fall off a cliff.

In addition, BlackBerry's shorts have finished piling on, and are likely loading up for a move in the other direction.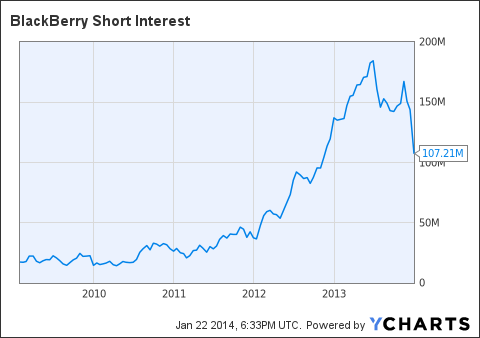 BBRY Short Interest data by YCharts
The Technicals Starting to Look Good
Part of momentum, which I'll talk about below, is having technicals that post bullish signs. BlackBerry has broken out of an extremely long technical downtrend that is providing momo and technical traders a reason to back the stock in coming weeks: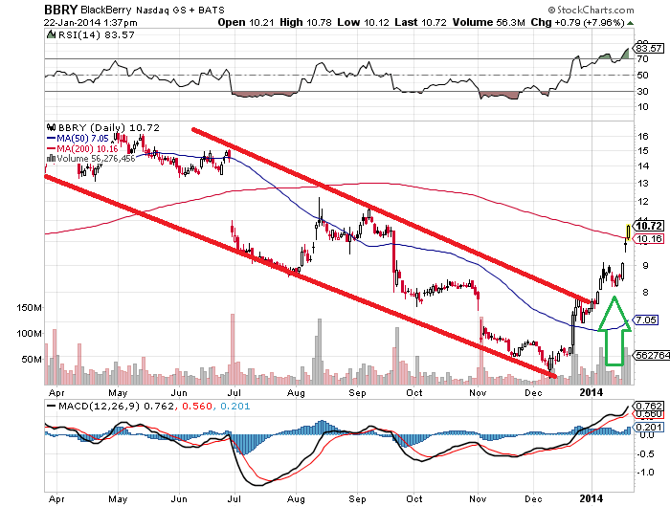 BlackBerry's RSI is screaming up towards 90, so a small correction over the coming days before continuing a move upward would not surprise me.
If BlackBerry can simply hold these levels, we're going to see the 50DMA curl up and cross the 200DMA - a "golden cross," one of the most traditionally bullish signals that chartists look for.
Potential Barriers to Success
This is one of the items that I looked at to end 2013. I wanted to try and find out what, exactly, is standing in John Chen's way and preventing him from success with BlackBerry now that he has his team in place and money in the bank. So, let's review what my caveats were then, and how they come into play so far in 2014.
The company name is an issue that has held back several companies from success. Notably, companies like J.C. Penney (NYSE:JCP) are unable to turn their brands around or rebrand due to the stigma that is attached to their names. I wrote a previous article identifying several companies that went under because instead of rebranding and restructuring they were relying on the iconic status of their name to be the savior of the company. What we found out with Kodak is what we are going to find out with J.C. Penney, and what we're eventually going to find out with Sears (NASDAQ:SHLD): sometimes failure is in the cards of the brand name.
Having said that, BlackBerry's name ending 2013 was synonymous with failure. The name conjures up images of the dated technology that is no longer mainstream, nor available. For all intents and purposes, the BlackBerry name may need to change - again. It's been examined and looked at in several other articles so far in 2014: a name change makes sense. Or, instead of changing the name of the company, when BlackBerry decides to launch a new product the focus should be around branding of the product name as opposed to the BlackBerry name.
When the company changed its name from Research in Motion to BlackBerry, they were trying to shake the negative stigma attached to the company. They had a chance to execute with the BlackBerry 10 and were unable to do so and create a new image for the company.
Let's face it. The company felt like it was moving uphill to end 2013. The company had been facing a major uphill battle for the last several years.
What I said last month:
Conversely, if a company can swing the momentum to the downside of the hill, it should be able to find success that builds upon itself if it does generate some small short term wins.

One of the major issues, aside from the fact that the name is tarnished, is the fact that all types of momentum working against the company right now. This is a company that is guilty until proven innocent, and not the other way around. BlackBerry has something to prove.
Short term, we've already seen the momentum shift - the confidence looks to be back in BlackBerry.
Long term, what is it going to take to shift this momentum? It's going to take sustained execution over the span of the next 2 to 4 years to swing the momentum back to the company and allow BlackBerry to coast downstream - as opposed to against the current.
When BlackBerry can turn the momentum long term, they're going to build major success for their shareholders.
The Appearance of Being Having Their Hand Forced
The enterprise idea is a good one. It is an idea that is cogent, prudent and makes sense. The company is sticking to what it's good at. I can't tell you how many times over the last year I've read articles by analysts who have argued that the company do exactly what it is doing right now. Playing to its strengths is the right thing to do for BlackBerry.
Having said that, it could potentially be misconstrued as desperation due to the fact that security and enterprise really seem to be the last out for the company. While it might give the appearance from the outside that the company's hand was forced, it doesn't take away the fact that enterprise and security were simply the best chance that the company had.
As the company moves forward, it's going to be important for John Chen to continue to reiterate that this move was based on common sense and was in the best interest of the company - even if it was the only real option remaining for the company. So far in 2014, I think the market is "getting it."
Conclusion
BlackBerry already has the momentum issue solved. Next will likely come the name change. Chen's cool, calm demeanor on the last conference call can likely show investors that even if his hand was forced, it was still the right decision. It's important that Chen keeps his attitude and candor with both the street and the media in line with how it's been thus far: perfect.
The cool thing about BlackBerry at the time when I first noticed it was the fact that it looked like something out of a James Bond movie. Now, with the focus that BlackBerry is putting on government and enterprise, they could remake that niche for themselves. In this day and age, with the government spying on its people, the focus has been on using the applications and software that are secure. If available primarily to government - and if it's good enough for the DOD - why wouldn't we want our very own spy-phones?
Constantly, we're seeing headlines involving the NSA's access to information and security breaches like we've seen at Target (NYSE:TGT). Security is soon going to become the number one priority for consumers, if it isn't already.
And so, everything could come full circle here. Incidentally, BlackBerry concentrating on its enterprise niche, could potentially create a repeat of what made the phone appealing to consumers like me to begin with - they were secure and they were badass - and in 2014, the rebirth has begun.
My price target for BlackBerry is $17 by the end of 2014.
Best of luck to all BlackBerry bulls in it with me.
Disclosure: I am long BBRY. I wrote this article myself, and it expresses my own opinions. I am not receiving compensation for it (other than from Seeking Alpha). I have no business relationship with any company whose stock is mentioned in this article.