So far this earnings season, 120+ companies have released their quarterly numbers. As shown below, the average stock that has reported thus far has declined 0.01% on its report day, which is essentially flat. (For companies that report before the open, we use that day's change. For companies that report after the close, we use the next day's change.) Energy and Health Care stocks that have reported have done exceptionally well, averaging gains of more than 1% on the day they release numbers. Consumer Discretionary and Technology stocks, on the other hand, have averaged declines on their report days.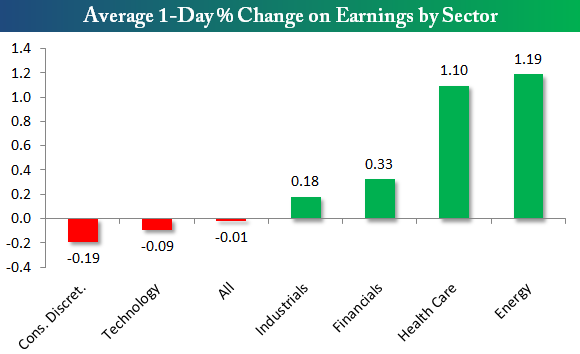 Below is a list of the stocks that have reacted the most positively to their earnings reports this season. As shown, Super Micro Computer (NASDAQ:SMCI) ranks at the top with a one-day gain of 21.62% on its report day. Ironwood Pharma (NASDAQ:IRWD) ranks second with a one-day gain of 16.51%, followed by Signature Bank (NASDAQ:SBNY), Acuity Brands (NYSE:AYI) and Helen of Troy (NASDAQ:HELE). Other notables on the list of earnings season winners include Skyworks (NASDAQ:SWKS), Norfolk Southern (NYSE:NSC), Morgan Stanley (NYSE:MS), American Express (NYSE:AXP), Delta Air Lines (NYSE:DAL) and Bank of America (NYSE:BAC).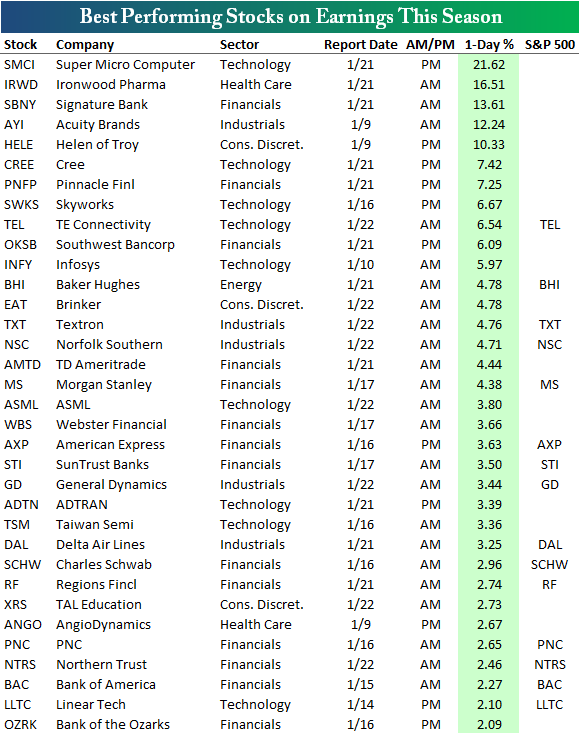 Synnex (NYSE:SNX) has been the biggest loser so far this earnings season with a one-day decline of 11.34% on its report day. The only other stock that has fallen by more than 10% on earnings is Advanced Micro (NYSE:AMD) with a decline of 10.77%. Coach (NYSE:COH), Capital One (NYSE:COF), Citigroup (NYSE:C), IBM, UnitedHealth (NYSE:UNH), Intel (NASDAQ:INTC), General Electric (NYSE:GE) and Goldman Sachs (NYSE:GS) are all widely followed names that find themselves on the list of losers so far this reporting period.