The Market Outlook This Week

Good Friday is the big USA unemployment numbers report with the equity market closed. Some are expecting job growth last month. Some of the forecasts are anywhere from 200,000 to 300,000 increase. The market sure seems to have it priced in already. A positive number here could keep the market moving up, and a negative number could be a let down and create selling pressure on stocks next week. Greece and Dubai are still in focus with their debt problems. I wouldn't be surprised if the US Dollar took a breather correction this week with its big up moves from last week.

My Stock Pick This Week

My pick this week s a buy on Honda Motors (NYSE:HMC). With the all problems facing the auto makers, forecasts for the auto industry remain bright long-term and could possibly be one of the fastest growing industries in the coming years ahead. Some forecasts are looking for annual growth of as much as of 17% for motor vehicles for the next five years. With Toyota's (NYSE:TM) problems, other auto makers may be able to capitalize on their misfortune and possibly take more market share from them. Honda is in a good position to possibly do just that and increase their earning per share in the process.

Buy Long Honda Motor Company

Buy Entry: 35.48

Stop-Loss: 34.97

Take Profit Areas: 36.94 to 38.61, 40.65 to 42.71

Honda Motors Company Profile
Honda Motor Co., Ltd., together with its subsidiaries, develops, produces, and manufactures various motor products, ranging from small general-purpose engines and scooters to specialty sports cars. The company operates in four segments: Motorcycle, Automobile, Financial Services, and Power Product and Other. The Motorcycle Segment engages in the production of motorcycles that consist of sports (trial and moto-cross racing), business, and commuter models, as well as all-terrain vehicles, personal watercraft, and multi utility vehicles. It produces motorcycles, ranging from the 50cc class to the 1800cc class in cylinder displacement. The Automobile segment engages in the production of passenger cars under Legend, Accord, Inspire, Civic, Insight, City, Acura RL, Acura TL, Acura TSX, and Acura CSX brands; minivans, multi-wagons, and sport utility vehicle under Elysion, Odyssey, Step Wagon, Stream, FREED, Edix/FR-V, Airwave, Fit/Jazz, Partner Pilot, Ridgeline, CR-V, Element, Crossroad, S2000, Acura MDX, and Acura RDX brands; and mini cars under Life, Zest, Vamos, and Acty brands. The Financial Services Segment offers various financial services that include retail lending and leasing to customers, as well as other financial services, such as wholesale financing to dealers. The Power Product and Other Segment engages in manufacturing various power products, including solar cell batteries, power tillers, portable generators, general-purpose engines, grass cutters, outboard marine engines, water pumps, snow throwers, power carriers, power sprayers, lawn mowers, and lawn tractors (riding lawn mowers). Honda Motor Co., Ltd. was founded in 1946 and is based in Tokyo, Japan.


Click the Honda Motors Stock Chart for a larger view.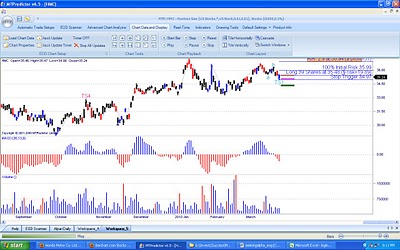 Disclosure: No Positions. Going long per trade plan above.