Penn West Petroleum (NYSE:PWE) has been stuck in a rut for quite some time now. Shares of the company have yet to recover from the 20% decline they saw in November after the completion of its six-month strategic review. Basically, Penn West came to the conclusion that it was too big and needed to downsize considerably, selling off underperforming assets, reduce operating expenses, and lower its debt load. The time frame for Penn West's turnover and return to growth was slated for sometime in late 2015 and early 2016.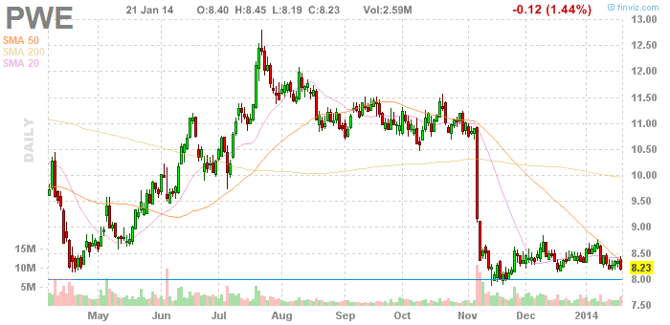 Click to enlarge
In my previous article on Penn West and its review, I wrote that the company's plan seemed to be very aggressive and a tad too long term in nature. Frankly, investors in the company may have run out of patience and goodwill.
Penn West's prior management consistently overpromised and underdelivered. Before its recent struggles, the company often engaged in questionable acquisitions and capital projects, oftentimes with very high fixed operating costs and thusly low profits.
Unlike some of its peers such as Pengrowth Energy (NYSE:PGH), Baytex Energy (NYSE:BTE) and Enerplus Corp. (NYSE:ERF), Penn West seems to lack a long-term plan.
All of Penn West's peers have realized that Western Canadian light oil and natural gas production is just not consistently profitable given the current macro environment and regional transportation issues. These pressures came to bear during 2012 and early 2013, with all of the companies save for Baytex lowering their dividends. However, these companies all have long-term plans, which do not involve Canadian light oil or natural gas. This divergence can be easily seen in their 1-year charts.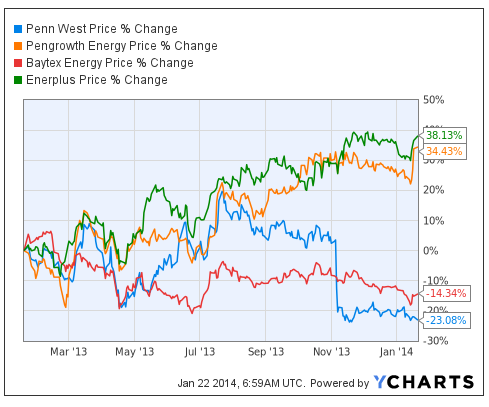 For Pengrowth, the company is investing heavily into thermal oil production using proven SAGD technology via its Lindbergh project. This will give that company a source of high netback production, which should eventually more than double cash flows within a few years.
For Baytex, the company is basically focusing solely on thermal oil with the vast majority of Baytex's capex is being spent on increasing heavy oil production and reserves. Unlike light oil, heavy oil is relatively low cost and low decline, ensuring a more stable IRR. Of the group, Baytex is the only one showing signs of organic production growth, with a CAGR of 7% since 2006.
For Enerplus, that company made the savvy decision years ago to diversify away from Western Canada and into the US shale plays in the Bakken and Marcellus. Enerplus is investing the majority of its capex in the US, where it can often achieve much better profits. As of September 30, the production mix for the company was tilted slightly towards Canada at about a 55/45 ratio.
Meanwhile, Penn West's new plan essentially has the company doubling down on Western Canadian light oil. At current prices, light oil is extremely profitable. However, growing light oil production is also very expensive, especially in Western Canada.
Penn West's plan calls for the company to sell between $1.5B to $2.0B in non-core (read high cost) assets by 2015. The company will then focus on its highest return fields, namely the Cardium, Viking, Slave Point.
In essence, 2014 and 2015 will be "transition years" for Penn West. For 2014, Penn West now estimates production to range from 101,000 to 106,000 BOE/D, down significantly from the estimated average production of 135,100 BOE/D in 2013. Note from the chart below that Penn West's production is not expected to bottom until 2015.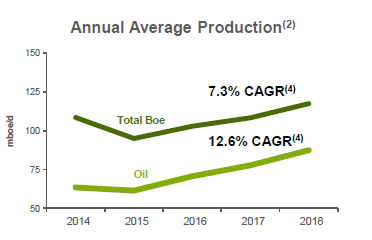 Conclusion
Basically, investors in Penn West need to realize that the stock has little to no growth potential until at least 2015. Production is falling and will continue to fall for many quarters, putting pressure on year over year comparisons.
Yes, Penn West is cheap based on its reserves and is trading well under its NAV. However, with 2014 being a "transition year," I see little reason to own the stock short to medium term unless you're a very patient deep-value investor.
Disclaimer: The opinions in this article are for informational purposes only and should not be construed as a recommendation to buy or sell the stocks mentioned. Please do your own due diligence before making any investment decision.
Disclosure: I am long PGH, BTE. I wrote this article myself, and it expresses my own opinions. I am not receiving compensation for it (other than from Seeking Alpha). I have no business relationship with any company whose stock is mentioned in this article.