The March WASDE Report from the USDA estimated U.S. wheat ending stocks to surpass 1 billion bushels for the first time in 22 years. This causes a concern for some wheat producers since basic economics tell us that when supplies extend higher than demand, prices can decrease. So far, wheat prices have held fairly steady since the March 12th release of the WASDE Report, but will these prices hold, and why is there such a surplus?
Why the surplus of wheat?
In 2008, commodity prices were at all time highs due to depressed global ending stocks of major commodities. "Farmers will take advantage of high prices whenever they can," according to Randy Englund, the Executive Director of the South Dakota Wheat Commission. While these record high prices were present, farmers figured they could plant more of these crops to expand their income as much as possible. This excess acreage of planting is still carrying over into 2010 while the price of many commodities does not justify the size of the crop.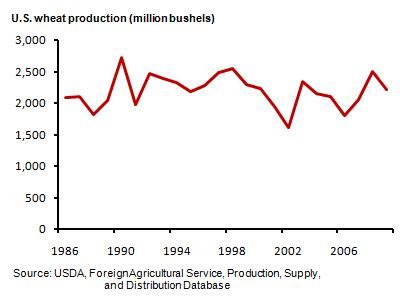 In 2007, both the U.S. and world ending stocks of wheat were at extreme lows, which eventually drove prices up in 2008 and lead to such a large crop since. "Farmers responded to high commodity prices, and we were coming off of some of the lowest stocks," explained Englund. It made sense for some farmers to grow wheat in fields that were typically soybeans or corn in order for them to take advantage of the high prices.
Low ending stocks and high prices from a few years ago have lead to record high ending stocks today.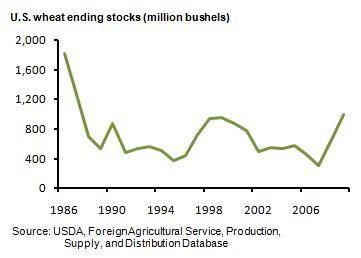 Factors driving future wheat prices
Both domestic and global ending stocks will affect wheat prices in the short-run. Although in the U.S., ending stocks are at a 22 year high; in 2007 wheat ending stocks were at 50 year lows, according to USDA. If ending stocks remain at high levels for consecutive years, look for prices to soften and eventually farmers will limit their wheat acres, which has already started to occur in 2010 with the depleted amount of winter wheat currently in the ground. Planted acres of wheat have decreased from 59 million acres in 2009 to 52 million acres in 2010. Record global wheat production could drive global ending stocks to higher volumes, which could have a negative effect on wheat prices as well.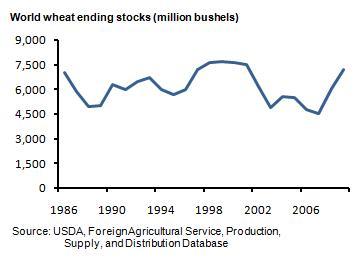 The recent rally of the U.S. dollar could affect grain prices because foreign grains may become more attractive. "The value of the dollar is increasing and competitor's wheat is looking favorable," according to Englund. The USDA estimated a 20 million bushel decrease in wheat exports this March, primarily due to cancelled orders because of the strong U.S. dollar.
Milling extraction rates are higher than normal, according to Erica Olson, marketing specialist for the North Dakota Wheat Commission. Mills require less wheat to produce the same amount of flour. This increase in efficiency could lead to a slight decrease in demand when paired with an overall decrease in per capita consumption of wheat in the U.S.
Wheat prices may increase if livestock producers switch from their traditional feed to wheat based feed, according to Englund. Some countries have made the transition to wheat based feed which could increase demand and wheat prices over time.
Finally, the weather will play its usual factor affecting grain prices. If farmers are unable to access their fields this spring because of excess moisture, prices will increase because of the potential decrease in supply. The USDA will be releasing their Prospective Plantings Report on March 31st. This report will give an initial estimate of planned planting acreage for the 2010 crop. As usual, the USDA estimates will be subject to changes in weather.

Disclosure: No positions