Risk Reward Ratio Upside Down
In Part I of this II part series on blue chips for dividends and growth, we covered the first four of eight selections. In Part II, we will cover the last four. However, before we get into specific discussions on individual companies some additional remarks seem appropriate as to why we wrote these articles.
Conventional wisdom suggests that extraordinary times require extraordinary measures. Recent, past and current financial markets are unquestionably facing extraordinary times. Therefore, prudent investors ought to consider taking extraordinary measures regarding portfolio construction. We believe that the current and potential future interest rate environment presents aberrant challenges to fixed income investors.
Under more normal environments, a prudent fixed income strategy has been to ladder a diversified portfolio of bonds. The length of the original ladder could be skewed to longer or shorter maturities depending on the status of the yield curve. When current rates are very high a bias to long bonds makes sense, and vice-versa. Since forecasting interest rates is always difficult, staggering maturities provides the flexibility to adjust to future rate changes in addition to providing diversification.
Today, with interest rates sitting near all-time lows, traditional strategies like laddering a bond portfolio are challenged. Commonsense indicates that future interest rates are near certain to rise, although the precise timing remains an unknown. What is known, however, is that when rates do rise, the principle value of existing bonds will drop. This adds a level of volatility risk to bonds that is normally not so dangerous.
Consequently, since bonds today carry more risk than normal, it may be wise to evaluate quality blue chip dividend paying equities as an alternative to bonds. Our argument implies that if you must assume greater risk, a greater return should at least also be a possibility. We feel that stalwart companies trading at low valuations by historical standards that possess long histories of raising their dividends provide a viable alternative. This is especially true today with dividend yields just slightly below 10-year bond rates and the dividends are expected to increase each year.
Figure 1. Crazy Eight 11yr Review (click to enlarge)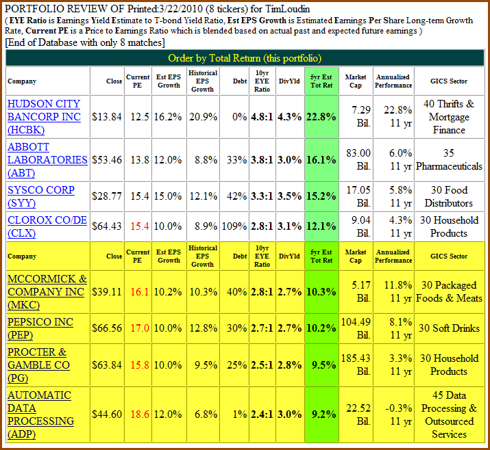 Utilizing our F.A.S.T. Graphs research tool we produced the following summary page, Figure 1 below, which lists our eight companies in potential return order (green shaded column). Important metrics are listed at the top and repeated in the middle of the chart, most of which are self explanatory. However, the 10-year EYE ratio may be unfamiliar. It stands for Earnings Yield Estimator, and represents a ratio of total expected earnings over the next ten years divided by the expected interest from an equal investment into a 10-year treasury bond. We find this a useful gauge of valuation versus risk. It's offered for perspective only. In Part I, we covered the first four names; in Part II, we cover the remaining four (yellow shaded area Figure 1).
Low Historical Valuation
As with in Part I, our first set of F.A.S.T. Graphs will look at selections 5 - 8 solely from the perspective of price to historical PE ratio. The blue line with asterisks represents the historical normal PE ratio which the market applied to each company since calendar year 2000. (Note: The historical normal PE ratio is calculated and normalized by taking the average of all of the fiscal year end PE ratios after throwing out the one highest and the one lowest number.) As was the case with the first four examples, the most important takeaway from these normal PE ratio graphs is how uncharacteristically low the current PE ratio currently is. Also remember, these stalwarts generated relatively strong to very strong operating results right through the recession. Therefore, even though the historical PE ratio is only one measure of value, we believe it's relevant to this set of companies.
McCormick & Company, Inc.
Today's first selection is McCormick & Company, Inc. (NYSE:MKC), a leader in manufacturing, marketing and distributing spices, herbs, seasonings and specialty foods. Rated A by the ValueLine Investment Survey, McCormick & Company, Inc. is trading at a historically low PE ratio as depicted in Figure 2 below. On March 25, 2010 they reported better-than-expected first quarter results with net income up 18%.
Figure 2. MKC price and normal PE (click to enlarge)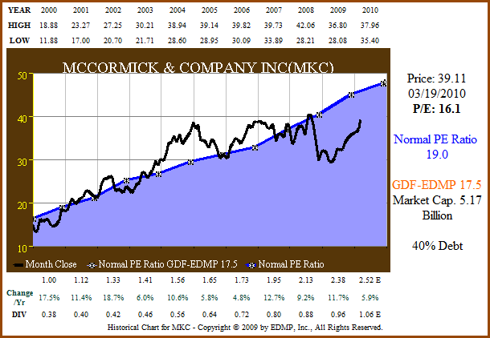 PepsiCo, Inc.
Today's second selection is PepsiCo, Inc. (NYSE:PEP) a global leader in food, snacks and beverages. Rated A++ by ValueLine, Pepsi's recent announcement of a new "designer salt" that will reduce levels in their prepared foods is creating quite a buzz. From Figure 3 below it's clear that Pepsi has rarely traded at such a low valuation.
Figure 3. PEP price and normal PE (click to enlarge)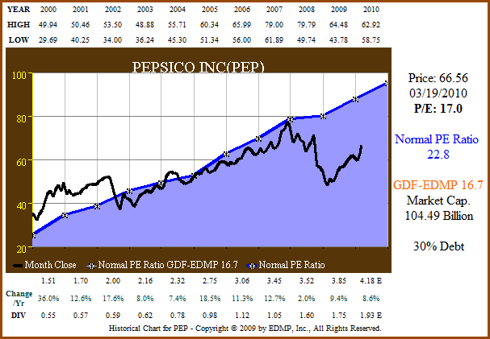 Procter & Gamble Co.
Next we feature Procter & Gamble Co. (NYSE:PG) whose household brands need no introduction. Procter & Gamble is rated A++ by ValueLine and as Figure 4 below shows, remains very undervalued relative to its historical norm. Procter & Gamble's Tide Coldwater was recently the first detergent to receive the Green Good Housekeeping Seal for its environmental benefit.
Figure 4. PG price and normal PE (click to enlarge)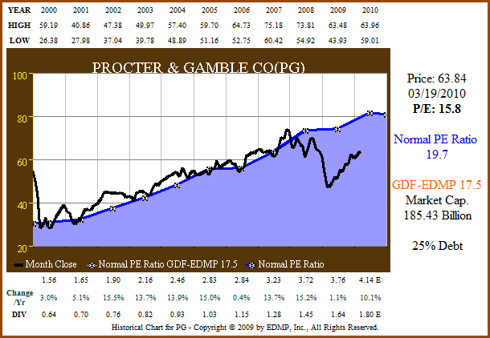 Automatic Data Processing, Inc.
Our final selection is Automatic Data Processing, Inc. (NASDAQ:ADP), the nation's largest payroll and tax filing processors for businesses. On March 22, 2010, Fortune ranked ADP No. 1 in their category for Most Admired Companies. Fortune says that ADP is No. 1 in Financial Soundness, Long-term Investment and Use of Corporate Assets. Rated A++ by ValueLine, Automatic Data Processing is an extremely high quality company on sale as evidenced by Figure 5 below.
Figure 5. ADP price and normal PE (click to enlarge)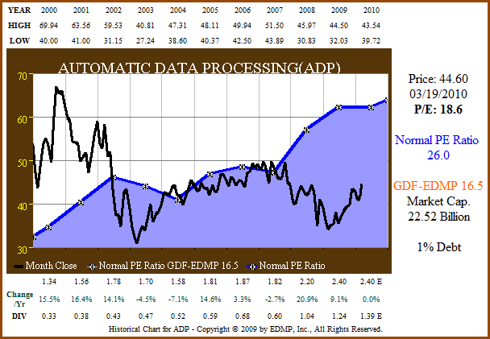 Fundamentals-at-a-Glance
Figures 6A & B through 9A & B below offer a more detailed report on these final four example dividend and growth stalwarts based on fundamentals and the associated shareholder returns they generated.
For each Figure A the black lines are monthly closing prices, the blue lines with asterisks are the normal PE ratio lines which are the same metric as shown in Figures 2 – 5 above. The green lines with white triangles are earnings multiplied by each respective company's earnings growth as shown in green print to the right of each Figure A graph. The light blue shaded area represents the portion of dividends paid out of the green shaded area representing earnings. The dividends are stacked on top of earnings for visual perspective. Each graph covers 10 years of history and includes a forecast for 2010.
We ask that you take note of the effect that valuation has on results. Of these final four examples only McCormick & Company, Inc. started the period in value (see red arrow, Figure 6a). Consequently McCormick shareholders' total return dramatically outperformed the group even though their growth of earnings was similar to Pepsi's and Proctor & Gamble's.
Also note that McCormick's starting dividend yield for the period was the highest also due to low valuation at the beginning where the others started out overvalued. Consequently McCormick also generated the largest total dividend income stream as well.
Each Figure B below calculates shareholder returns that correlate to each respective Figure A based on both capital appreciation and dividend income. Dividends are assumed spent, therefore, not reinvested. However, dividends are added to the total value and total annualized rate of return (ROR) figures. The dividend cash flow table shows that each of these fine businesses has a record and commitment to increasing their dividends each year.
Figure 6A. MKC 11yr EPS Growth correlated to Price (click to enlarge)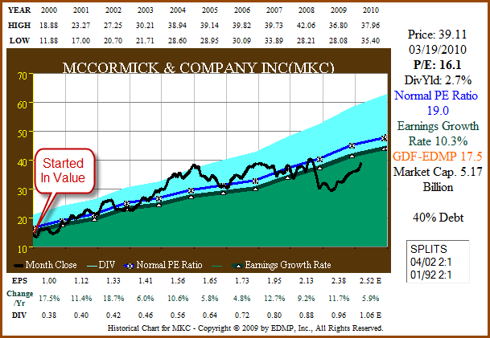 Figure 6B. MKC 11yr Dividend and Price Performance (click to enlarge)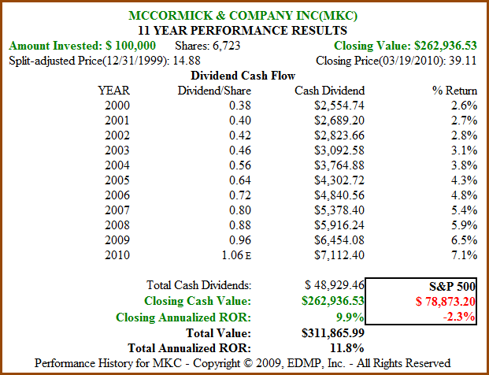 Figure 7A. PEP 11yr EPS Growth correlated to Price (click to enlarge)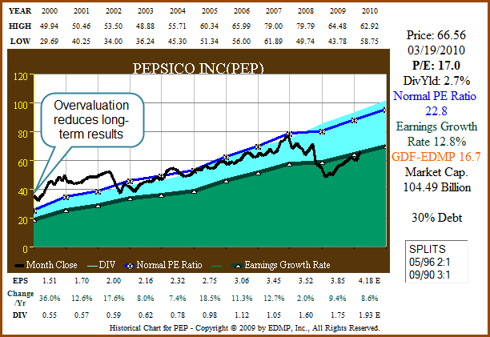 Figure 7B. PEP 11yr Dividend and Price Performance (click to enlarge)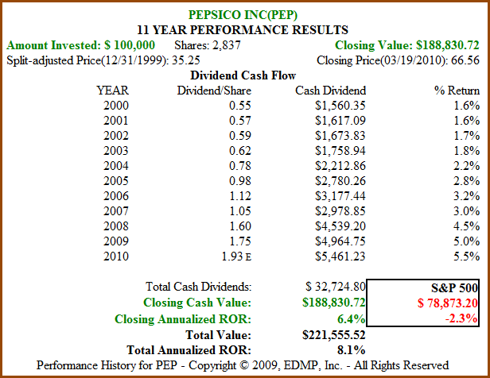 Figure 8A. PG 11yr EPS Growth correlated to Price (click to enlarge)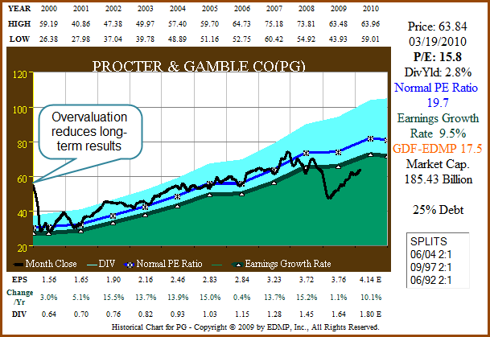 Figure 8B. PG 11yr Dividend and Price Performance (click to enlarge)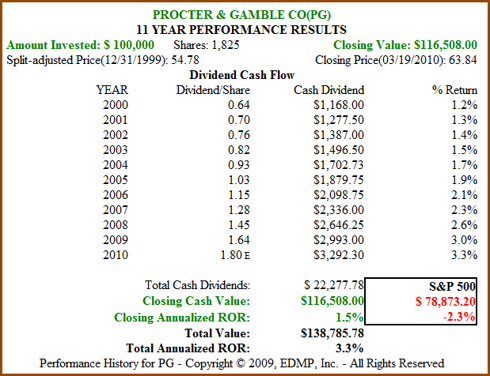 Figure 9A. ADP 11yr EPS Growth correlated to Price (click to enlarge)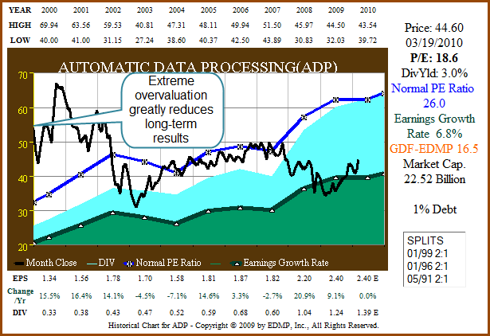 Figure 9B. ADP 11yr Dividend and Price Performance (click to enlarge)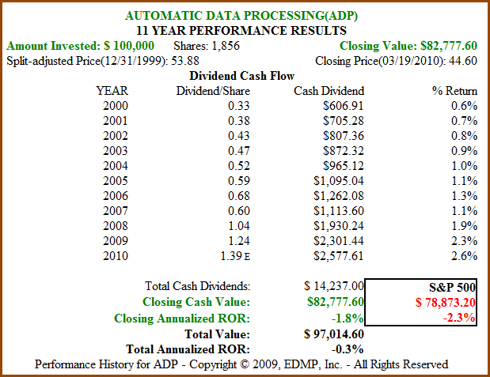 Conclusion
We believe these eight stalwarts - due to their high quality, low valuation, attractive and growing dividend and prospects for double-digit future earnings growth - are solid choices. Therefore, we further believe that the "Crazy Eight" high-quality and undervalued companies presented here are suitable for prudent investors seeking total return through a combination of earnings growth and a growing dividend.
Disclosure: Long HCBK, SYY, CLX, PEP, PG, ADP at time of writing.
The opinions in this document are for informational and educational purposes only and should not be construed as a recommendation to buy or sell the stocks mentioned or to solicit transactions or clients. Past performance of the companies discussed may not continue and the companies may not achieve the earnings growth as predicted. The information in this document is believed to be accurate, but under no circumstances should a person act upon the information contained within. We do not recommend that anyone act upon any investment information without first consulting an investment advisor as to the suitability of such investments for his specific situation.