Mr. Market is in no mood to own Petróleo Brasileiro S.A. (NYSE:PBR). Negative sentiment is reaching all-time highs as the share price is testing decade lows. What is the cause of this hyper negativity centered on the stock? The resounding answer seems to be the Brazilian government. In my opinion, investors are in panic mode, therefore creating a great buying opportunity for the patient investor.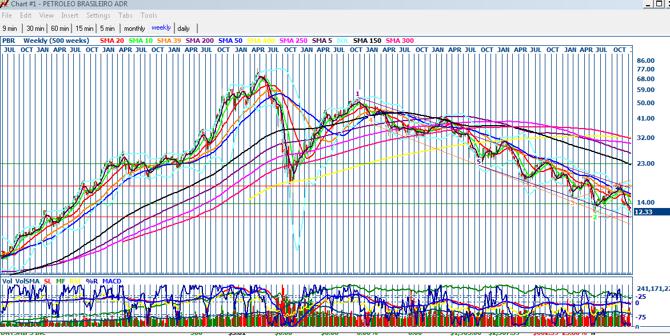 In my view, it is important to look at this chart and understand the psychology that goes along with it. In my previous article: Now is the time to buy Petrobras, I spoke about the pain and mental anguish that goes along with a long slow decline in any stock. Long-term investors have watched their investment drop anywhere from 10 to 65%. You can view the channel that shows a measured decline down to the low $12 level. The stock is currently retesting the July 2013 level. While it could possibly go lower; I believe this is an excellent entry opportunity for long-term gains. In my view, any panic sell-offs that may occur should be met with a strong conviction buy mind frame, with a two year time horizon.
I'm going to share a secret with you. I traded stocks every day through the whole financial crisis. I had some huge percentage wins and some huge percentage losses. What I witnessed was history repeating itself over and over again. I traded on margin, which I do not recommend to anyone unless it is closed out at the end of the day. One stock I bought near the bottom was General Electric Company (NYSE:GE); look at this 500 weekly chart.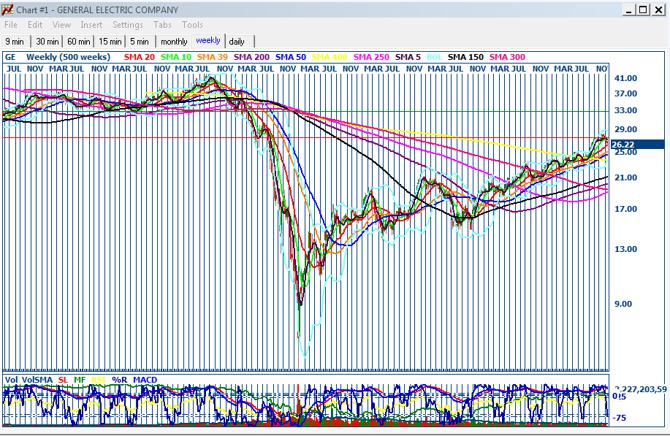 While the scientific academia may not go along with the behavioral finance theory, some traders and hedge funds surely do. What in heaven's name caused General Electric, to plunge to $5.73 in a final short raid back in March of 2009? If you ask my humble opinion, it was computer orchestrated margin calls on the last remaining longs. Everyone and their brother knew that the stock was beyond a bargain at $10. In my view it is imperative for all investors to remember this valuable lesson: stay off margin! These super computers will seek out opportunities to force margin call liquidation at the absolute bottom. It is important to remember that Petrobras is trading $10 below the March 2009 market low, and $2 below the November 2008 financial disaster
Value
When I go shopping and see a great bargain on a nice bottle of wine, I buy a case. Petrobras is trading at nearly half of its book value, a price to sales ratio of .55, and a P/E ratio around 6X. That's right, with the market at all-time highs, there is a company with $146B in sales, trading with a market cap of $80B. Is Petrobras losing money? No. In fact they are estimated to earn $.38 a share on revenues of $39B for the 4th quarter. In my opinion, it's time to buy more shares of Petrobras at the retest of last July's low. Can it go lower? Yes. How much lower, you ask? No one knows for sure, but I for one will be buying more if it does. I understand this might sound a little crazy at the moment, but I like Petrobras for a double by the end of 2014.
Why a double? Because it seems improbable, and that is what the market is all about.
Allow me to address this for a moment. Throughout history, when a strong company makes a long-term bottom, it is very common to see a 100% to 300% percent move up. I could give you examples and chart patterns all day; but for now, I will name just 5 stocks. The Boeing Company (NYSE:BA), The Dow Chemical Company (NYSE:DOW), Freeport-McMoRan Copper & Gold Inc. (NYSE:FCX), Starbucks Corporation (NASDAQ:SBUX), and Caterpillar Inc. (NYSE:CAT). Each of these companies doubled within 1 year off their long-term bottom; as a matter of fact each of the above stocks mentioned gained a minimum of 500% to over 1100% since their lows in 2008, and 2009.
Let me give you a scenario in which Petrobras goes up 100% by January 22, 2015.
Platform P-55, one of the strategic projects of the 2013-2017 Business and Management Plan, started operation on12/31/13, in Campos Basin's Roncador field.
P-55 is part of Roncador´s field Module 3 project and will be connected to 17 wells, 11 of which are oil and gas production and 6 water injection. Oil and natural gas exportation from the platform will take place via submarine pipelines connected to the unit till the oil and gas offloading system of the Campos Basin. P-55, a semi-submersible unit, installed at a water depth of 1,800 meters, is designed to process 180,000 barrels of oil per day, compress 6,000,000 m3 of natural gas per day and inject 290,000 barrels of water per day. The new unit will operate along with platforms P-52 and P-54, already installed in Roncador field, and with platform P-62, whose left the Atlântico Sul Shipyard, in Ipojuca (Pernambuco state), on 12/30/13, and is moving toward its location at Module IV.
In my view, the market isn't paying attention to positive developments at the moment. When the market wakes up to the fact that Petrobras's proven reserves in the pre-salt area grew in 2013 by 43% when compared to 2012, the stock will pop.
A massive oil or natural gas discovery in the coming year could act as a catalyst to propel the stock upward.
I remain convinced that Mr. Market becomes so irrational, that he will buy companies at 50X forward earnings for a significant period of time, and sell companies with real earnings trading at 5X. As long as human nature continues to rule the day; then there will be opportunities to build wealth, from the long and short perspective.
IF the market sees any significant improvement in earnings and production, coupled with reduced cost controls, then investors could see their stock trading at $25 by the time the Olympics arrive.
Two weeks ago I wrote an article titled: Now is the time to buy Petrobras, and I mentioned the overwhelming negative sentiment and took a position. A contrarian investor by nature; I have never been one to follow the crowd.
Here is a shorter term 250 day chart to show you how longs got caught just over two months ago. Below you will see that the stock made a 9 year low in July 2013, rebounded going on a nice little run gaining around 50%, only to gap down in a violent downtrend, shaking long-term investors to the core.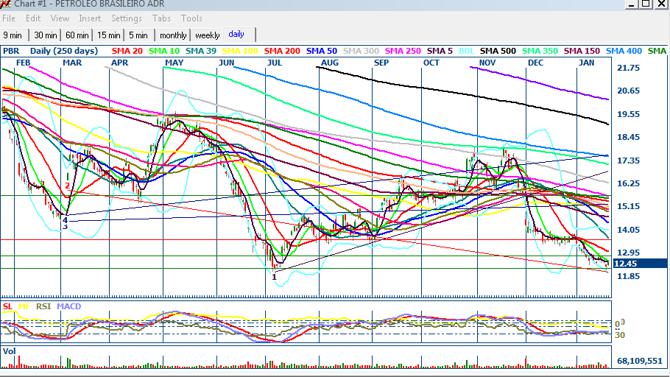 I am constantly on the lookout for disconnects between market sentiment and reality. Behavioral finance continues to be one of my main criteria when I look at investing in any stock or market. I find it fascinating how an industry or a stock can be out of favor one month, and the next month, up 50% to 100%. In my view, we are clearly looking at another situation here with Petrobras. I see a 50% upside within 3 to 6 months. IF the opportunity arises to pick up more below $10, then I for one would back up the truck, and load up. In my opinion, big money will be buying any panic wash-out event. Another pertinent question: what would the chart look like if this stock is trading at $13.50 next week? How many investors and traders will jump back in and take it back to $17.50? Any positive new developments and this stock could explode to the upside.
Investors need to remember that this company is generating profits; yet at the moment, Mr. Market is so depressed that he seems to have forgotten that fact. I have read and debated several negative comments and reasons why this stock is horrible; many of those comments were made by long-term shareholders feeling the pain. The government is corrupt; you don't understand Socialist government; common metrics don't apply; Petrobras is going to $8, buy it there; the world order is changing; the pre-salt area is too expensive in regards to production; they are heavily in debt; the Brazilian Real is hurting profit margins. Sell Sell Sell, my goodness; the negativity goes on and on until I have to buy more, just because. I am not going to go into a lot of fundamentals here as you can read about that in another article. This is about understanding the negativity around a stock that is in the bottoming process and how to stay sane, and make sound unemotional decisions. With that thought in mind, look at this chart.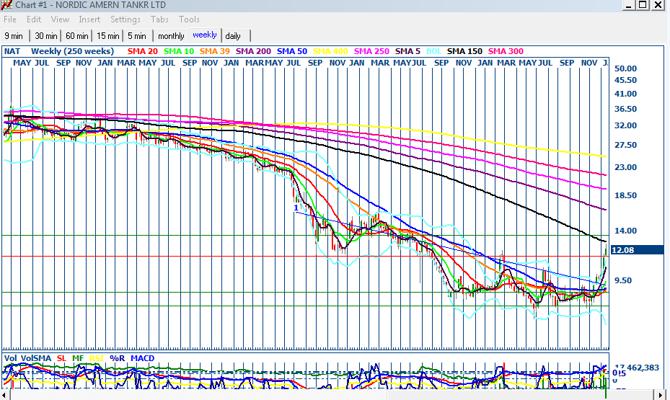 Nordic American Tanker Ltd (NYSE:NAT) has been on a tear; just two months ago the market hated this stock and many investors were disgruntled with the owner. Negative sentiment was at all-time highs, and the stock at all-time lows. I wrote an article recommending the stock; you can read the article here. It was trading around the $8 level at the time and now less than 2 months later it's trading around $12. In spite of two recent downgrades, sentiment has changed for the positive; rates for Suezmax ships have exploded to the upside and the stock is up over 50%, a great year by anyone's standards. My point being, nothing stays the same; for every negative reaction there can be an equal and opposite positive reaction.
What happens if the Brazilian currency strengthens? Would that help the company's bottom line profits? Should the government be continually criticized for trying to create more manufacturing jobs in their own country? Could we as Americans learn something about insourcing? I ponder these ideals of quarterly corporate profit, and shortsighted thinking.
Brazil is an amazing dynamic country; many of their cities dwarf those in America. They are a country of the future, their resources are vast, and I believe that Petrobras will be stronger and more profitable 5 years from now. Governments will continue to change; it remains my view that eventually Petrobras and the Brazilian government will find the right blend of social economic development that works best for them as a nation.
Positive developments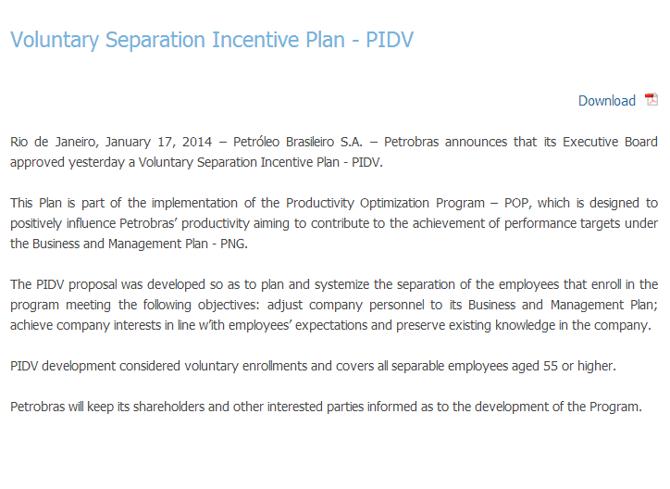 Like many companies around the world, Petrobras is offering workers 55 and older a chance for early retirement. This strategy will likely help the company reduce their operating cost structure going forward.
Comparisons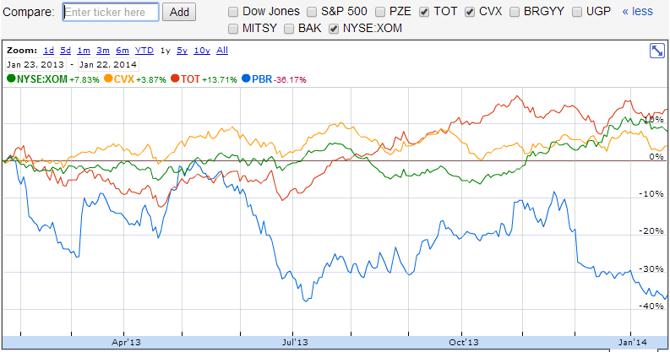 It is painfully clear to any Petrobras shareholder that the company has not fared well against its peers. Exxon Mobil Corporation (NYSE:XOM), Chevron Corporation (NYSE:CVX), and Total SA (NYSE:TOT) have significantly outperformed Petrobras over the last year. I suggest that a reversion to the mean is due at some point in the future.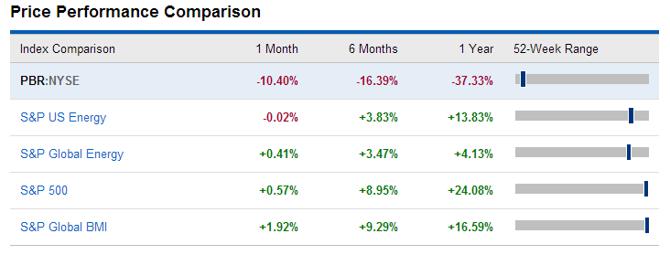 Here is another example of the clear underperformance of Petrobras over the last 52 weeks. I expect in time, this disconnect will revert back to a normal variance.
Conclusion
Petrobras is clearly in the dog house with investors; it has severely underperformed for quite some time. Prospects for a turn to the upside seem bleak to some, while others see a brighter future for this giant. The stock is clearly undervalued, trading around a 6 P/E and a 50% discount to book value, as well as a price to sales ratio of .55. In my opinion any downside panic sell-off should be considered a buying opportunity. I consider Petrobras a strong buy with a one year upside target of $25 a share. I own this stock and bought more recently in my wife's IRA. Sentiment can turn quickly on any stock, in any direction. As always, I urge you to open a quarterly and annual report. Don't take my advice; do your own research, make your own unemotional decisions and always have an exit strategy in place.
Disclosure: I am long PBR, KWK. I wrote this article myself, and it expresses my own opinions. I am not receiving compensation for it (other than from Seeking Alpha). I have no business relationship with any company whose stock is mentioned in this article.