Microsoft (NASDAQ:MSFT) will report its Q2 FY 2014 financial performance later today, January 23. I am giving Microsoft a buy rating whether it hits or misses analysts' earnings estimates. My main reason is Windows Phones delivered substantial growth increase in global sales last year. The mobile win is enough excuse for me to overlook the awful 10% decline in PC sales for Q4 2013. The negative outlook published by IDC is probably the reason why MSFT is down 3.96% since January 2.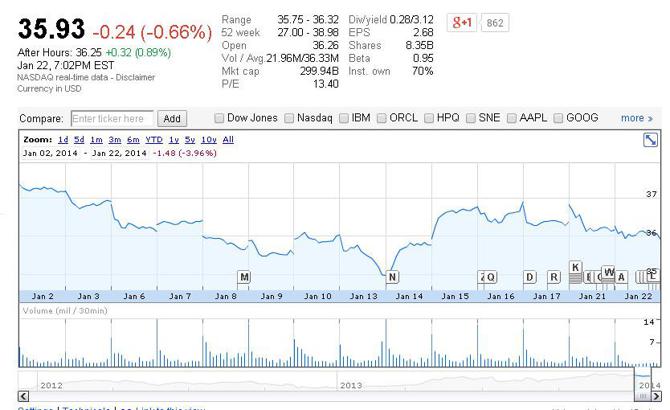 Microsoft, in my opinion, deserves better treatment from investors now that it is making significant progress in the mobile arena. Misperception about the company's vulnerability to PC sales decline is exaggerated. Windows OS and Microsoft Office are no longer the company's sole revenue streams. Microsoft is much more diversified than Apple (NASDAQ:AAPL) - it can shrug off the projected 3.8% drop in desktop computer sales this year. The royalty fees from Android licensees can make up for the declining sales of PCs.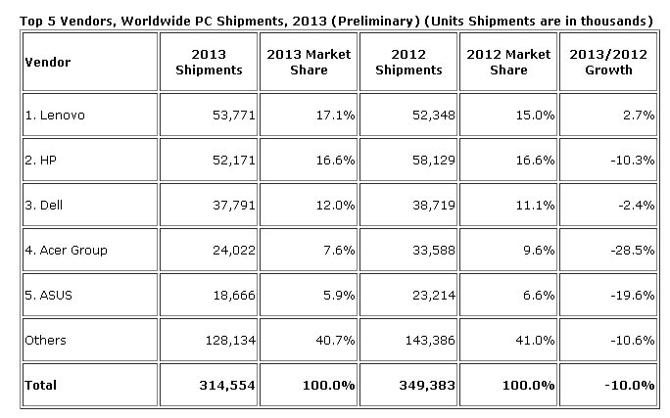 Momentum From Windows Phones
I am aware that Microsoft is raking in big money from its enterprise services and cloud-based solutions. Office 365 is 2013's big surprise hit for the company. However, I would like to focus again on the company's other promising growth driver - mobile phones. Microsoft will complete its take-over of Nokia's (NYSE:NOK) Devices & Services division by March. The $7.2 billion it paid also include a 10-year patent rights agreement to use Nokia's more than 16,000 patents.
Windows Phone is the fastest growing mobile platform. IDC's smartphone sales data for Q3 2013 shows Windows Phone-powered handset unit sales grew by a massive 156% over Q3 2012 numbers.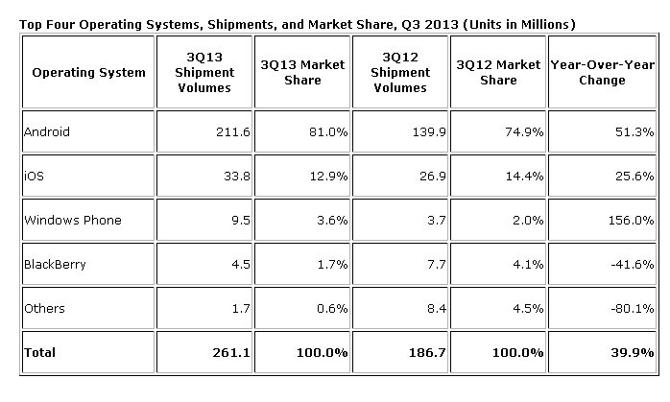 The robust growth in sales of Windows-powered smartphones helped Microsoft surpass BlackBerry as the number 3 smartphone OS company. Android and iOS still dominates but Windows Phone 8 is surging. Momentum is on Microsoft's side, Q2 2013 and Q1 2013 numbers from IDC indicates an upward trend in the sales of Windows-powered smartphones.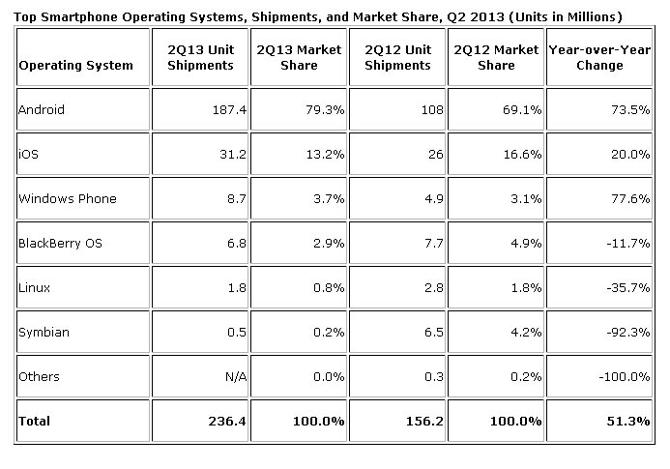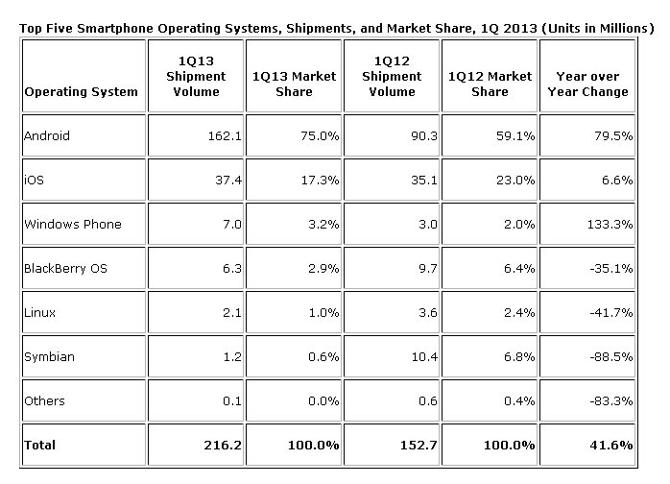 The ascending trend from the three quarters of 2013 should be reason enough to presume that Windows Phone sold at least 10 million for Q4 2013. Consumers traditionally spend more during the holiday season.
Q1 - 7.0 million
Q2 - 8.7 million
Q3 - 9.5 Million
Q4 - 10 Million (estimate)
A Microsoft spokesperson hinted that Windows Phones posted record global sales number during the holiday shopping period. Neowin's article said Windows smartphones have outsold iPhones in 24 countries and Windows Phone 8 is now the 2nd most popular handsets in 14 countries. It's therefore safe to presume that at least 35.2 million units of Windows phones were sold in 2013 - almost double that of 2012's 17.9 million units.
The sales numbers from IDC are further strengthened by Kantar World Panel's Q3 smartphone data sheet. Kantar's chart reveals that Windows Phone made substantial increases in market share in the U.S. and major European countries. Windows smartphones were more popular then iPhones in Italy. In France and in the UK, Windows phones more than doubled their market share by Q3 2013.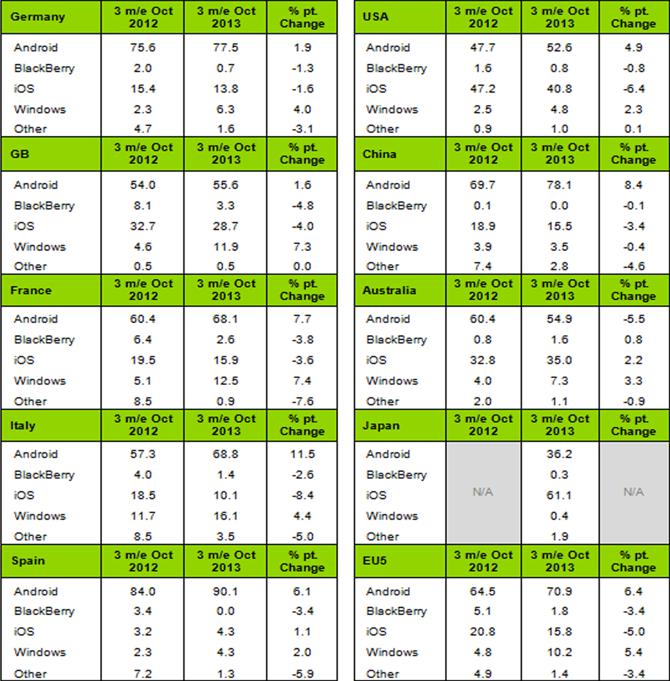 I'm confident that Windows smartphones will continue to sell more units this year. Another 50% or higher Year-over-Year increase in total sales for 2014 is achievable. Microsoft is reportedly dangling a $2.6 billion incentive to Samsung (OTC:SSNLF), Huawei, Sony (NYSE:SNE), and other OEM handset makers.
The money is intended for marketing subsidies for new models of Windows Phone 8 smartphones. Nokia Lumia currently accounts for more than 90% of Windows Phone's global sales. Microsoft wants more OEM partners to step up and help it grab market share from Google (NASDAQ:GOOG) Android OS and Apple (AAPL) iOS.
The China market might see robust sales growth of Windows phones this year. Nokia already released the new Lumia 525 in that country. Despite having more than double the amount of RAM compared to the best-selling 520, the Lumia 525 has a lower price tag of $100. This entry-level smartphone will help Microsoft win more customers in important emerging markets like China, India, and South American countries.
The Impact of Lumia
The big surge in Windows Phone sales was mainly because of Nokia's Lumia smartphones. Microsoft should continue to reap the benefits from Lumia's popularity after it takes over. If Samsung still refuses to fully back the Windows Phone platform, Microsoft can rely on the Lumia brand to keep boosting its smartphone sales.
IC Insights estimated that Nokia sold around 34 million smartphones last year. I believe around 33 million of that are Lumia Windows Phone 8 units. Microsoft's mobile trajectory can only go up further once it takes complete control of Nokia's Devices & Services division. It should also be emphasized that the feature-phone line, Asha, is still popular in less developed countries.
Microsoft can even copycat Samsung's early Android success by concentrating on selling low-ASP models. The Lumia 520 and 525 are perfect for stealing customers away from low-priced Samsung Galaxy Android models. The wallet-friendly Lumia 520 accounted for 40% of global Lumia sales last year, it's therefore prudent for Microsoft to focus on this tactic. Market Share Now, Profits Later strategy will help the company gain enough users to make Windows Phone apps market a winning proposition.
Conclusion
Hit or miss, Microsoft is a buy. The strong sales of Windows Phones insures the company will again deliver double digit CAGR revenue. Buy MSFT while it still has a low P/E. Most investors still identify it as a low-growth software behemoth - incapable of delivering substantial business advances. They are wrong, device sales and Windows Phone ecosystem's derivative income grants Microsoft a renaissance of growth.
Look at the chart below, the company's TTM FY 2014 revenue is already hinting the company will achieve double digit growth in revenue. Microsoft has no debt handicap, low Price/Book and Price/Sales ratios. It has more than $80 billion in cash reserves to help it further diversify its revenue streams.
| | | |
| --- | --- | --- |
| Fiscal Year | Gross Revenue | Net Income |
| 2009 | $58,437 | 14,569 |
| 2010 | 62,484 | 18,760 |
| 2011 | 69,943 | 23,150 |
| 2012 | 73,723 | 16,978 |
| 2013 | 77,849 | 21,863 |
| 2014 TTM | 80,370 | 22,641 |
Disclosure: I am long GOOG, NOK. I wrote this article myself, and it expresses my own opinions. I am not receiving compensation for it (other than from Seeking Alpha). I have no business relationship with any company whose stock is mentioned in this article.