Netflix (NASDAQ:NFLX) reported earnings this afternoon that stomped out analyst estimates across the board. The shares are currently trading up 17% after hours.
My last article on Netflix argued that we were going to see a major move in one direction or another after earnings - and then I presented an options straddle at $330 to play with breakevens of $293.80 and $360.20 - representing about a 10% move in either direction. So far, it's looking like an extremely profitable trade - but as options investors know, there's plenty of after hours and pre-market trading to go before CBOE opens back up.
As I stated in my previous article, subscriber growth was going to be one of the big metrics to watch, and Netflix impressed.
| | | |
| --- | --- | --- |
| | Analyst Expectations Q4 | Netflix Reported Q4 |
| EPS | $0.66 | $0.79 |
| Revenue | $1.17 billion | $1.18 billion |
| Subscriber Growth | 2 million+ | 2.33 million |
Netflix's streaming margin was 23.4%, at the upper end of the guidance offered for the quarter. The company said that they believe contribution margin over 30% is doable for the year 2015. Some of the other key points that came out during earnings and the interview are as follows:
CEO Reed Hastings stated during the interview that the new net neutrality rules were not of imminent concern to the company. He argued that Netflix was actually beneficial to service providers.
The company is planning to experiment with different pricing plans - a point of major contention with some bulls who have been asking for a price raise. Hastings defended the $6.99 plan to an analyst that asked about the seemingly small difference between that and $7.99 by telling the analyst that not everyone in the world is in his tax bracket. I laughed.
Hastings dismissed the question of going to an advertising based model.
Netflix's CFO commented on their DVD business a few times, stating very matter-of-factly that they're expecting it to continue to dissipate.
The company addressed concerns about waning international growth by saying that it plans a significant expansion overseas in the coming year.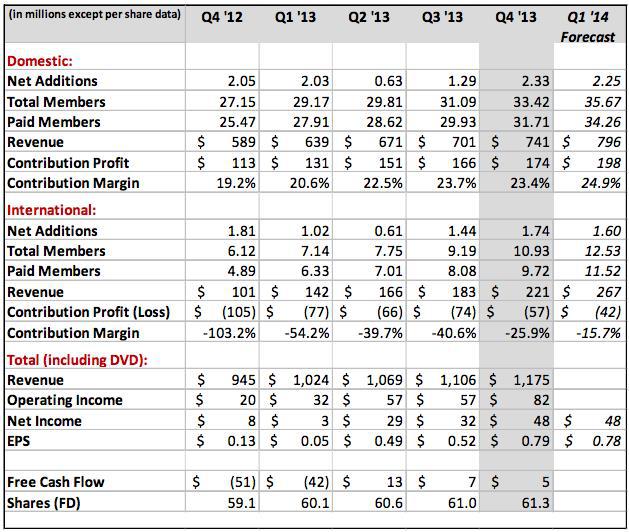 (source - ir.netflix.com)
Additionally, I had pointed out where Netflix is in the adopter curve in my past article:
Due to its early adopter status, it's becoming synonymous with being the industry standard - similar to the way people use "Google" as a verb to search for content on the web. Netflix remains the most popular streaming choice for most households that use broadband media.
And during the interview CEO Reed Hastings, looking like a hipper goatee wearing Mr. Rogers, continued to note that they felt the company was still in the "meat & potatoes" of its growth within the adoption curve.
Netflix also issued guidance above analyst expectations - pointing out that it expects to earn $0.78/share vs. $0.75/share that analysts had predicted.
Business Insider pointed out how crucial original content continues to be:
Netflix is continuing its investment with original content. The second seasons of "House Of Cards" and "Orange is the New Black" will come out in winter and summer 2014, respectively. A new original animated series for adults called "BoJack Horseman" is on its way, and it will exclusively premiere episodes of "Better Call Saul" in foreign territories but make U.S. customers wait for it to finish airing on AMC. Also, 2015 will see "The Daredevil" pop up, which is the first show from the partnership between Netflix and Marvel TV.
Bears will say that Netflix has dodged yet another bullet, and that it continues to be overpriced. However, like Tesla (NASDAQ:TSLA), if it continues to execute, the market is going to continue to reward it. $400 will be a test for the company on Thursday, as it presses towards new 52 week highs.
Long-term, I'm off the table with Netflix effective tomorrow. My goal was to cash in on the volatility of this trade, and that's what I'll be doing once the CBOE opens up in the morning. Congratulations to bulls, cheaper puts for the bears, and I'll continue to watch Netflix closely in the coming year.
Best of luck to all investors.
Disclosure: I hold a long strangle.
Disclosure: I am long NFLX. I wrote this article myself, and it expresses my own opinions. I am not receiving compensation for it (other than from Seeking Alpha). I have no business relationship with any company whose stock is mentioned in this article.
Additional disclosure: I hold calls and puts.