By Brad Zigler
My disappointment with Colin McCabe is now turning to worry. In fact, I'm questioning his skill as a stock picker. Don't know McCabe? He's the supposed editor and analyst for the Elite Stock Report, a so-called paid mailer that has been recently touting a penny gold stock, Guinness Exploration, Inc. ((OTCBB: GNXP)).
McCabe promised "monster gains inside 60 days" in a report I received Feb. 16 ("A Golden Future In Your Mailbox?") when GNXP shares were changing hands at $1.28. At last look, the stock was dawdling around $1.04, depressed by the capital outflows that seemed to plague the issue since I got McCabe's tip.
Guinness Exploration (OTCBB: GNXP)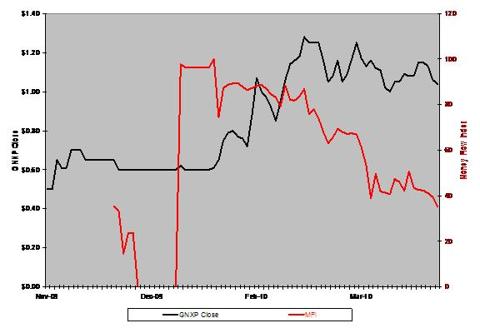 Click to enlarge
There are only 14 more trading days left for those "monster profits" to appear. Judging from the performance of other junior gold stocks, GNXP is an outlier. And not of the good kind, either. It'll be a tall order turning this stock around.
Take a look at the Market Vectors Junior Gold Miners ETF (NYSE Arca: GDXJ), a broad-based portfolio of 55 metals producers. While GNXP sank 19 percent, the value of the rest of the gold mining world actually rose a half-percentage point. More important, money flowed into the sector as a whole. GDXJ's MFI reading is pretty close to where it was Feb. 16, after spiking above 70 (MFI is measured on a 1-100 scale). GNXP's index, meantime, has fallen from 87 to 35.
Market Vectors Junior Gold Miners ETF (NYSE Arca: GDXJ)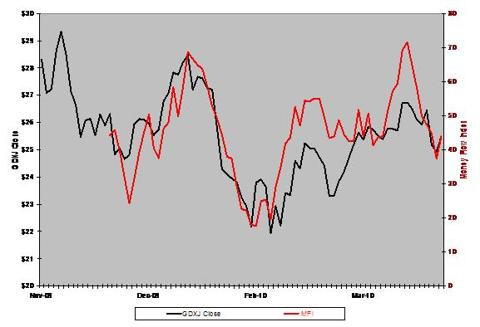 Click to enlarge
Needless to say, this has got me worried, as I had banked on McCabe's acumen to help me generate enough profits by April 15 to settle my tax bill and ultimately fund a bevy of Christmas gift purchases (he said in his newsletter that GNXP could go "10-for-1 in the next 12 months").
Perhaps I shouldn't worry, though. In all of last year, McCabe's recommendations — how many there were he doesn't say — were all winners, save one. Well, what he actually said was that closed out only one stock at a loss. For all I know, he could still be holding on to some dogs.
Darn. Now I'm worried again.
Mr. McCabe, please get in touch with me and let me know when in the next two weeks I should expect to be visited by that monster.