Shares of Freeport-McMoRan (NYSE:FCX) lost 2% after the gold and copper miner delivered fourth quarter results. The company reported fourth quarter earnings of $0.68 per diluted share vs. $0.78 in last year's fourth quarter and vs. analyst estimates of $0.80 per share. Revenues increased to $5.89 billion compared to $4.51 billion a year ago while analysts have expected revenues of $6.37 billion.
Sales momentum in core segments copper and gold
Freeport-McMoRan profited from increased sales in copper and gold throughout the quarter. Consolidated copper volumes in the fourth quarter of 2013 came in at 1,140 mm lbs vs. 972 mm lbs in Q4 2012 and 823 mm lbs in Q4 2011. The averaged realized price per pound corrected slightly to $3.31 in the most recent quarter compared to $3.60 in last year's quarter and $3.42 in Q4 2011. Freeport-McMoRan's consolidated gold volumes more than doubled to 512k ozs vs. 254k ozs in Q4 2012 and 133k ozs in Q4 2011. However, higher volumes were offset by lower realized gold prices: In Q4 2013 Freeport-McMoRan realized an average price of $1,220 per oz vs. $1,681 in Q4 2012 and $1,656 in Q4 2011.
Continued y-o-y improvements in unit costs
In addition to higher sales volumes, Freeport-McMoRan reported improvements in the underlying cost structure in its important copper business: Site production and delivery costs decreased to $1.68 per pound compared to $2.01 per pound a year ago (a decrease of 16.4%). Unit net cash costs also decreased y-o-y from $1.54 per pound last year to $1.16 per pound in Q4 2013 (a decrease of 24.7%) even though costs for its North American operations increased slightly from $1.78 per pound in Q4 2012 to $1.82 per pound in Q4 2013. Indonesia might see longer deferred production due to the uncertainty regarding the export tax (see further below) thereby negatively impacting mine output as well as artificially lowering production costs. The following chart breaks down the quarterly unit costs by geographic area for the fourth quarters of 2012 and 2013.


Positive long-term drivers of copper and gold prices
I believe that a variety of exploration companies and commodities themselves are undervalued. Worries about China's sluggish growth persist which in turn leads to depressed prices not only for copper but also for other commodities such as aluminum or gold. Freeport-McMoRan's average realized copper price declined 8% y-o-y and the realized gold price 27%. Economic uncertainty curtails gold and jewelry demand which is primarily driven by India's and China's middle classes. Copper is an industrial metal that should do well when the manufacturing and construction sector in China picks up again. The urbanization trend in China will drive copper demand and copper prices in the long-run. Millions of Chinese are going to migrate to urban centers looking for better employment opportunities and higher standards of living which will support long-term demand for core commodities such as copper, gold, silver, nickel, zinc, aluminum and others.
Indonesian challenges
Chief Executive Officer Richard Adkerson gave thorough background information with respect to Indonesia's regulatory challenges during yesterday's conference call [emphasis added].
I want to give you a report on Indonesia. Indonesia, for years, has been focused on looking at increasing processing of minerals within the country. In our 1991 contract of work which is the contract we are currently operating on, there was provisions in that contract which we committed to develop a copper smelter range the development of copper smelter within Indonesia under certain conditions and in response to that we followed through. We arranged with Japanese investors to build Indonesia's first smelter, its only copper smelter and refinery in the country and Mitsubishi operates it. PT Freeport Indonesia owns 25% of the equity and we supply copper concentrates to it. So that smelter is operating in Gresik.

Indonesia also exports in large volumes mineral ores across the national resource space that aren't processed in the country and that includes nickel, aluminum and tin and the country, in 2009, when it adopted a new mining law put five-year period on requiring that ores be processed within the country. Following the adoption of the law, there were a series of implementing regulations that moved forward and that export ban was ultimately extended to copper concentrates. The deadline for the ban was January 12 of this year.

Now our contract of work, which defines our rights and obligations in our relationships with the government has specific languages that gives PT FI the right to export concentrates. It also defines the taxes and other physical terms applicable to our operations and states explicitly that were not subject to tax or duties or fees that are subsequently imposed or approved by the government, expect as provided by the contract. As this deadline of January 12 approached, we were actively involved in discussions with the government as were other miners.

The final regulation that was adopted by the government exempted from the export ban copper concentrates that contained 15% copper which our concentrates will be well above 15% on our life of mine plans. At the same time, the government provided that exemption from the export ban for three years but in a new regulation that we did not anticipate that was a surprise to us that Ministry of Finance of the government imposed a duty on exporting minerals including copper concentrates and there is a progressive duty that's now in places. It's a regulation of the Ministry of Finance which states at 25% in 2014 and grows to 60% by 2016.

This is something that - there was conflict with our contracted work and where we are today is, we were gauged in discussions with representative government to discuss how this new export tax applies. The government is working on regulations, which has not been completed, so there is a degree of uncertainty on exactly what its intentions are for implementing this tax.

We of course so look at our contract and are of the view that it does not apply to us, but we are going to work with the government in a way to reach an agreement on it, to understand their position, make sure they understand ours. I will just point out that we have been operating in Indonesia since the early 1970s, we have never had a violation by either part of the contract and we are confident that we will find a way to [work] that will represent the interest of our shareholders and be responsive to government. That's where we stand. This is new. It just came out weekend before last. Regulations were up here until there is not specific clarity on this issue at this point.
A high, progressive and unanticipated export duty on copper concentrates is clearly not a good sign for the company. While Freeport-McMoRan will defend itself against the imposed export tax and will try to obtain an export permit for the current year, the company will also defer production of 40 million pounds of copper and 80,000 ounces of gold per month which will leave a trace in financial results this year. The regulatory dispute comes after extended conflicts with labor units at its Grasberg operations in Indonesia that caused serious headaches for Freeport-McMoRan since 2011 and an agreement with labor unions was reached just back in October 2013. Unless Freeport-McMoRan can also reach an agreement with the Indonesian government authorities soon and signal to the market that it has control over its Indonesian operations, I expect this issue to restrict the short-term upside potential of the shares of the company.
Outlook
Short-term challenges are my favorite investment criterion. The underlying trends in copper and gold sales as well as Freeport-McMoRan's outlook show that the company sees higher copper and gold demand down the road. The company also sees marginally lower unit costs for copper (see below) and substantially higher operating cash flows of approximately $9 billion compared to operating cash flows of $6.1 billion in 2013.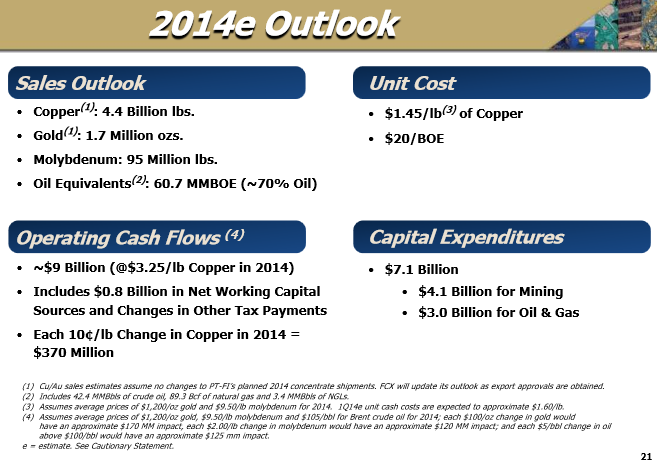 Conclusion
Freeport-McMoRan's performance shows higher revenues and lower unit costs while commodity prices are still considerably lower than a year ago. Unanticipated regulatory challenges at its Indonesian operations create new uncertainty for shares of Freeport-McMoRan in the short-term. However, short-term disruptions shouldn't cloud the macroeconomic long-term trends that work to the benefit of Freeport-McMoRan: Resurging Chinese construction and manufacturing momentum could provide crucial support for price of copper, cobalt and other core commodities. Freeport-McMoRan currently trades at only 10.8 times forward earnings and offers investors a recurring quarterly dividend of $0.3125 (translating into a dividend yield of 3.62%) which is irregularly supplemented by one-time special cash distrubutions. Anti-cyclical, long-term BUY on cost development, increasing sales, higher forecasted operating cash flows, intact demand situation, short-term uncertainty, low valuation and attractive dividend yield.
Disclosure: I am long FCX. I wrote this article myself, and it expresses my own opinions. I am not receiving compensation for it (other than from Seeking Alpha). I have no business relationship with any company whose stock is mentioned in this article.