By David Russell
ArvinMeritor (ARM) is up more than 1,000% in the last year, and now one investor thinks it's at the end of the road.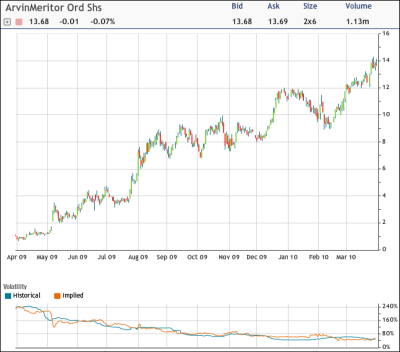 optionMONSTER's tracking systems detected the sale of about 7,500 May 15 puts for about $1.80 and a similar number of May 15 calls for $0.70, resulting in a credit of about $2.50. Volume was more than 18 times open interest in both strikes.
ARM is off 0.07% to $13.68 in afternoon trading. The maker of auto parts such as axles and braking systems has surged back after trading at distressed levels at the nadir of the credit crunch a year ago.
The gains have come despite weak earnings guidance on Feb. 2 and a stock sale about two weeks later. ARM has now returned to about the same level where it traded before the stock market collapsed in October 2008.
Today's options trade, known as selling a straddle, is designed to earn income from the shares remaining in a range.
The position will turn a profit as long as ARM close above $12.50 and below $17.50 on expiration. Given that the investor chose a mid-point of $15 rather than $12.50, he or she apparently sees limited upside over the next eight weeks.
The trade pushed overall options volume in the stock to 22 times greater than average in today's session.
(Chart courtesy of tradeMONSTER)