3D printing is a great technology and we are confident that 3D printers will deliver on volume expectations. But the expiration of key patents from 2014 onwards is likely to spark increased competition and to pressure ASPs (average selling prices) and gross margins of the 3D industry leader, 3D Systems (NYSE:DDD). We believe that the earnings downside risk is not reflected in consensus expectations and stock valuation, making 3D Systems the perfect candidate for a sell-off. In our view, it's time to switch into safer plays, such as Autodesk (NASDAQ:ADSK), to play the 3D printing revolution.
ExOne and Stratasys disappoint
As we all know, the figures reported last week in the 3D printing space were not really supportive: ExOne (NASDAQ:XONE) warned on Q4 revenues due to delayed orders, and Stratasys (NASDAQ:SSYS) announced a slightly light 2014 EPS guidance ($2.15-2.25 vs. consensus $2.33) despite a solid revenue outlook (+40%, $670m at midpoint vs. consensus $656m). In our view, the figures themselves were not specifically worrying:
1/ ExOne talked about delayed (not cancelled) orders and the read-across for 3D Systems and peers from this report is limited as ExOne is still a small player in the 3D industry with pretty high order and revenue volatility on a quarterly basis.
2/ Stratasys slightly missed on earnings as the company decided to increase investments in sales & marketing and R&D in order to sustain growth. But importantly, the company did not disappoint on the top line, suggesting that end-demand remains healthy.
The Wall Street reaction (sharp declines for both stocks) was more worrying in our view. It suggests that consensus expectations now stand very high (revenue growth guidance of 40% does not impress anybody), that 3D printing stocks are priced for perfection… and potentially that some investors got blinded by the prospects of this technology.
Against this backdrop, we view the coming patent expiries as a significant threat to 3D Systems stock price.
Bright future for the 3D printing industry but significant patent risk ahead for 3D Systems
It's no secret that the 3D printing industry has a bright future. McKinsey forecasts that $11trillion or 15% of goods worldwide will be produced by additive manufacturing (3D printing) by 2025 (you can download the full report here), and estimates the economic impact of this "disruptive technology" between $230bn and $550bn a year, vs. $3.4bn today!
Despite this healthy demand outlook, there are reasons to be concerned about the revenue and margin outlook of 3D Systems: some key patents are set to expire between 2014 and 2017, notably the laser Sintering patent (owned by 3D Systems) which is due to expire in February 2014.
This should spark pricing pressures across the industry as open-source hardware printers will be able to integrate laser sintering. Current competitors are likely to take this opportunity to offer much cheaper printers and new competitors are likely to emerge:
- Mainly, Chinese manufacturers offering cheap printers
- But also, unexpected players such as Groupe Gorge (OTC:GGRGY), a French company which was not active at all in 3D printing until recently
- Some large end-customers such as GE Aviation also plan to develop in-house 3D printers and technologies to suit their specific needs
Potential gross margin pressure not reflected in consensus forecasts
In all, the laser sintering patent expiry could act as a wake-up call for investors who tend to overlook the patent risk. We believe that the ASP of printers is likely to fall sharply from H2 2014 onwards, suggesting significant pressure on gross margins going ahead: prices go down, but costs remain high due to continued marketing and R&D efforts as illustrated by the Stratasys warning.
In our view, this is not factored in consensus expectations: analysts expects 3D Systems to grow revenues by 31% in 2014 and 29% in 2015... and to grow EPS by 34% and 32% respectively (see Bloomberg data below).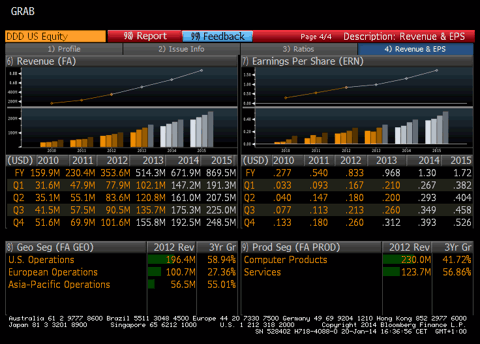 Even if 3D Systems delivers on revenue growth expectations, we struggle to understand how EPS will grow faster. And importantly, the valuation (2014 PE of 69x) does not leave room for error.
Switch out from 3D Systems into design software stocks
There is a safer way to play the 3D printing revolution in our view: design software makers such as Autodesk and Dassault Systemes (OTCPK:DASTY). Both companies will be key beneficiaries of the 3D printing take-off: as the installed base of printers grows significantly, the scalability of the software model will offer huge EPS growth going forward. And they offer much more decent valuation levels (31x 2014 earnings on average) and earnings growth expectations (leaving room for upside).
Disclosure: I have no positions in any stocks mentioned, and no plans to initiate any positions within the next 72 hours. I wrote this article myself, and it expresses my own opinions. I am not receiving compensation for it (other than from Seeking Alpha). I have no business relationship with any company whose stock is mentioned in this article.