General Electric (NYSE:GE) released its 2013Q4/2013FY earnings report before the opening bell last Friday. GE shares immediately jumped to $27.69 (+1.80%) during pre-market trading. However, within thirty minutes (an hour before the conference call began), a financial advisor managed to get his negative opinion of GE mentioned on TV. Even though the timing alone made obvious that the remarks could not have been based on any analysis, traders reacted to it so the stock reversed course, gave back its gain and turned to a loss. By the time the regular session began, GE shares had traded down to open at $26.88 and continued to as low as $26.28 before closing the day at $26.58 (-2.28%). Having already sold off some since the start of the New Year, the stock has now given back the ~5% gain it made in December. This article reviews the earnings, as well as the performance of my GE calls.
Company Overview
General Electric is a diversified, multinational conglomerate headquartered in Fairfield, Connecticut. The company is divided into eight reporting segments: Aviation, Appliances & Lighting, GE Capital, Energy Management, Healthcare, Oil & Gas, Power & Water, and Transportation. For more information about GE, see the corporate website, including a company history interactive timeline.
Earnings Review
GE reported 2013Q4 earnings per share [EPS] of $0.53, which is in line with the consensus estimate, and 2013Q4 revenue of $40.4 billion, which beat the consensus estimate by $0.02 billion.
2013Q4 operating earnings were up 16% and operating earnings per share [EPS] were up 20% to $0.53; both as compared to 2012Q4.
2013Q4 revenues increased 3% to $40.4 billion; compared to 2012Q4.
2013FY operating earnings were up 5% and operating earnings per share [EPS] were up 9% to $1.64; both as compared to 2012FY.
2013FY revenues were flat at $146 billion, compared to 2012FY.
GE Industrial segment profits were up 12%, with six of the seven reporting segments growing earnings. U.S. orders were up 8%, growth market orders were up 13%, and Europe orders were up 3%. As a bit of color regarding the growth markets, revenues were up 13% in China, 17% in Latin America, and 18% in Russia. In Sub-Saharan Africa, which GE has identified as a growth focus, revenues were up 59%. This is very positive for long-term growth.
Since he obviously would prefer earnings growth in all segments and even higher growth in all markets, CEO Jeff Immelt described the environment as "improving but mixed." That's a perfectly reasonable evaluation, but some reported it as a negative statement. I think the decision to do so is telling.
Cost Cuts
The next topic needs to be addressed, although I dislike giving it the attention that was obviously being sought. Moments before GE shares turned down in pre-market trading last Friday, CNBC mentioned one negative comment on GE that started the bandwagon the nattering nabobs of negativism jumped on to drive the shares down. This is the remark from Solaris Asset Management:
"Cost cuts are how they really made the quarter here."
I've never heard of Solaris either, but the fact that the opinion isn't from one of the tier-one firms with actual analysts is not the most troubling part. The facts that the remark came only thirty minutes after the earnings data was available and a full hour before the conference call even began are extremely telling. GE is a large ~$270 billion company with seven complex operating segments; so it takes longer than thirty minutes just to read GE earnings materials, let alone analyze them and draw a reasoned conclusion. So, it's highly unlikely that the Solaris person actually read anything other than a headline; and it's literally impossible that they asked management any questions during, or even listened to, the conference call (as confirmed by the transcript). This makes clear that the comments could not have been based on any actual analysis of earnings.
Every financial industry professional knows that extreme comments made via global media outlets will move a stock, so it's hard to give any pro the benefit of doubt necessary for such an indiscretion to be a mistake. Although it's not illegal, intentionally making comments that move a stock is questionable. In fact, it's not unlikely that someone just wanted to buy shares cheaper and, for those with mass media access, a strategically-placed very negative remark is an easy way to get that done. Stating opinions in the media isn't illegal, though it's often only done because very many people make trading or investing decisions based on literally nothing other than what they hear in the media. With that said, perhaps the Solaris person just isn't familiar with the term "restructuring" or the fact that it inherently involves cost cuts.
For example, the cost cuts are not news to those who pay attention. It's also important to note that GE spent $9 billion on acquisitions in 2013. Of course, some of those acquisitions involved assets that were duplicative and needed to be cut. Granted, $1.6 billion is not insignificant, but we must recall that we're talking about a ~$270 billion company. Cost cuts are a distraction to the type of investor that belongs in GE stock. The bottom line is that the GE story is not at all about cost cuts. It's about margins and backlog, both of which are excellent and have been steadily getting better for years. To make that more evident, the slides below are from last week's earnings report, but I added some information from the 2011FY report so that the backlog and margins trends are more obvious. The facts are very clear and positive.
Margins
Industrial segments margins were up to 18.3%, which is 100 basis points (1%) over the prior-year quarter, and full-year margins were up 66 basis points. One reason margins are so important for a company the size of GE is evident in the law of large numbers, which explains why it's inherently nearly impossible for any company with $146 billion in revenue to grow revenue in large increments. However, there is obviously benefit to such huge amounts of revenue as well. Namely, keeping more of each dollar has a major impact on profitability, just as bringing in more dollars. For example, if GE can keep another a penny from each of those $146 billion dollar in revenue, that's actually better in some ways than adding another billion in revenue that the company only keeps some of.
So, why are we hearing the margins expansion reported negatively? The goal GE stated was for a year-over-year margins increase of 70 basis points [bps] (0.70%), but the company managed an increase of "only" 66bps (0.66%). Yes, you read that right -- the hullabaloo is about GE "missing" a goal the company imposed upon itself by a difference of 0.04%. It's not only ridiculous to make that the focal point, but it's incredibly short-sighted. In fact, some reports even focused on the 60bps that includes recent acquisitions, despite the fact that GE obviously can't affect a company's margins until after it acquires that company. The bottom line is that margins are expanding at a healthy clip, so hitting every goal down to the hundredth of a percent is not what's important. What matters is how much can be achieved by 2016/2017 when the GE Capital scaling down is complete and the company is more focused on Industrial segment revenue, not one quarter or one year. This comment from CEO Jeff Immelt during the call is enough to allay any concerns I might've had about margins progress:
"Our margin plans have been fortified, and this should be a tailwind for GE going into 2014."
In fact, in an environment where so many companies are struggling to grow revenues, I see GE as especially attractive since it can grow profits via margin expansion and by shedding underperforming or risky assets. Having multiple ways to contribute to profitability is not at all a bad thing. And, when the huge backlog discussed next is added to the equation, it's obvious that revenue will be growing too. So, that's more dollars and more of those dollars retained.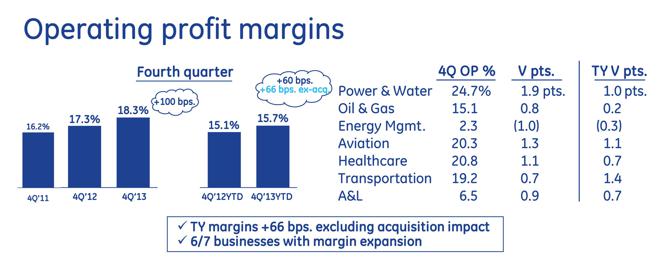 Backlog
Moving on to backlog, new orders were up by 8% and the total backlog is now at an all-time high. I'm not sure how anyone could interpret a record backlog of $244 billion as a negative so I'm really not sure what to say, but I'll give it a go. First, note that the $244 billion record backlog is nearly equal to the entire GE market capitalization. At its December annual meeting, GE set a target of 4-7% for organic growth in 2014. With huge backlogs, and having achieved 5% organic growth in just the reported quarter, the target is well within reach so I'm not concerned on this front either.
Detailing each segment would make this article even more prohibitively long than it already is, so I'll just touch on standouts. The Power & Water group is a focus because it had been weak lately, but it's the highest revenue Industrial segment and among the strongest margins segments. So, profitability was up even though quarterly revenue was flat. Perhaps the most important factor is that P&W is a big contributor to that huge backlog since the group had its best quarter of orders in five years. That implies P&W is indeed picking up and the flat revenue is merely on order timing. The Sonelgaz deal is a good example.
The Energy Management segment was weak for the quarter, but we knew that was coming and that it was due to temporary fixable issues that are already being addressed. As Jeff Immelt told us in December:
"Energy Management has been a mixed market, I would say, this year." "I would say our execution could have been better this year in this space. We are going to do a ton of restructuring in this business next year."
These are examples of why investors might take care not to get too caught up on comparables over short periods of time with companies like GE. The whole point of the conglomerate business model is that the impact from temporary weakness in one business can be minimized by strengths in other businesses (namely, Oil & Gas, Aviation, and Appliances & Lighting). What we should be focused on is the huge and fast-growing $244 billion backlog, the fact that it inevitably means more revenue, and the fact that margin expansion is indeed on track. That means GE will retain a larger portion of that $244 billion.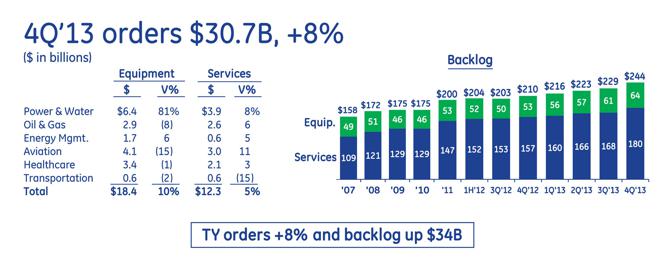 Taxes
There have also been reports that attribute all of the earnings strength to large income tax benefits. According to CEO Jeff Immelt:
"GE Capital earned $2.5 billion, including some tax-efficient gains as we exited global platforms."
CFO Jeff Bornstein added more detail during the conference call:
"GE Capital earned $2.5 billion, up 38% from a year ago. You can see we had $1.6 billion of tax benefits and gains from the Switzerland and the BAY [Thailand] transactions as we discussed. We sold 68.5% share in the Swiss consumer bank via an IPO, resulting in $1.2 billion of tax benefits and gains. In addition, we completed the sale of our remaining stake in Bay Bank, resulting in a $400 million gain."
My take is that this is another perfect example of the fact that, when it comes to GE, many people will complain no matter what. Those who are complaining about the tax benefits of efficiently divesting some GE Capital assets are very likely the exact same people who have been pounding the table insisting that GE Capital assets must be divested to reduce risks. I'm fine with the fact that management is actually making the deals it committed to and is smart enough to make them in tax-efficient ways. GE is restructuring, so there will inevitably be anomalies on both sides of a balance sheet when short time periods are the focus. With a company of this size, such measures can equate to seemingly large numbers that are actually relatively small. So, I'll consider tax benefits worth discussing if they become a significant factor over longer time periods after GE is past the transitional period of divesting major assets.
Company Updates & Analyst Opinions
In an effort to offer comprehensive information, this section includes updates that have occurred since my last article on GE.
10/28 -- Credit Suisse increased their GE price target to $29, from $25.
11/15 -- "GE Plans Consumer Finance Unit Partial IPO In 2014"
11/18 -- "GE-Led Engine Venture Boosts Output As Boeing, Airbus Lift Rates"
11/18 -- Deutsche Bank raised their GE price target from $28 to $32. About the Retail Finance business, Deutsche Bank analyst John Inch opined that: "A prospective split-off transaction in 2015 for the remaining 80% should tax efficiently retire hundreds of millions of GE shares." As I commented at the time, I imagine the $40 billion of orders over the preceding weekend had a little bit to do with the price target increase too.
11/23 -- "Boeing Warns Of [GE] Engine Icing Risk On 747/8s, Dreamliners"
12/2 -- Standpoint Research downgraded GE to Sell. The facts are accurate, but my wording was harsh: "Another reason to ignore Standpoint. They also downgraded (NYSE:HAL) 45% ago, (NYSE:NYCB) 24% ago and (NYSE:PFE) 15% ago."
12/13 -- GE announced a 16% dividend increase.
12/18 -- GE holds Annual Outlook Investor Meeting.
12/18 -- "GE Sees Double-Digit Industrial Profit Growth Next Year"
1/3 -- Oppenheimer downgraded GE to Market Perform, but with positive comments: "A solid store of value, with the 3.2% dividend yield, a case for solid industrial organic growth drivers, and understated 2014 earnings power given about $1B pretax net restructuring included in our estimates."
1/6 -- "GE Healthcare Boosts Life Sciences Division With $1.06 Billion Deal"
1/6 -- GE Oil & Gas Opens Brazil Logistics Base; Investments Exceed $100M
1/20 -- GE Oil & Gas acquires a division of Cameron International (NYSE:CAM).
Call Performance Summary
General Electric 10/18/2013 call
[up ~6% from initial published call, up ~43% from initial buy/call]
My initial call in the article linked above was: "My opinion is to consider buying GE in the $23-$24 range and I expect at least $28 within 12 months." Since GE was available at $24.23 when the article was submitted, I've rounded to $24.50 to track performance. GE reached $28 for the first time since my call on December 31, but has since given back much of that ~14.5% gain. As an investor, I often interpret rallies followed by retracements as confirmation of true value, followed by an exodus of short-term momentum traders. I believe that is the case here, so I think the dip will end with opportunity for investors to add to holdings. I believe the selloff will run out of steam soon, but I also think whether GE goes any lower now depends on what the market does and the analyst actions on GE that I expect to start seeing next week, more so than on the company. So, whether it's time to buy yet depends on your view of the market. Personally, I'm bullish for 2014, but cautious right now. So, my plan is to split my add size in half, buy half within days or weeks and save the other half for if/when there's a market pullback. In other words, I'm not in a big rush. As mentioned with my initial call, "GE isn't a stock for a quick 20% flip in a month. GE is a strong long-term economic cycle play."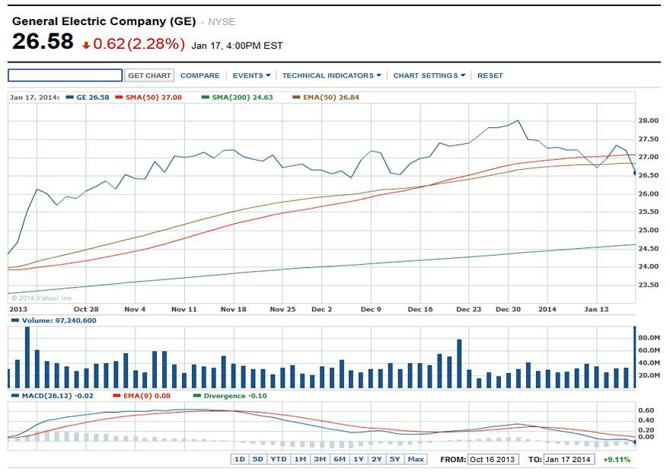 Source: Yahoo Finance
As specified in my recent "Updates" article (linked in the last paragraph), on January 9, I revised my initial GE call with: "I'm raising my 9-12 month price target to $31." I changed the timeline to 9-12 months for two reasons. First, the 9-12 month timeline reflects the fact that there are actually nine months left in my initial call timeline. Said another way, it also reflects my belief that my original price target was too conservative for a twelve-month time frame. In fact, that may also be the case for my new price target, despite the current selloff. This article is strictly an earnings review, so I will soon post an article with my full investment thesis for GE, which will include details on my price target calculations and a number of other factors.
Final Thoughts
Since 2013 lacked any significant market-wide pullbacks, undervalued stocks are even harder to find in 2014. That's exactly why 2009-2013 was a great time to diversify and position a portfolio with strong stocks like GE while they were deeply discounted. For 2014, most stocks are closer to fair value, so opening new positions is not as appealing. For the reasons discussed above, I think now is a great time to focus on building upon solid positions like GE. Or, as Peter Lynch puts it, "The best stock to buy is the one you already own."
I cover that subject further in my 2013 Performance & 2014 Updates article, which supplements this article, as well as the other company-specific update articles that I've posted recently and will post more of soon. That article also includes price target updates and performance tracking, for all of my calls. For investors who like industrials but who may need small caps, consider reading my thesis and update articles on CECO Environmental (NASDAQ:CECE) or my thesis article on Standex International (NYSE:SXI). For investors who like GE, perhaps also consider reading my full-thesis article, which offers more in-depth coverage of the company, as well as some discussion of investor suitability.
Thank you for reading. I wrote this article 1/17-1/22. Constructive feedback is welcomed in the comments section below.
Disclosure: I am long GE, CECE, HAL, and PFE. I wrote this article myself, and it expresses my own opinions. I am not receiving compensation for it (other than from Seeking Alpha). I have no business relationship with any company whose stock is mentioned in this article.
Additional disclosure: I am long GE, CECE, HAL, and PFE, and may buy additional shares at any time.