3D Systems (NYSE:DDD) has been in decline since January 2 and it may continue to fall due to market anxiousness. However, a rebound before 2014 ends is highly probable. Despite its current stratospheric high Price/Earnings ratio of 191.41, I firmly believe that DDD still has enough potential to go higher than its current price of $88.26.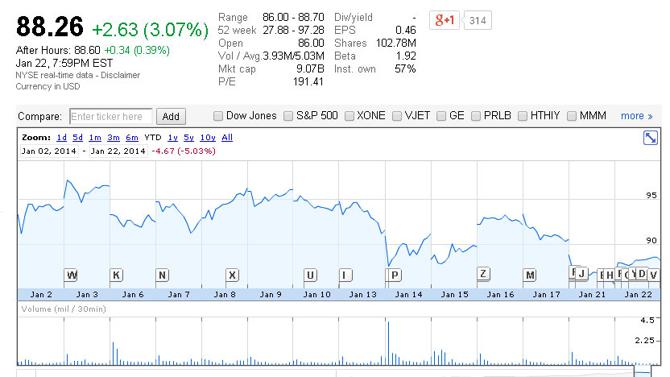 3D Systems is the leader in additive manufacturing. It posted a 172.91% Year-To-Date increase last year in spite of the November sell-off. It has a healthy balance sheet and is not in danger of running out of cash soon. The short interest on DDD also showed a significant reduction of 10 million shares from October 2013 to December 2013. Several recent positive events convinced me that 3D Systems has not yet reached its peak.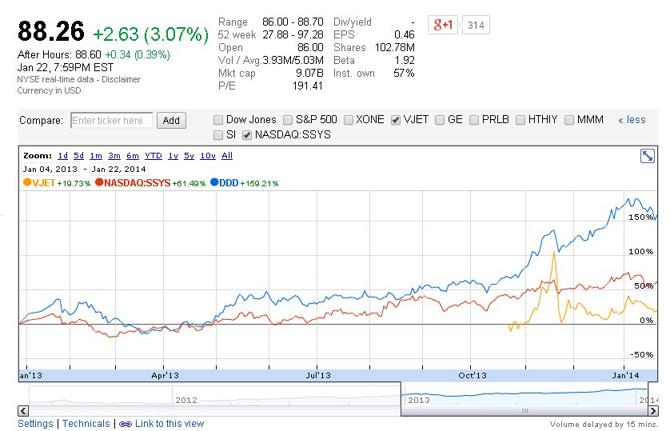 Based on my research, DDD shares are worth holding on to because the company has a big chance to rally again this year. My bullish sentiment on 3D Systems is due to the following reasons:
1. The Hershey Company (NYSE:HSY) has teamed up with 3D Systems to produce printable edibles. This deal can usher in new markets for 3D printers. Mothers and daughters will try their best to come up with custom confectionery products for their own consumption, or for sale to others. This is a long-term proposition but it still ensures 3D Systems has an early lead in printing consumer food.
2. Adobe Systems (NASDAQ:ADBE) recently upgraded its popular Photoshop CC image editing program to make it compatible with 3D printing. Photoshop users are in the millions. I'm sure amateur and professional graphic artists will find ways to monetize the 3D printing update of Adobe Photoshop. Some of them will likely buy a Cube 3D printer for small-scale 3D printing.
3. The new Intel (NASDAQ: INTC) RealSense 3D embedded camera for tablets, notebooks and laptops will help 3D scanning and printing become more accessible to consumers. Intel is on a mission to sell 40 to 60 million Bay Trail-T and Cherry Trail-T-powered tablets this year.
The world's largest semiconductor company is bent on grabbing market share for its tablet chips from ARM-based products like the APPLE (NASDAQ: AAPL) iPad and Samsung Galaxy Tab. 3D Systems is one of the main beneficiaries of Intel's ambitious plan.
Intel will be bundling 3D Systems' Sense 3D scanning and printing software with RealSense 3D cameras. RealSense 3D-equipped products will be available by the second half of 2014. Intel has signed up Lenovo, HP (NYSE: HPQ), Acer, Asus, Fujitsu, and Dell as OEM partners for 3D scanning-capable Windows 8 tablets and notebooks.
4. The iSense accessory for the iPad also taps into a rich user base. Apple has sold more than 170 million units of the iPad since its original release in 2010. The iSense scanner attaches to the iPad and let people wave it around physical objects to create realistic 3D models.
3D designs can further be edited or enhanced using the bundled software. iPad owners have the option of sending their 3D scans to Cubify.com for printing.
5. The 3rd-Generation Cube 3 Home 3D printer is more affordable. This sub-$1,000 printer from 3D Systems will likely popularize 3D home printing. The Cube 3 is a Plug-n-Play 3D printer that offers multi-material and dual-color printing. It has a faster printing speed and an easier way of replacing 3D printing materials. Hobbyists and home-based entrepreneurs will be tempted to buy this cheap printer.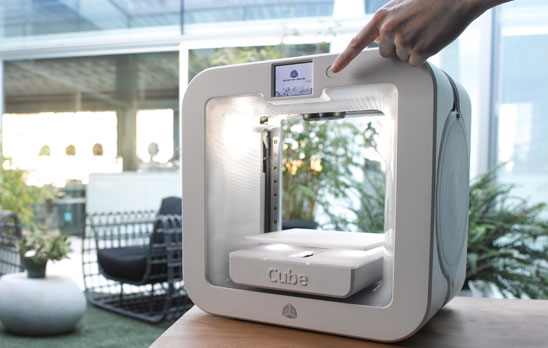 6. Recent acquisitions show 3D Systems is also bent on expanding its revenue streams. The company recently purchased Gentle Giant Studios last January 3. Gentle Giant is a leading manufacturer of licensed 3D toys, movie characters, and collectibles. Its library of works includes characters from blockbuster Hollywood movies like Star Wars and Harry Potter. Gentle Giant also creates licensed collectibles from Marvel and The Walt Disney Company (NYSE: DIS).
3D Systems also bought Village Plastics last December. The privately held company specializes in producing thermoplastic 3D printing filament. Village Plastic is an expert in producing custom extruded products.
Lastly, 3D Systems acquired 3D ceramics printing specialist Figulo Corporation. These newly-acquired companies are all consumer-oriented. The deal with Intel and the release of the iSense accessory for the iPad plays also focuses on the individual, rather than the enterprise user.
7. Revenue growth will likely continue to grow by double digits this year. 3D Systems' impressive 34.08% five-year average revenue growth performance might even improve as 3D printing becomes more popular with ordinary consumers.
Credit Suisse estimates that the 3D printing industry has a Compounded Annual Growth Rate of 20-30%. By 2020, the 3D printing industry is projected to grow to $11 billion. For 2014, Credit Suisse estimates that the industry will gross around $3.8 to $4 billion.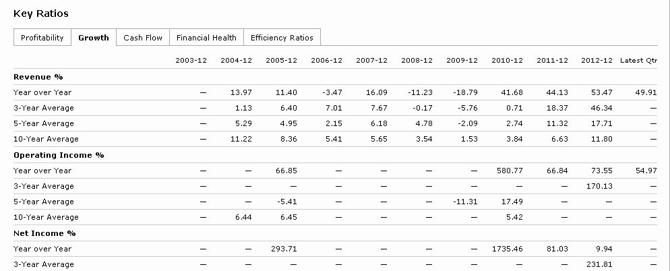 Conclusion
Keep holding on to your DDD shares, 3D Systems has the momentum for exponential growth. The company has a high chance of posting another 30%++ increase in gross revenue this year. The deals with Hershey and Intel are solid tailwinds. The iSense provides a ready market, and the Cube 3 will help 3D printing get into more households.
The high P/E and Price/Sales ratio of the company are justified by the recent positive developments I just enumerated above. Here's one more chart to convince you that 3D Systems is the best additive manufacturing company to bet on right now.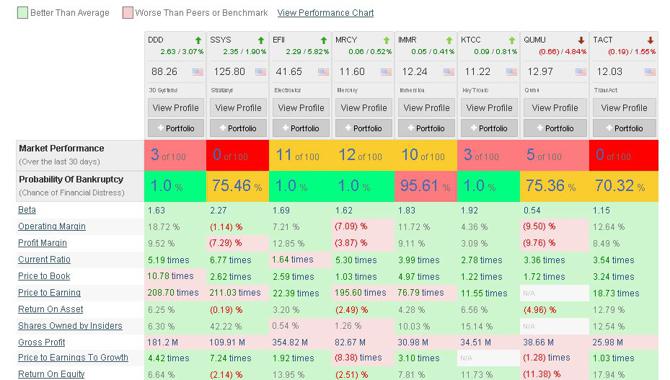 Disclosure: I am long INTC, . I wrote this article myself, and it expresses my own opinions. I am not receiving compensation for it (other than from Seeking Alpha). I have no business relationship with any company whose stock is mentioned in this article.