Phillips 66 (NYSE:PSX) has long been one of my best-performing stocks. The company has been able to exploit the spread between Brent and WTI to its advantage, making records profits as a result. Phillips 66 did hit a snag during Q3 2013 due to elevated WTI prices, sending its refining arm to its first-ever quarterly loss. However, the situation has now clearly reversed, with the Brent to WTI spread now approaching levels not seen since early 2013.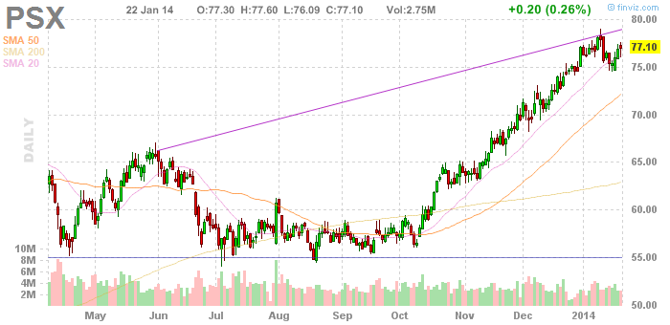 Higher spread means bigger profits for Phillips 66
While the company does have some non-refining earnings, Phillips 66 is highly dependent on its refining operations for the vast majority of its profits.
As I noted in the intro, the Brent to WTI spread is a crucial indicator for Phillips 66's profits. Oil refinery profit margins are driven by the crack spread, or the difference between the price of oil and other inputs and the resulting derivative products. Phillips 66 has benefited due to a large chunk of its crude oil feedstock trading at or below WTI prices, while its refined products are priced via Brent. As a result, lower WTI prices compared to Brent should directly boost the crack spreads for refiners such as Phillips 66.
As shown below, Phillips 66's share price is highly correlated to this trend and has risen alongside the increasing spread.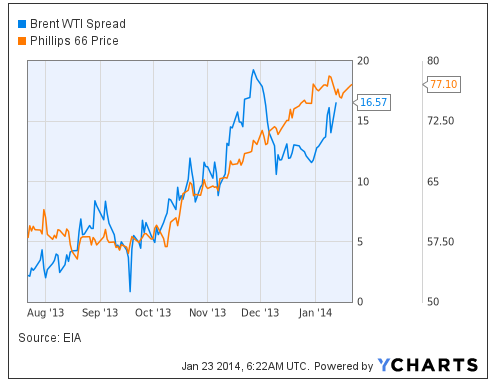 During Q4 2013, the Brent to WTI spread widened significantly compared to prior quarter levels, averaging roughly $10 to $12 per BBL, compared to barely $5 per BBL in Q3. Also note that in Q3, Phillips 66's refining margins came in at about $6.14 per BBL.
According to Phillips 66's sensitivity tables, a $1 per BBL increase in refining margins has a $440M impact to its FY net income. Phillips 66 will likely see a huge bounce back in its refining profitability assuming even a small increase to refining margins in Q4.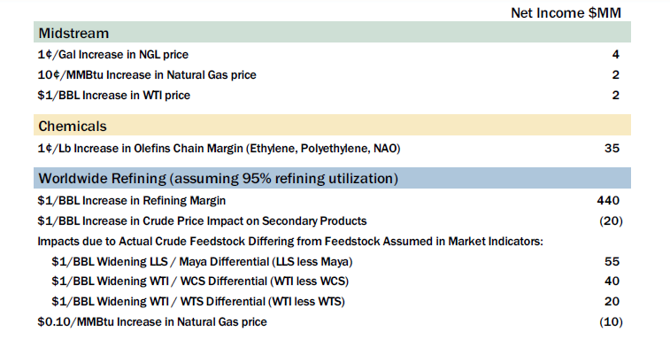 Q4 surprise? Valero results may indicate a strong quarter
Valero's (NYSE:VLO) recently announced Q4 2013 interim update adds further evidence towards a likely rebound in refining margins. Valero estimates its Q4 net income to increase to $2.20 to $2.40 per share. Excluding one-time items related to a recent spin-off, Valero's net income is estimated to come in at $1.60 to $1.80. Valero noted that its better-than-expected results are due to various factors including wider crude oil spreads, higher throughput volumes, and improved margins from its ethanol segment.
Valero's Q4 guidance is nearly double the analyst consensus estimate of $0.93 per share. I expect all refiners, including Phillips 66, to rally hard on Valero's updated guidance. Valero's stock is now up 4% in after-hours trading as of this writing, while other large refiners are also up between 1% to 2%. Do note that Valero is much more of a pure-play refiner compared to Phillips 66.
Conclusion
With WTI prices now depressed, the short-term future looks very bright for Phillips 66. It refining segment will likely post much stronger results in Q4 compared to Q3. I expect a few analysts to possibly raise their EPS estimates for the quarter, which currently stands at about $1.00.
It is easy to be bullish Phillips 66. The company has outstanding growth prospects and is investing heavily into various projects which will eventually diversify it into chemicals alongside its downstream refining segment. The company has also consistently rewarded its shareholders, nearly doubling its quarterly dividend since its spin-off from ConocoPhillips (NYSE:COP) and recently announcing a $2.0B share repurchase program. In addition, Phillips 66 is hardly expensive, trading at a 10.80x forward PE and 6.80x enterprise multiple.
Disclaimer: The opinions in this article are for informational purposes only and should not be construed as a recommendation to buy or sell the stocks mentioned. Please do your own due diligence before making any investment decision.
Disclosure: I am long PSX, COP. I wrote this article myself, and it expresses my own opinions. I am not receiving compensation for it (other than from Seeking Alpha). I have no business relationship with any company whose stock is mentioned in this article.