The past year has been an extremely volatile period for agency mortgage real estate investment trusts (mREITs). Over the past 12 months there has been dividend, book value, and share price declines. Not a single agency mREIT has had positive economic returns over the last three quarters. One of the hardest hit companies was CYS Investments Inc. (NYSE:CYS). However, looking forward, CYS might be favorable among industry peers.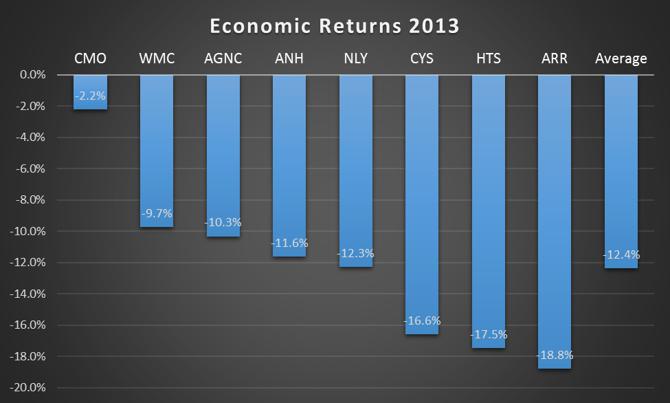 (Only the first three quarter results of 2013 are included in this graph because the fourth quarter has yet to be reported by the included companies. Fourth quarter dividends are not included.)
Upon inspection of the economic returns for 2013, it is clear CYS had a bad year compared to its peers. However, in the third quarter of 2013, the company had the best economic returns for the group. This could bode well for the company moving into 2014.
| | | | | |
| --- | --- | --- | --- | --- |
| Ticker | Price | P/Book | P/E TTM | Yield |
| | $ 12.11 | .981 | 10.81 | 10.2% |
| | $ 14.76 | .878 | 3.94 | 21.7% |
| | $ 20.29 | .802 | 5.40 | 12.8% |
| | $ 4.50 | .764 | 7.89 | 7.1% |
| | $ 10.20 | .803 | 6.07 | 11.8% |
| CYS | $ 7.60 | .752 | 5.28 | 16.8% |
| | $ 17.60 | .826 | 6.42 | 11.4% |
| | $ 4.04 | .768 | 5.25 | 14.9% |
| Average | | .822 | 6.38 | 13.3% |
(For WMC a $.80 dividend was used in calculating yield.)
Currently CYS is trading at the largest discount to book in the industry, making it attractively valued. The company also has a low P/E TTM ratio relative to the industry average. This could explain why the company pays such a large dividend. At the current earnings levels, CYS is likely able to continue paying a $.32 dividend for the foreseeable future.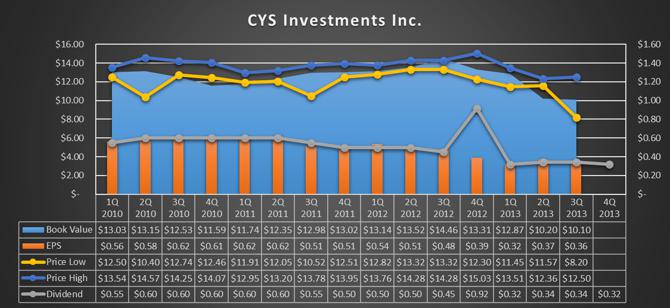 (EPS used for this chart is the core earnings + drop income. Low and high prices are intra-day and are found using historic data from yahoo finance.)
In the last conference call, the management mentioned the chance of increased retained earnings, and the fourth quarter dividend reinforced this sentiment when it was decreased from $.34 to $.32. Even though the company's earnings are able to support the $.34 dividend, it is better for long-term shareholders to reinvest these earnings by purchasing assets or repurchasing common stock.
CYS is among a short list of mortgage REITs that are internally managed. Listening to the third quarter conference call, one might be surprised why this company has been trading so low. The company repurchased 5.99 million shares in the third quarter at a weighted average of $7.77, higher than the current price. Even if CYS reports a book value slightly under $10, it is likely that the company will see significant price appreciation going forward, barring some significant macroeconomic catalyst that affects the entire industry.
My conclusion:
I am currently long CYS, 12/12/13, @ 7.62, and I currently have a price target of $10.00, subject to change with upcoming earnings report. With its attractive valuation CYS is currently my favorite long position in the mREIT space. It may be a few quarters before the company can hit $10, but you get paid a nice dividend to wait.
A good way to capture the potential upside and avoid the possible large downside by an industry decline would be to go short in an industry peer, such as ARMOUR Residential REIT, Inc.
Disclosure: I am long CYS, CMO, ANH. I wrote this article myself, and it expresses my own opinions. I am not receiving compensation for it (other than from Seeking Alpha). I have no business relationship with any company whose stock is mentioned in this article.
Additional disclosure: Information in this article is my opinion only and shouldn't be construed as advice to buy or sell securities. Recommendations don't take into account individual reader's investment risk or return objectives and constraints. The article is for information purposes and you are encouraged to do your own research before making any investment decisions. All information here in this article is accurate to my knowledge.