Yahoo Finance has been one of the more valuable properties for Yahoo (NASDAQ:YHOO), which has been struggling in most of the segments it competes in. So the news that Bloomberg overtook the digital financial news site in the number of video streams viewed by visitors in December, isn't good news for the company.
Citing data from comScore Video Metrix, Bloomberg reported it generated 34.7 million video streams in December, about four times the number of videos streamed in December 2012, with the number of unique visitors jumping by 25% for the month. It was also a 31% gain over the number of digital videos streams in November 2012 on Bloomberg. It was the first time in its history that Bloomberg beat out Yahoo Finance in this area.
When considering that Google (NASDAQ:GOOG) wasn't able to make any significant inroads into Yahoo Finance with its Google Finance digital outlet over the years, it's a concern to see it overtaken by Bloomberg.
source: StockCharts.com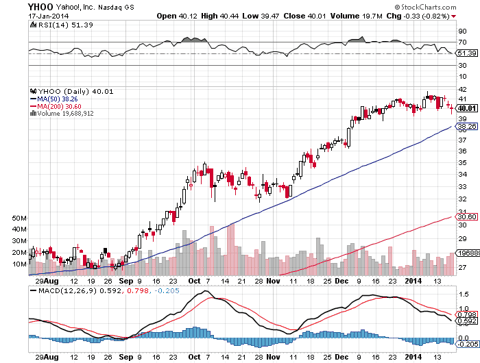 Video Streaming Value
In the digital space, there is no doubt the future is centered around streaming video ads, which are and will attract the largest amount of ad revenue. It'll take a few years for that to unfold, but it's quickly moving in that direction.
When talking of streaming video, it doesn't include video overlays and other types of ads. It's a reference to digital ads that are videos themselves. While not in every circumstance, they are usually the most effective when used within digital video content, and not placed as separate ads within articles.
While it's not yet known if this is a long-term trend, it is important to watch how this plays out for publicly traded companies with a digital presence, as the big winners will be those with the top, premium video content.
This is why it's so important to carefully watch which online companies are receiving the most video ad views.
Understanding the Digital Streaming Video Ad Market
There are several important elements to consider when analyzing the streaming video ad market. The best way to look at it would be the comparison between video views from Google and AOL (NYSE:AOL).
What first thing that must be understood is video views and video ad views are two completely different things. A company can tout its dominance in video views, such as Google, without it having any connection to the revenue it generates from those views.
So while Google will focus the attention on its overall views, it is not as lucrative for the company as it may first appear. For example, Google Sites generated over 13 billion views in December 2013, while AOL only generated 1.4 billion views for the month.
But when you compare video ad views between the two companies, AOL dominates Google, as it had 4.3 billion video ad views in December, while Google had 3.6 billion views.
This is also true with Facebook (NASDAQ:FB), which had its video views soar to 3.7 billion in December, also beating out AOL. When you look at video ad views though, Facebook isn't even in the game, although that may change because it has started to add streaming video ads to its platform recently.
The bottom line is it's the video ad views that matter for a company, not the number of videos viewed.
What this points to is the lack of value associated with user-generated content. This is why Google's YouTube still struggles, and why it's working hard to expand channels to attract advertisers.
It's similar to Facebook, which had the number of video views soar because of the rising number of video Vines from Twitter (NYSE:TWTR). Twitter users have been inserting their Vines on Facebook, which has resulted in the huge increase in video views. This user-generated video content is close to useless as a revenue source, and little use for Twitter or Facebook with earnings.
Premium Video
This leads to the next important element of the emerging streaming video ad market, and that is in reference to premium video content. This is where the future lies, and the reason AOL dominates all other companies at this time.
Growing market demand isn't for video in general, but for premium video advertisers can trust to place their respective brands against. This is why AOL needs to continue to focus on this market, and why it was a good move to get out of Patch and only retain a minority position in the local news company.
It's also the reason Yahoo should have been hitting this part of the market hard instead of focusing on making deals for fading stars such as Katie Couric, which reinforce the idea that Yahoo is yesterday's company, and not one poised for future growth and strategies.
As for Twitter, I think this is one of the reasons there is a lot of concern, as the business model doesn't lend itself to premium content, which is what the company must provide and find a way to offer if it is to grow in the future. Advertisers don't just want eyeballs any longer, as proven by YouTube, but the market has resoundingly spoken that it wants quality and trusted video content.
News Corp. and Storyful
In what I think is a terrific move for News Corp. (NASDAQ:NWSA) after being spun off as a separate company from what is now called 21st Century Fox , it acquired Storyful for $25 million. This is important because it plays a big part in the emerging premium video content story.
What Storyful does is source and verify user-generated video content so it can be used by traditional and other media outlets in a trusted manner.
Part of the premium video demand isn't just having nice quality, but it's the accuracy and sourcing of the content that is of more concern. That's one area that YouTube has helped pave the way for. Consumers are more than willing to watch what some would consider 'amateur' video, as long as it represents the truth and isn't altered by digital means.
That's the purpose and service offered by Storyful, which confirms the reliability and source of the story, essentially turning user-generated video into premium video.
The point is premium video has been redefined, and it's now the accuracy of the video that defines the genre, not only the type of device used to shoot the video.
For News Corp. this should work out very well, as the demand for trusted digital video remains high, and there is no end in sight at this time as to how long and deep the demand will grow. Demand continues to be greater than supply, said Trevor Fellows, head of ad sales for Bloomberg Media, and "People are prepared to pay impressive prices."
Bloomberg reportedly gets approximately $75 CPMs for video, while its other digital content only commands $15 CPMs.
Conclusion
If Yahoo blows it with its Yahoo Finance property, it should and will be considered a disaster. For years it has been one of the few bright spots for the company, and to lose its position in the fastest-growing and most profitable digital ad market points to growing incompetence at all levels.
AOL, Google, and News Corp. on the other hand, see the importance of this market, and are employing significant resources to position themselves for future growth. To see and hear Yahoo fall behind in yet another area, in my opinion, is a crushing blow to the company; one that will increasingly be understood as a tremendous failure by leadership going forward.
For any company with a strong digital presence, streaming video ads is the most important revenue source of the future, and those missing this trend will quickly fall into irrelevance in the years ahead.
We need to be sure to include video ad views and what a company is doing to grow the premium video content out to attract them as a part of our analysis.
Disclosure: I have no positions in any stocks mentioned, and no plans to initiate any positions within the next 72 hours. I wrote this article myself, and it expresses my own opinions. I am not receiving compensation for it (other than from Seeking Alpha). I have no business relationship with any company whose stock is mentioned in this article.