It's coming right for us! - Uncle Jimbo
Introduction
Have you ever had the feeling that things just don't sound right; that uneasy nagging feeling that either your missing something, or that things just don't add up? Anyway…
It was many years ago, when I had my Scarlet O'Hare moment with respect to hunting. My meat comes from the grocery store! You can keep your venison steaks and jerky, your whistle pig stew, and your squirrel pot pie. Give me farm raised anything. (Although secretly, my mouth still waters when I think about a nice dish of deep fried rabbit.) Not that I have any moral or humanitarian opposition to hunting, it's just that growing up an Appalachia mountain boy, hunting was not something that we did for sport. That's how meat got on the table. But, I know there is a segment of our population that rather enjoys the sport of hunting, probably as much as I enjoy drowning worms and tricking bay beasties to bite cheap plastic baubles. And therefore, there is also a segment of our population that might enjoy virtual hunting games such as Deer Hunter 2014. My difficulty is believing that it is that large of a segment.
Glu Mobile Inc. (NASDAQ:GLUU) is the developer and publisher of a portfolio of action/adventure and casual games for smartphones and tablet devices. The company develops mostly freemium games under its own brand, such as the aforementioned Deer Hunter game available on both Android and iOS. Glu Mobile sells its products through direct-to-consumers through iTunes store and Google Play. There have been a number of bullish articles here on Seeking Alpha lately, and a few bearish ones as well, but outside these walls, commentary has been neutral to bearish in the company. This article will provide commentary on why the Glu Mobile story just doesn't sound right, review the recent insider transactions and how they imply a negative outlook in the mid-term, and fully disclose the regulatory rules govern those transactions.
The Bullish Story behind Glu Mobile
During the fourth quarter, most of the scuttlebutt surrounding GLUU was in reference to their newly released Deer Hunter 2014 game and the pending release of their Eternity Warriors 3 game. The company had announced record breaking downloads for Deer Hunter 2014 and estimated that revenues on a non-GAAP basis would be between $31.5 million and $32.5 million. And that got me thinking, which is always a dangerous thing.
First, who is the market for this Deer Hunter 2014 game? The first demographic group that comes to my mind is the teen boy mud club that hangs around the McDonald's parking lot across from the high school. I'm sure those boys would probably have this game on their smart phones. But what about the larger demographic? Somehow, I just can't imagine that there is high demand for this game outside the scarlet scruffed suburbanite male demographic.
The game is of course, a first person shooter or FPS game. This is a broad classification of games that includes things like Call of Duty, Dead Trigger 2, and literally, thousands of other games. Now, rather than get on my soap box with respect to these time wasting, mind numbing, creativity crushing, mis-allocation of human productivity, we'll take at look at the reviews of this "awesome" new game.
Before running out to iTunes to seek out and download a game that I might be a little biased against, I start my research by looking to some pros. And, here's what I found:
I've never hunted anything in real life (aside from the remote control), but have always enjoyed a good hunting game. Deer Hunter 2014 is solid in a lot of different areas and quite a bit of fun if you like things simple and quick. That said, the way they choose to go about "hunting" is odd considering you don't hunt anything.

I also never felt good about taking down a trophy kill as the animals just stand there so there's no sport to it. Even the beasts like the dreaded bear "Lord Horriblis" can be dropped in less than 5 seconds. In a nutshell, if you're looking for a great looking target practice game that lets you fire away at stationary animals that occasionally move… Deer Hunter 2014 is perfect for you. If you're looking for a challenge, look elsewhere. - BriefMobile by Adam Field
And
Hunting never felt so base and inhumane as in Deer Hunter 2014, the latest in a long line of titles that has evolved progressively far from its moniker and expanded now to include endangered animals.

Each "hunt" begins within range of your target beast(s), and you'll do the majority of your shooting rooted to the spot as animals stand around waiting to die.

Deer Hunter 2014 serves up some robust shooting and free-to-play progression, but it lacks challenge, walks an ethical tightrope, and provides only a tiny portion of the complete hunting experience. - Richard Moss of Mac|Life
Okay, so the game is obviously not the forte of these two critiques. That doesn't mean its a bad game, and that its targeted demographic won't be thrilled. So, next we look to customer reviews. The first three reviews from iTunes are: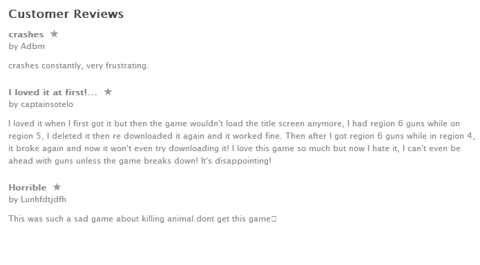 Some Fundamentals
Admittedly, I did not look for a review on Google Play because I have no android devices in my household. And, by this point, do not feel compelled to do so. I would rather take a closer look at some of the fundamentals, specifically, the above claim that Deer Hunter 2014 would generate revenues of $31.5-32.5 MM. But to add proper perspective, we need to know what revenue and earning have been in the past.

So, are we expect to believe that Deer Hunter 2014 is going to drive revenue between 130% - 150% prior quarters? Well, no not really. The above 31.5-32.5 MM is in non-GAAP basis while my graph above it from their quarterly (GAAP) reports. Which begs the question of why the company would comment on non-GAAP numbers to begin with unless it was to manage expectations northward.
Also notice the deep red EPS numbers since the beginning of 2012. Which begs the question of where the company is getting the money to pay their bills. Below is a screen-shot from their statement of cash flows on a quarterly basis.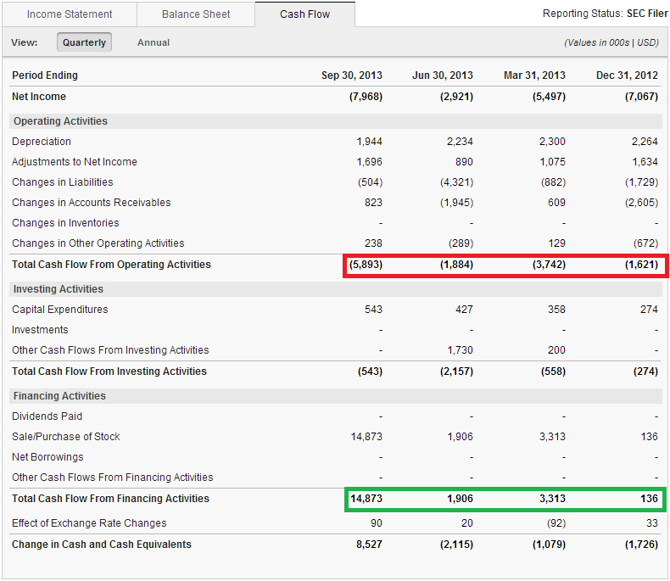 Notice how the company is spending more money on operations that they are generating from revenue (red box). Also notice how the company is attempting to offset these operational losses through financing activities (green box). The disturbing part is that financing is not being done with credit lines or other institutional capital, but through the sale of stock, diluting current shareholders.
Insider Actions
So, with the full knowledge that the company has in the past, and will more than likely in the future dilute shareholders, how have company insiders been responding? Below is a graphic of insider transactions, or rather insider sales (since there have been no open market purchases)since the end of the 3rd quarter.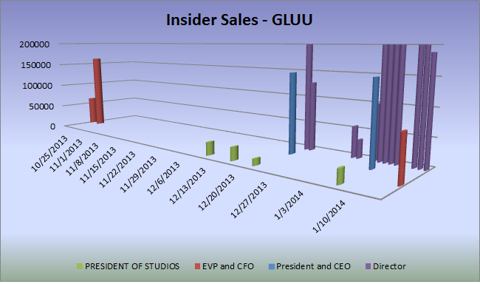 These sales represent between 80% to 100% of executive holdings after exercising their employee stock options. In other words, the executives are selling the stock as quick as they can. I am including links to the Form 4's:
Full and Fair Disclosure - Insider Trading
Open market transactions by company executives or other insiders that are knowledgeable of non-public material information are governed under Rule 10b5-1 as interpreted:
As adopted, paragraph (NYSE:C)(1)(NYSE:I) sets forth an affirmative defense from the general rule, which applies both to individuals and entities that trade. To satisfy this provision, a person must establish several factors.

First, the person must demonstrate that before becoming aware of the information, he or she had entered into a binding contract to purchase or sell the security, provided instructions to another person to execute the trade for the instructing person's account, or adopted a written plan for trading securities.
Second, the person must demonstrate that, with respect to the purchase or sale, the contract, instructions, or plan either: (1) expressly specified the amount, price, and date; (2) provided a written formula or algorithm, or computer program, for determining amounts, prices, and dates; or (3) did not permit the person to exercise any subsequent influence over how, when, or whether to effect purchases or sales; provided, in addition, that any other person who did exercise such influence was not aware of the material nonpublic information when doing so.
Third, the person must demonstrate that the purchase or sale that occurred was pursuant to the prior contract, instruction, or plan. A purchase or sale is not pursuant to a contract, instruction, or plan if, among other things, the person who entered into the contract, instruction, or plan altered or deviated from the contract, instruction, or plan or entered into or altered a corresponding or hedging transaction or position with respect to those securities.
Each of the transaction that occurred on the above graphic have been disclosed as 10b5-1 transactions. Which means that the beneficial owners have entered into a plan agreement with their broker dealers to transact in their company stock based upon predefined criteria. Therefore, current market price should not be considered when evaluating the disclosed insider transactions.
Conclusion
Even still, insiders can alter their stock sale plans anytime they want. And, one of the most popular times to alter plans is a new calendar year. However, Glu Mobile executives have not done that. Additionally, given the poor reviews and the limited target audience of the company's Deer Hunter 2014 game, investors should temper their expectations for earnings reportable the first week of February. Finally, Given the companies historic failure to generate significant revenues to support operations, shareholders should expect further dilution in the future.
Glu Mobile stock has almost doubled since the start of the third quarter 2013, but the value of the company certainly has not. This price will most likely come back to realistic levels and presents a significant risk to purchasers at present.
Disclosure: I am short GLUU, . I wrote this article myself, and it expresses my own opinions. I am not receiving compensation for it (other than from Seeking Alpha). I have no business relationship with any company whose stock is mentioned in this article.
Additional disclosure: I am short GLUU through long put options.