The Walgreen (WAG) story is a great story of a company with a great future, but it's a story that everyone already knows. And because everyone already knows it, the stock has become overbought and is now overpriced based on its fundamentals.
Walgreen Story
Walgreen is the nation's largest drugstore chain, with more than 6 million customers and sales of $72B last year alone. Walgreen defines itself as not only the local pharmacy but also the most convenient access to consumer goods and a trusted, cost-effective health and wellness location in communities all across America. Walgreen's pharmaceutical services include retail, specialty, infusion, medical facility and respiratory services. These services improve health outcomes and lower costs for employers, managed care organizations, health systems, pharmacy benefit managers and the public sector. The company operates 8,200 drugstores in all 50 states, the District of Columbia, Puerto Rico and the U.S. Virgin Islands. Take Care Health Systems is a Walgreen subsidiary that is the largest and most comprehensive manager of worksite health and wellness centers and in-store convenient care clinics, with more than 750 locations throughout the country.
This past year, Walgreen has introduced 2,000 new private brand items to meet the growing demand for its trusted retail brands as it expands further into the retail and health care sector of the economy. Walgreen has also made major acquisitions this past year such as Duane Reade in New York City and drugstore.com, forged a strategic partnership with Alliance Boots and began a long-term strategic relationship with AmerisourceBergen. All of this culminated in a five-year total shareholder return for Walgreen stock of 145%.
According to the Walgreen Press Release dated 8 January 2014, Walgreen shows that the U.S. health care spending is expected to grow from 17% of gross domestic product to 20% by the year 2020. It will be driven by both the aging baby boomer population and overall health care reform, which is expected to bring 30 million more people into the system. The company is well positioned to play a greater role in these emerging models and expand its role beyond the pharmacy market to the much larger $2.6 trillion health care market.
Walgreen Stock Price
In June of 2012, Walgreen's stock price was as low as $27.70 and just 18 months later it sits at $59.16 for a 113% increase in a very short time. At its low, Walgreen had earnings of $2.48 (ttm) and a PE ratio of just 11.16. Eighteen months later, its earnings had increased by just 16.12% to $2.88 while its PE ratio had expanded 5 times faster or 84.05% to a ratio of 20.54. The company also increased its PEG ratio to 1.29, which identifies it as fully priced for a company of this size.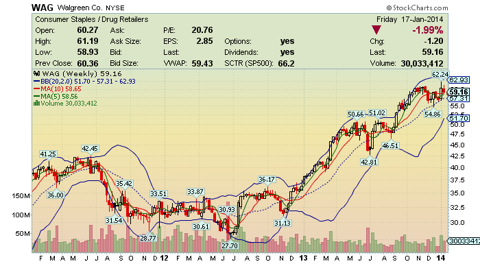 Dividends
Walgreen is a well-known favorite of the Dividend Growth Investors and has been on the list of Dividend Aristocrats for many years. It has also increased its dividend annually in each of the last 38 years without exception. In just the last 10 years, Walgreen has increased its dividend from $.15 in 2003 to $1.18 this past year.
Dividends
| | | | |
| --- | --- | --- | --- |
| 2013 Div | 2010 Div | 2008 Div | 2003 Div |
| $1.18 | $.63 | $.42 | $.15 |
This increasing dividend has also been remarkably consistent in its annual growth rate. The dividend growth rate has been just over 23% in the 3-year, 5-year and 10-year periods, which is both remarkable and unusually constant. Very few companies can match this consistency over multiple time periods.
Dividend Growth Rate
| | | |
| --- | --- | --- |
| 3-Year DGR | 5-Year DGR | 10-Year DGR |
| 23.33% | 23.24% | 23.21% |
In addition, during the last three years the dividend yield has been fairly consistent but has been gradually increasing from 1.71% to 2.12%.
Dividend Yield
| | | |
| --- | --- | --- |
| | Price | Yield |
| Current (20 Jan 2014) | $59.16 | 2.12% |
| End of Year 2013 | $57.44 | 2.05% |
| End of Year 2010 | $36.50 | 1.71% |
Earnings
Walgreen's earnings, however, have not kept pace with the steep rise in dividends over this same period. Earnings have increased from $1.14 in 2003 to $2.56 this past year, exhibiting a 10-year EPS growth rate of only 8.42%. There's no way that dividends can increase at the rate they have been rising when the company's earnings are increasing at this much slower rate without the company increasing the dividend payout ratio. And this can't go on forever.
Earnings Per Share
| | | | |
| --- | --- | --- | --- |
| 2013 EPS | 2010 EPS | 2008 EPS | 2003 EPS |
| $2.56 | $2.12 | $2.17 | $1.14 |
Earnings Per Share Growth Rate
| | | |
| --- | --- | --- |
| 3-Year EPS GR | 5-Year EPS GR | 10-Year EPS GR |
| 6.42% | 3.36% | 8.42% |
Payout Ratio
As a result of the dividend increasing at an extremely faster rate than earnings, the dividend payout ratio has been pushed from 13.15% of earnings in 2003 to 46.09% of earnings in 2013. This has caused the percentage of retained earnings to shrink from 86.85% to 53.91%. The result is that a considerably less amount of profits are now available for expanding or growing the business without bringing on increased debt. If that occurs, the servicing of that debt will only reduce future retained earnings further.
Payout Ratio
| | | | |
| --- | --- | --- | --- |
| 2013 PR | 2010 PR | 2008 PR | 2003 PR |
| 46.09% | 29.71% | 19.35% | 13.15% |
Conclusion
At first look, Walgreen appears to be a good candidate for a dividend growth investor, with a dividend of 2.12% growing at approximately 23% per year. But upon a closer look at the company's earnings, it's obvious that the earnings have lagged behind both the increases in dividends and the increases in the stock price. It can be argued that as Walgreen increased its dividends faster than its earnings at the expense of the payout ratio, its yield began to increase, causing dividend-seeking investors to drive the price up proportionately. But this can't continue forever. The dividend payout ratio will soon be acknowledged by the investment community as it becomes prohibitive and forces the dividend increases to slow to the level of earnings increases. The stock price will necessarily have to fall in line and do the same.
Walgreen's current PE ratio has expanded to its highest level in years to where today it's approximately 20 times earnings. Walgreen's normal PE is more in the range of 14-15. At this point, the stock is fundamentally and historically overvalued. With earnings estimates of $3.46 in the current year ending Aug 2014 and $3.89 in the year ending Aug 2015, a PE ratio of 15 would put the price of Walgreen at only $58.35 in Aug 2015. Considering the current price of $59.16, Walgreen is overvalued by $.81 or 1.37% compared to an expected price in Aug 2015. This would mean that the only expected gain over the next 18 months would be the 2% annual dividend. This is no reason to be holding this stock at this time. There just doesn't seem to be any way any reasonable price progression can occur between now and then.
I would not be a buyer of Walgreen stock at today's prices. I would instead be a seller at this price point if I owned the stock. If I didn't own the stock, I would be waiting for a pull back before committing funds. I would put a current value on this stock of $50.40, which is what I believe it's worth based upon historical valuations. At this level, the current dividend of $1.26 would have a more reasonable yield of 2.5%, which is Walgreen's 5-year average dividend yield. A drop in price to this level would also allow for stock price expansion of approximately $7.95 over the next two years, providing a return of 15.77% in capital gains.
Disclosure: I have no positions in any stocks mentioned, and no plans to initiate any positions within the next 72 hours. I wrote this article myself, and it expresses my own opinions. I am not receiving compensation for it (other than from Seeking Alpha). I have no business relationship with any company whose stock is mentioned in this article.