I've recently covered several companies in the pharmaceutical sector, searching for attractive income investments. So far, I suggested Novartis (NYSE:NVS) and GlaxoSmithKline (NYSE:GSK) as two compelling investments within large pharma companies. Another alternative may be Sanofi (NYSE:SNY), the fourth-largest pharma company in the world, which offers a dividend yield of 3.7%. Sanofi has a market capitalization of about $137 billion, and is traded on the New York Stock Exchange as American Depositary Shares [ADS].
Company Overview
Sanofi is a France-based pharmaceutical company focused on the development of therapeutics in six core healthcare platforms, namely diabetes solutions, human vaccines, innovative drugs, rare diseases, consumer healthcare, and animal health. For reporting purposes, Sanofi is organized around three principal activities: Pharmaceuticals, Human Vaccines, and Animal Health. It is the world's fourth-largest pharma company measured by annual sales. Its largest shareholder is L'Oreal (OTCPK:LRLCY), with almost 9% of its equity capital, accounting for approximately 16% of the voting rights. Sanofi is present in approximately 100 countries on five continents, with close to 112,000 employees at year end 2012.
The company was formed as Sanofi-Aventis in 2004 by the merger of Aventis and Sanofi-Synthélabo, and changed its name to Sanofi in May 2011. Sanofi bought Genzyme in 2011, one of the largest biotechnology companies in the world, for about $20 billion. In connection with its acquisition of Genzyme, Sanofi issued Contingent Value Rights (NASDAQ:GCVRZ) that give to its holders the right to receive cash payments upon the achievement of certain milestones, based on U.S. regulatory approval of Lemtrada and on achievement of certain aggregate net sales thresholds. Sanofi's major competitors are other industry large pharma companies like Pfizer (NYSE:PFE), GlaxoSmithKline, Novartis, or Merck (NYSE:MRK). Sanofi's strategy is focused on four pillars in order to deliver long-term growth and attractive shareholder returns: grow a global healthcare company with synergistic platforms, bring innovative products to market, seize value-enhancing growth opportunities, and adapt its structure for future opportunities and challenges.
The company's largest business segment is Pharmaceuticals, accounting for more than 82% of its sales. Within its Pharmaceuticals business, it focuses on the therapeutic areas of diabetes, rare diseases, multiple sclerosis, and oncology. Vaccines is responsible for around 11% of revenues, with the remaining 7% coming from Animal Health. As usual within the pharmaceutical industry, Sanofi is a global company having a good geographical diversification. Its largest market is emerging markets, accounting for 32% of total sales during the past year. The U.S. was Sanofi's second-largest market, with a 31% weight of the group's sales. Western Europe represents close to 24% of the company's sales, but it should decline over the coming years as better growth prospects are expected in the U.S. and emerging markets.
To be successful in the highly competitive pharmaceutical industry, companies must commit substantial resources each year to research and development [R&D] in order to develop new products. As all companies in the industry, Sanofi has been facing strong competition from generics for several of its major products. Over the past few years, Sanofi has responded to this challenge by decreasing its reliance on existing ''blockbuster'' medicines (medicines worth over $1 billion in global sales) and investing significant resources on R&D. In 2012, Sanofi spent $6.7 billion on R&D amounting to approximately 14.1% of its sales, a higher-than-average ratio, but similar ratio to GSK and below Novartis, which spent about 21% of its sales in R&D. Its current product pipeline is relatively good, given that it has 18 potential new products to launch over the next couple of years.
Sanofi generates a substantial share of its revenues from certain key products. Its most important product is Lantus, a flagship product of the Diabetes division, which has about $6.7 billion of annual sales, representing 14.2% of the company's revenues. Lantus is the world number-one selling insulin brand in terms of both sales and units, and is available in over 120 countries worldwide. Sanofi's second-largest product is Plavix, but with a much lower weight of 5.7% of the company's sales. This product has lost its patent in the U.S. in mid-2012, so its weight should continue to decline over the next few years. The patent expiries issue is something widespread within the industry, and Sanofi is no exception. In 2012, the company estimates that it has lost $1.7 billion in sales due to generic competition throughout the world. However, during the first nine months of 2013, the revenue lost due to patent expiries was much lower than in 2012 and Sanofi expects to be currently behind the patent cliff.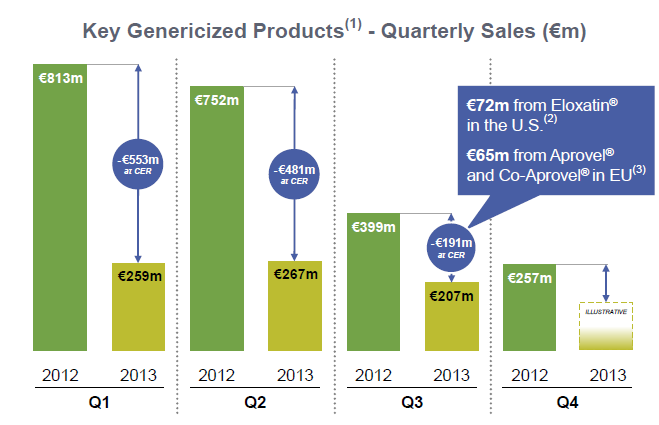 Financial Performance & Dividends
Regarding its financial performance, Sanofi has been able to report very good results over the past few years. Its revenues have been growing steadily over the past five years, reporting a CAGR of 6.1% from 2008 to 2012. In 2012, Sanofi's sales were about $47.5 billion, an increase of 4.5% from the previous year despite the weak economic environment in Europe. Compared to its European peers, Sanofi's overall performance was very good because its exposure to Europe is lower even though its sales declined by 9.5% in this geography. Emerging markets performed quite well, with sales up by 8.3%. Its profitability is very high, taking into account its EBITDA of $20 billion or a margin of 42.3%. However, its net income declined to $6.8 billion due to strong competition from generics and its earnings-per-share were down 12.8% to $5.11. During the first nine months of 2013, its sales declined by 7% due to generic competition especially related to Plavix's patent expiry. However, in the third quarter its sales rebounded and Sanofi posted quarterly growth for the first time in five quarters. In September, when its management believes it emerged from the patent cliff, sales were up 0.6% from the previous quarter.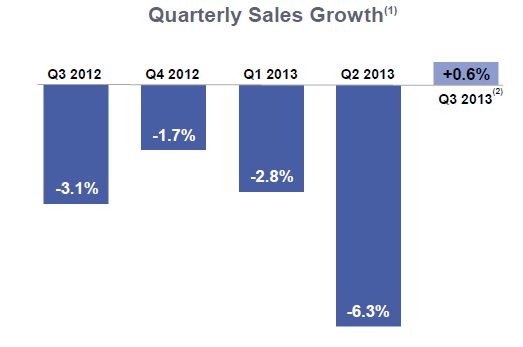 Emerging markets and the U.S. continue to be the company's growth engines, a trend that should continue over the next few years. In the third quarter, sales in U.S. increased by 5.2% and in emerging markets were up by 2.8%. Europe continues to be a drag but its sales are showing an improving trend, reporting smaller quarterly sales declines. Sanofi started to consolidate its previous partnership in the U.S. with Bristol-Myers Squibb (NYSE:BMY), so its operating profitability isn't directly comparable from 2012 because previously the partnership's earnings were only accounted for Sanofi's bottom-line under the equity method. Its operating income was $5.1 billion, or an operating margin of 15% compared to 23% in 2012.
Going forward, Sanofi expects erosion from generic competition to abate, but it should still have a negative impact on net income in 2014. The company is pursuing a group-wide cost savings program which it expects, together with the expected synergies from the acquisition of Genzyme, to generate additional incremental cost savings by 2015 of more than $2.7 billion. This should lead to EBITDA growth and an enhanced margin, which according to analysts' estimates should be 36.4% in 2015 compared to 33.4% expected for 2013.
Regarding dividends, Sanofi has a very good track record given that is has delivered a growing dividend over the past few years. Its last dividend was €2.77 ($3.77) per share, an increase of 4.5% from the previous year. At its current share price, the dividend yield is 3.7%, which is an attractive yield for a defensive company like Sanofi. Moreover, the company has a share buyback program ongoing and has bought about $1.9 billion of its own stock during the first nine months of 2013, increasing its shareholder remuneration. On the other hand, its payment frequency is annual like many European companies and the French dividend withholding tax is 30%, being both negative factors for income investors.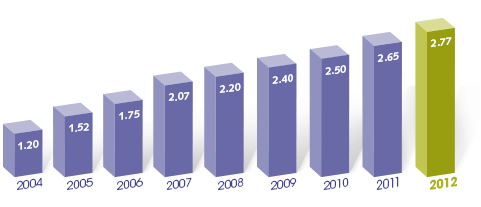 Sanofi's dividend seems sustainable both from earnings and cash flows. Its dividend payout ratio increased in 2012 to 73% of reported earnings, but was only 45% of business earnings, which is a non-GAAP figure which the company thinks better reflect its earnings power over the long-term. Even considering the dividend payout based on reported earnings the ratio seems acceptable, as Sanofi is a stable and profitable company and does not need to retain much cash to invest in its growth, allowing it to pay almost all of its earnings to shareholders. Sanofi has a very good cash flow generation capacity, taking into account that its cash flow from operations is more than enough to finance its capital expenditures, dividend payments, and reduce its balance sheet leverage.
Despite the fact that Sanofi's indebtedness has increased significantly following the acquisition of Genzyme in 2011, its balance sheet remains very strong. As of 30 September, 2013, its net debt amounted to $12 billion. Its net debt-to-EBITDA ratio was only 0.8x, which is supportive for its dividend sustainability. Sanofi continues to reduce debt and should return to a cash position over the next couple of years, improving even further its already robust balance sheet. Its sound financial position also enables Sanofi to pursue acquisitions and partnerships, which can boost its growth prospects over the long term.
Disclosure: I am long GSK. I wrote this article myself, and it expresses my own opinions. I am not receiving compensation for it (other than from Seeking Alpha). I have no business relationship with any company whose stock is mentioned in this article.