Finally there is some good news for semiconductor equipment makers, as the cyclical downturn witnessed over the past two years will phase out in 2014; thanks to the increased capital spending. This industry is entirely dependent on capital spending by foundry owners, and with the decline in the capital spending, the last two years were tough for equipment manufacturers. Applied Materials' (AMAT) was also affected adversely from this decline. The following is the revenue decline witnessed by the company in relation to the fall in the capital spending:
Semiconductor manufacturing equipment spending

Applied Material's revenue (fiscal year)

2012

2013

2012

2013

Particulars

$37.83 billion

$34.63 billion

$8.71 billion

$7.51 billion

Year over year growth

-16.1%

-8.5%

-17%

-13.88%
Source: Gartner and Yahoo Finance
The semiconductor manufacturers will increase their capital spending by 15.8% year over year and 17% year over year in 2014 and 2015 respectively. A shift towards modernization in manufacturing capabilities from the widely used 28-nanometer, or nm, process node to as low as 14 nm, will drive the overall capital spending by semiconductor manufacturers, and thereby increasing the demand for equipment. Applied Materials has a strong customer base including some of big names in the semiconductor manufacturing industry like Intel (INTC), Taiwan Semiconductor Manufacturing (TSM), and Samsung (OTC:SSNLF), which can help it capitalize on this market opportunity.
Intel is leading the race, and it is all set to launch its chip manufactured on the 14 nm process in 2014. The company currently uses 22 nm technology but switching to a thinner process node provides improved performance and boosts battery life due to the presence of more transistors. Last year, the company delayed the launch of its first 14nm Broadwell desktop chip by one quarter due to production yield problems. To keep the Moore's law alive, Intel plans to produce chips on 10nm by 2015 and 7nm by 2017. Shifting towards the 14nm manufacturing process gives Intel an option to attract OEM clients, which want to manufacture their chips in this latest thinner process node.
Additionally, Intel's 22nm chip is based on 3D Tri-Gate field-effect, or FinFET, transistors, which provide 37% performance increase at low voltage versus Intel's 32 nm planar transistors. The company will release 2nd generation FinFET technology with the launch of its 14 nm chip, extending the lead over its competitor Taiwan Semiconductor Manufacturing, or TSMC, which is still transitioning to FinFET from planar transistors. TSMC has pushed hard to move towards FinFET transistor technology with its first 16 nm chip (FinFET) expected to launch this year. A speedy transition to 16 nm will improve sales and profits by 10%, and at least 20 products will come on its 16 nm process this year for TSMC. TSMC is the biggest contract chip manufacturer in the world, and with the addition of FinFET transistors to its foundry, the company is all set to close the technology gap with Intel.
The biggest installed wafer manufacturing capacity owner, Samsung may also use its 14 nm manufacturing technology for making its 64-bit Exynos chip, which will be used in the upcoming Samsung Galaxy S5. Although there is no official confirmation, this move is important one for gaining its lost share in foundry. In addition, rumors in the market also suggest that Samsung, along with TSMC, could win the contract for Apple's (AAPL) upcoming A9 chip, which is pegged to be made on 14 nm manufacturing technology.
All these announcements are important growth drivers for Applied Materials, as the increased capital spending will boost the sales of its equipment. A significant contribution will come from TSMC and Samsung, as both are Applied's biggest customers with 27% and 13% revenue share respectively for fiscal year 2013.
TSMC's capital expenditure for 2014 is expected to be in the range of $9.5 billion-$10 billion, which denotes similar capex figures from 2013. Samsung had the highest capital expenditure at $11.9 billion in 2013, and it is expected that the company will be crowned the biggest spender in 2014 as well. These capex figures indicate the growth opportunity for Applied Materials, and after experiencing two years of cyclical downturn, the company is all set to post a strong fiscal year result. There is a multi-billion revenue opportunity to add to its top line going forward from the increase in WFE spending. The following is the incremental revenue that the company is looking to add in upcoming years to its silicon system group (taking WFE as $37 billion for 2016 as base):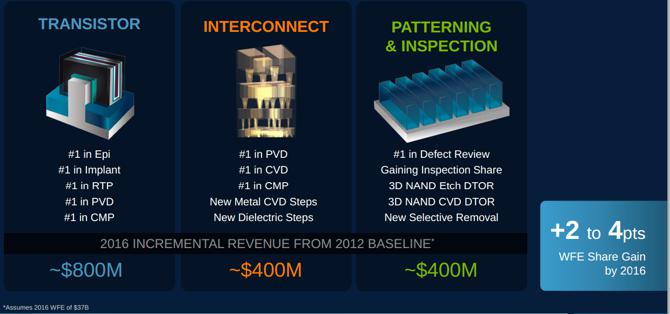 Source: 2013 Analyst Meeting
The company has gained the number one position in various semiconductor manufacturing technologies, and the increase in WFE spending will prove to be an inflection point for the company.
How 2D to 3D NAND transition will boost the company's revenue
Like transistors segment, the increase in capital spending by memory integrated circuit manufacturers is also an important growth driver for the company. Transition towards 3D NAND from current 2D NAND or planar NAND will add to the company's revenue growth. Currently 3D NAND forms a very small part (less than 1%) of overall flash memory, but this penetration is expected to increase to 3% and 20% in 2014 and 2015 respectively. 3D NAND is relatively cheaper to manufacture and provides increased reliability and speed in NAND memory. Decline in manufacturing cost comes from reduction in dependence on the traditional Lithography manufacturing process, which is expensive and a complex one to conduct in the event of lower process nodes. 3D NAND manufacturing is conducted using Deposition and Etch technology, which are cheaper compared to lithography. This is an important revenue opportunity for Applied Materials, as the company has developed advanced equipment for addressing the overall need of 3D NAND manufactures.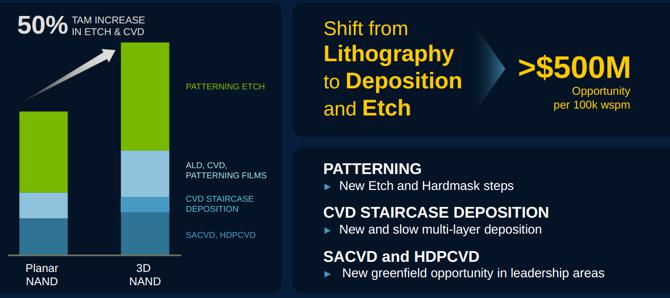 The shift towards Deposition and Etch process increases the total addressable market for the company due to the increased adoption of the Deposition and Etch process. The company can leverage its technologically advanced equipment in these technologies for capitalizing on this increase in market opportunity.
Synergies from Tokyo Electron to play a significant role in 2014
Last year, Applied Materials put in a bid to merge Tokyo Electron and form a global giant in the semiconductor equipment manufacturing industry. This merger transaction is due to complete by the second half of this year. The combined entity will establish an industry leading position in different market segments and will help it capitalize on the overall market growth opportunity.
| | | | |
| --- | --- | --- | --- |
| Market Segment | Applied Materials market share in 2012 | Tokyo Electron market share in 2012 | Combined market share |
| Deposition - Epitaxy | 89% | - | 89% |
| Etching - Silicon | 14% | 9% | 23% |
| Process Control | 76% | - | 76% |
| Deposition - PE CVD | 47% | - | 47% |
| Photoresist processing | - | 89% | 89% |
| Deposition - PVD | 78% | - | 78% |
| Etching - Dielectric | - | 63% | 63% |
| Ion Implanter | 76% | - | 76% |
| Total Market share | 14.4% | 11.1% | 25.5% |
This transaction will not only boost the revenue, but will also bring operational efficiencies, thereby realizing pre-tax operating synergies worth $500 million by the end of the third fiscal year after the merger deal is closed. The following is the 2017 operating model of the combined entity, taking $37 billion for wafer fab equipment as base: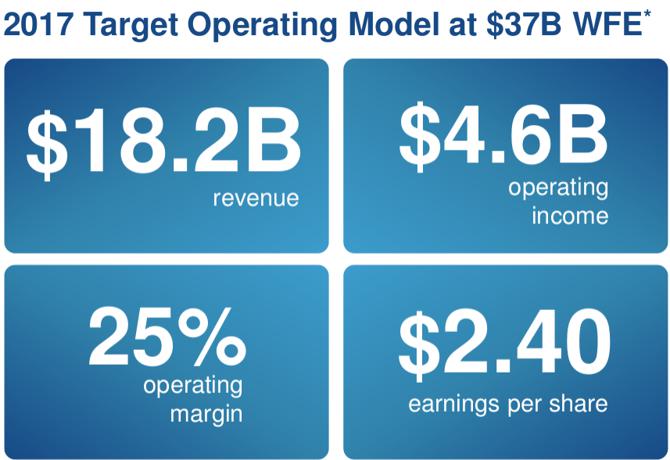 This transaction is another example of the industry consolidation trend, and this combined entity is positioned perfectly to capitalize on the increased capital spending by semiconductor manufacturers. Synergies derived from this transaction will also help offset another negative impact derived from the next cyclical downturn.
Conclusion:
Overall, Applied Material growth prospects look strong in 2014, and after the merger of Tokyo Electron, the company all set to dominate the market. This transaction will also reduce the negative impact of cyclical trends due to consolidation. Operational efficiencies will boost its bottom line, thereby increasing the value of shareholders and returning strong cash balance established during operation. To further substantiate, Applied Materials' trailing 12 months P/E is 83.57x, while it's forward P/E for the year ending on October 27, 2015 is 13.10x. This dispersion indicates the strong growth in earnings generated on the per share basis. I recommend buying this stock.
Disclosure: I have no positions in any stocks mentioned, and no plans to initiate any positions within the next 72 hours.
Business relationship disclosure: Fusion Research is a team of equity analysts. This article was written by Rohit Gupta, one of our research analysts. We did not receive compensation for this article (other than from Seeking Alpha), and we have no business relationship with any company whose stock is mentioned in this article