Introduction

In a recent article, I gave a brief introduction to the UK economy and the attractiveness of UK stocks for investors based in the US. I also introduced seven dividend growth stocks from the UK. In this article, I use the same dividend-focused screen to identify a few more stocks from the UK that would interest value-focused dividend growth investors. I want to remind fellow SA investors that the UK does not withhold tax on dividends for US residents. This means that stocks from the UK are almost similar to an American company when it comes to taxation on dividends making them suitable for retirement accounts unlike most other foreign stocks.
The dividend yield in the table below is based upon dividends paid out in the most recent financial year. The forward expected yield would most likely be higher as most of these are dividend growth stocks. They are all large companies and shouldn't be considered as risky penny stocks even though a few of them trade on the OTC market. These companies choose not to deal with the regulatory processes and costs involved with listing on the NYSE and NASDAQ exchanges.
| | | | | | | | | | | |
| --- | --- | --- | --- | --- | --- | --- | --- | --- | --- | --- |
| Stock | Ticker | ADR Ratio | EPS | Price (NYSEARCA:USD) | Div Amt (USD) | Yield (ADR) | 10yr Div Growth | 5yr Div Growth | 1yr Div Growth | Payout Ratio |
| British Tobacco | BTI | 2 | 2.075 | 101.08 | 4.444415 | 4.38% | 14.85% | 15.30% | 6.64% | 65.01% |
| Ensco | ESV | 1 | 5.23 | 54.6 | 2.25 | 4.12% | 36.53% | 86.40% | 50.00% | 43.02% |
| GlaxoSmithkline | GSK | 2 | 0.929 | 54.1 | 2.405058 | 4.43% | 6.47% | 7.44% | 7.35% | 78.58% |
| Imperial Tobacco Group | ITYBY | 2 | 2.1 | 72.86 | 3.834914 | 5.25% | 12.29% | 13.03% | 10.23% | 55.43% |
| Inmarsat PLC | IMASF | 1 | 0.61 | 12.35 | 0.4439 | 3.59% | short history | 8.98% | 9.99% | 72.77% |
| J Sainsbury PLC | JSAIY | 4 | 0.307 | 24.46 | 1.060861 | 4.32% | 0.70% | 6.83% | 3.73% | 54.40% |
British American Tobacco (NYSEMKT:BTI)
In 1902, United Kingdom's Imperial Tobacco Company and the American Tobacco Company of the USA agreed to form a joint venture called British American Tobacco, also known as BAT. The companies agreed not to trade in each other's domestic territory. The four biggest international tobacco companies - British American Tobacco, Imperial Tobacco, Japan Tobacco and Philip Morris International - account for some 45 per cent of the global market, or around three-quarters of the market outside China. Philip Morris (NYSE:PM) has a 15% market share while BAT has a 13% market share. The Chinese market is state controlled.
Not surprisingly, the company has a great dividend history that grew 15% over the last 10-years to yield 4.2% right now though the latest increase was only 6.6%. This makes it similar to other big tobacco companies like Philip Morris at 4.4% and Altria Group (NYSE:MO) at 5.5%. The only reason to look at BAT over Altria or Lorillard may be to look at growth in emerging countries where the number of cigarettes being sold is still increasing while in the developed world smokers are actively kicking the habit.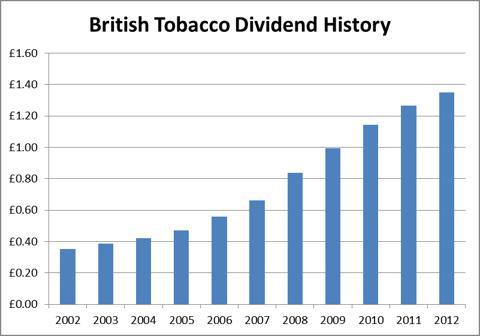 Ensco (NYSE:ESV)
Ensco is a global provider of offshore drilling services to the oil and gas industry. It operates one of the world's newest ultra-deepwater fleets and largest fleets of active premium jackups. Ensco has a presence in the most strategic offshore basis across six continents and is the world's second largest offshore driller after Transocean (NYSE:RIG). It has three more ultra-deepwater units under construction that should provide significant growth opportunity in coming years. The company delivers high operating margin in the industry and has a contract revenue backlog of almost $10 billion to support newbuild construction.
The company was conservative in paying dividends over the last few years and increased the amount only in 2010 closer to its acquisition of Pride International in 2011 that propelled it into the number two spot. Ensco recently increased the dividend again in 2013 which is more in-line with other drillers though still not comparable to the high yield of the debt-laden Seadrill (NYSE:SDRL). The payout ratio is now closer to 50% so I don't expect large dividend growth in the future. Investors may see another 10-20% growth for a year or two and then dividends would most likely track growth in profits and EPS. The stock has been under pressure recently and continued weakness may provide a good entry point for the long-term as it appears that ultra-deepwater is the way to go for the coming decade. The forward yield is almost 5%.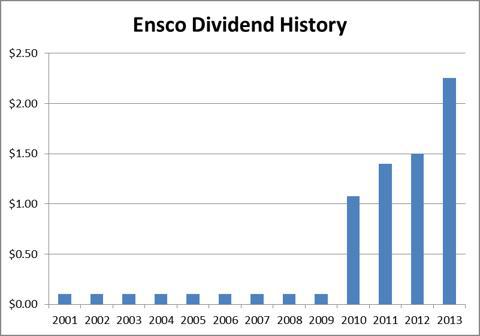 Glaxo SmithKline (GSK)
Glaxo SmithKline is the world's fourth-largest pharma company after Pfizer (NYSE:PFE), Novartis (NYSE:NVS) and Sanofi-Aventis (NYSE:SNY). The company was established in 2000 when Glaxo Wellcome merged with SmithKline Beecham. Both these companies themselves were formed by the merger of smaller companies in Europe. Like all other big-pharma, Glaxo SmithKline is also facing a steep patent cliff with its immensely popular drug, Advair losing patent protection in the coming months. However, Glaxo's push into oncology and other respiratory diseases is paying off and the current pipeline looks healthier than other companies. The company gets a significant chunk of its revenue from Vaccines and Consumer Healthcare.
The dividend growth history is impressive with the consistency of approximately 7% annual increase over the last 10+ years. The current yield is 4.5% with a payout ratio of 78%.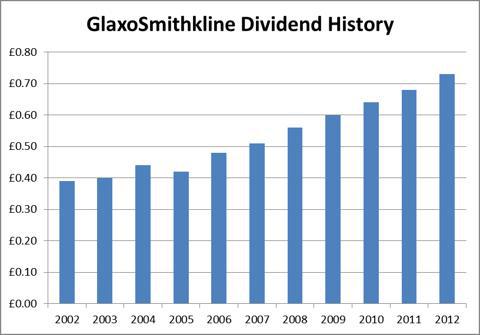 Imperial Tobacco (ITYBY)
Imperial Tobacco is one of the world's largest cigarette companies and the largest producer of cigars, fine-cut tobacco and tobacco papers. It is not as well known in the US but has some popular brands around the world including Davidoff, Gauloises, L&B, Fine and West. The company pays a dividend yield of 5% with an attractive growth of 12% over the last 10 years including a 10% growth in the latest year. This is coupled with a sustainable 55% payout ratio. The company has not rolled out any e-cigarette products as yet though it acquired the Chinese e-cigarette maker Dragonite last year and plans to roll out its offering in the current year.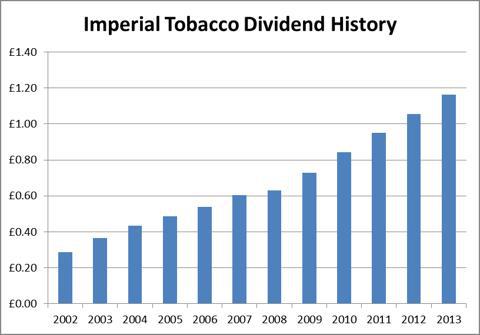 Inmarsat (IMASF)
Inmarsat is a satellite telecom company that offers mobile telephone and data services to users worldwide. The company was setup in 1979 by the International Maritime Organization to help ships stay in constant touch with the shore. It owns and operates three constellations of 10 satellites flying in geostationary orbit. Right now it gets 56% of its revenue for the Mobile Satellite Services revenue from Maritime segment while another 18% from Land Mobile that is used by military, international aid organizations and on-the-spot reporting by media. Further growth will come from the company's plans to launch the world's first global Ka-band mobile satellite system that will allow compact user terminals to get broadband speed of up to 50 mbps. In addition, Machine-to-machine (M2M) services have high growth market opportunity and Inmarsat has formed strategic partnerships with SkyWave and Orbcomm. Another big opportunity is in the area of in-flight connectivity that has been projected to grow by 400% over the next decade. Its biggest competitors are Globalstar (NASDAQ:GSAT) and Iridium Communications (NASDAQ:IRDM) that do not pay dividends and have weaker financials.
The company has paid increasing dividends since 2005 that have grown at the rate of 9% approximately over the last few years. The current yield is 3.5% though the payout ratio is a bit high at 73%, there may be scope for total returns as mobile data takes off for aviation and Internet of Things ((IoT)) use.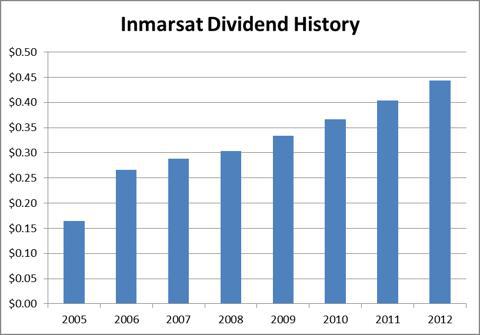 J Sainsbury (JSAIY)
J Sainsbury is the parent company of Sainsbury's Supermarkets in the UK where it is the second-largest chain of supermarkets second only to Tesco (OTCPK:TSCDY). The third largest is Asda which used to be larger than Sainsbury till a few months back. The chain was founded in 1869 and was the largest grocer for more than a century until Tesco overtook it in 1995. The company operates more than 500 convenience stores and another 580 supermarkets. Unlike other big supermarket stores, Sainsbury is concentrated in the United Kingdom alone. The company is working on a long-term strategic plan to increase market share and profitability and the latest year results were encouraging. Both same-store revenue and bottomline improved that supported a 3.7% increase in dividend amount. Obviously, this is not super exciting compared to the dividend growth in the big retailers in the US like Wal-Mart (NYSE:WMT) and Target (NYSE:TGT) but it does come with a pretty generous yield of 4.7%. The CAGR over last 5 years was better at 7%.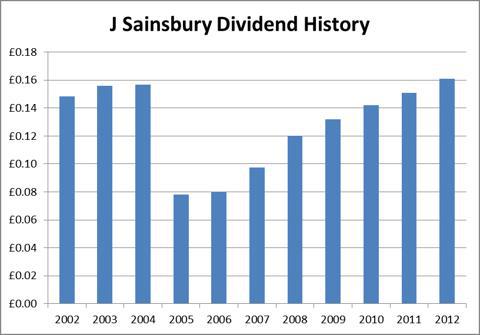 Concluding Remarks
United Kingdom is my favored destination for adding foreign equities to a diversified portfolio. A few years ago, my entire portfolio consisted of only American companies but slowly I have almost 30% of my stocks from Europe. I am looking forward to increasing the weight of foreign stocks and would likely invest new funds into Ensco and Imperial Tobacco and have placed limit buy orders for these stocks.
Disclosure: I have no positions in any stocks mentioned, but may initiate a long position in ESV, ITYBY, IMASF, over the next 72 hours. I wrote this article myself, and it expresses my own opinions. I am not receiving compensation for it (other than from Seeking Alpha). I have no business relationship with any company whose stock is mentioned in this article.