When Bear Sterns bailed out its High-Grade Structured Credit Fund in June-2007, the markets underestimated the seriousness of the looming global financial crisis. The S&P 500 remained range-bound between 1400-1600 for the next six months, even as Northern Rock (UK) approached the Bank of England for emergency funding in August-2007.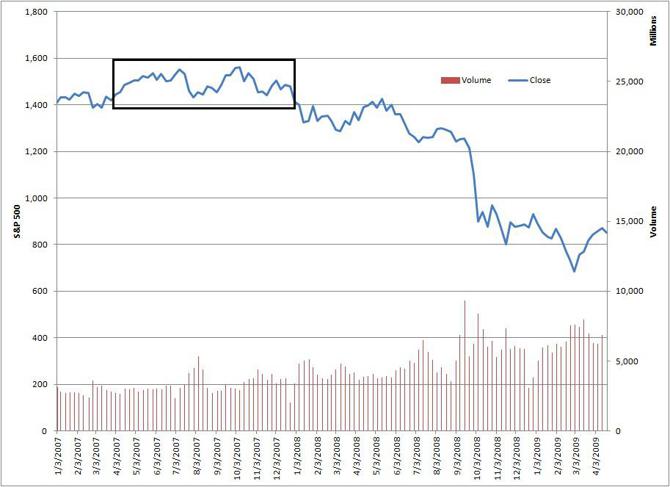 It seems that a similar crisis is brewing in the world's second largest economy, but the markets have chosen to ignore it or don't anticipate its magnitude to be similar or even near the MBS-driven crisis in 2008. This could prove to be a terrible mistake if the credit markets in China unravel due to unsustainable credit growth over the last few years (70% since 2010).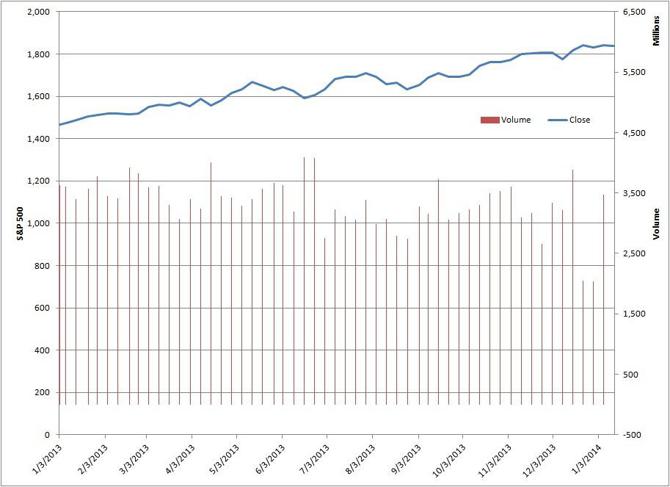 The second inter-bank credit crunch in China in less than a month and third in only 8 months should serve as a credible warning sign. According to the National Interbank Funding Center, the seven-day repo rates rose to 10% on Monday, while the rates reached record high at 28% in June-2013, and soared again to 10% on December 20 and 23. The recent liquidity crunch was attributed to the seven IPOs in Shanghai and the PBOC is believed to have injected $42 billion to ease the rates. This liquidity crunch follows a stable albeit stagnating economy.
According to China's National Bureau of Statistics, GDP grew by 7.7% in 2013, as it slowed down from 9.3% in 2011 to only 7.7% in 2012. The GDP growth forecast for 2014 is 7.4%, however it should be seen in the wake of significant headwinds from fast-growing local government debt, which grew by 13% in just six months to reach 17.9 trillion yuan ($2.95 trillion) at June 2013. It was preceded by a 48% growth in just two years since 2010. The interesting part of this borrowing is the increased reliance on "channels that sidestep loan curbs" reaching 25%, while the yield on five-year local government notes has jumped by 158 basis points to reach 7.6% in 2013. It reflects the desperation to raise debt to either fuel growth or stay afloat even if the funding came from unconventional banking avenues. JPMorgan Chase & Co. estimated these shadow banking activities at $6 trillion in May last year, and conceivably any efforts by central/state governments to force deleveraging at this level will not succeed without unpleasant consequences for the markets. It will inevitably affect the direct banking institutions even if they resist being part of any potential pay-offs for these contingent liabilities on their books.
An interesting example is the refusal by Industrial and Commercial Bank of China (ICBC) to help repay 3 billion yuan ($496.20 million) on a high-yield investment product which is due to mature on January 31. The product was marketed through ICBC branches for China Credit Trust Co. Ltd. to finance Shanxi Zhenfu Energy Co., which is a highly leveraged unlisted coal company with not enough resources to repay these liabilities. A default on such products is not new, however the magnitude and frequency of these defaults has recently increased.
IMF estimates the Chinese economy will be significantly smaller than it expected earlier while revising the projections to markedly slower economic growth in the next five years. The Chinese government should be able to use the huge forex reserves to handle any debt servicing-related problems and subsequently stimulate the economy. However, it will significantly hamper its ability or willingness to participate in the $3.6 trillion US debt re-financing in 2014 driving Treasury yields higher, not to mention the subsequent slump in commodities, emerging economies (especially those exporting to China), and US corporate earnings in select sectors. These speed bumps warrant a careful review of the long exposure in equities and developing appropriate strategy using various ETFs such as iShares China (NYSEARCA:FXI), SPDR Industrials (NYSEARCA:XLI), SPDR Materials (NYSEARCA:XLB), and SPDR Energy (NYSEARCA:XLE). It is better to learn from the recent MBS history and prepare in advance than the head-in-sand strategy of "this time it's different".
Disclaimer: The opinion in this document is for informational purposes only and should not be considered as a recommendation to buy or sell the stocks mentioned or to solicit transactions or clients. I do not recommend that anyone act upon any investment information without first consulting an investment professional as to the suitability of such investments for his or her specific situation.
Disclosure: I have no positions in any stocks mentioned, and no plans to initiate any positions within the next 72 hours. I wrote this article myself, and it expresses my own opinions. I am not receiving compensation for it (other than from Seeking Alpha). I have no business relationship with any company whose stock is mentioned in this article.