This article follows previous articles listing stocks starting with a G , C , and S that are attractive stocks for 2014. Over the last several years, a lot of the small-cap, growth stocks struggled to achieve market returns. Typically these high beta stocks would outperform the market during strong periods, so Stone Fox Capital is focusing on several lists of these stocks that offer potential high returns.
When reviewing attractively priced stocks for 2014, groups of stocks happened to cluster into ones starting with the same letter. Instead of focusing solely on an industry or specific sector, this list will link far-flung sectors that might not typically attract the same investment crowd. The list of 'N' stocks is Annaly Capital Management (NYSE:NLY), Nuverra Environmental Solutions (NES), and Nuance Communications (NASDAQ:NUAN).
All of these stocks continue the concept theme where investors can spend hours poring over financials, ratios, or projections and miss the big picture. Do you believe in the long-term growth of mREITs with Annaly Capital or voice recognition software from Nuance? The common thread amongst these stocks is attractive valuations for stocks with major catalysts for 2014. In addition, the chart below highlights that the last two years have been horrible for all of these stocks while the Russell 2000 Index has soared over 40%.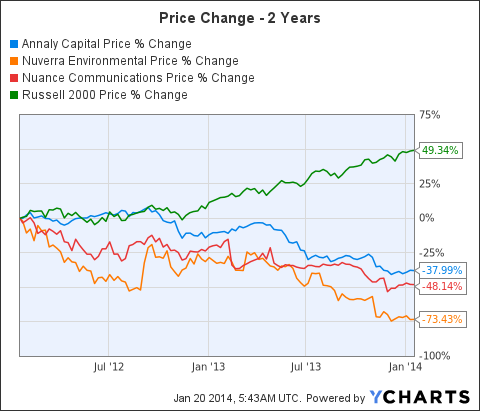 NLY data by YCharts
Annaly Capital - Taking Agency Mortgage Market Share
Annaly Capital invests in agency backed mortgages. The stock has plunged over the last year due to fears that sharply rising interest rates will crush earnings. Annaly Capital is now down 38% over the last two years and still faces a rising rate environment. At this point, the question is whether the market has already factored in significant rate gains that may not occur if Germany and Japan bond rates provide any examples.
The stock currently trades 19% below the last listed book value of $12.70 even with the company resorting to repurchasing shares. Outside of the interest rate risk, Annaly Capital and other mREITs face an attractive long-term situation of gaining market share. Since the financial crisis, the sector has gained market share but is only now at 6% of the market.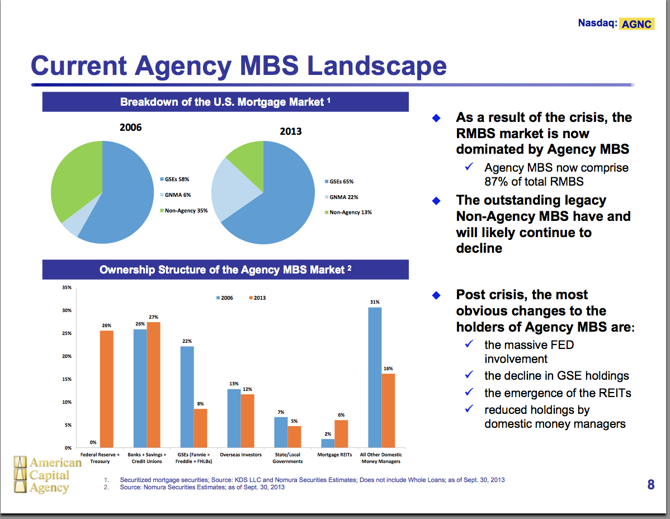 Nuverra Environmental - Oil Services Rebound
Nuverra Environmental has plunged over 73% in the last two years either setting up the ultimate rebound stock or the classic gutter stock never to rebound due high debt levels. After a 1-for-10 stock split, the stock has stabilized around $15 providing a market cap of only $390 million based on the updated 26 million shares outstanding. With annual revenue exceeding $600 million, the company provides and interesting value when it can turn the corner on margins.
The company focuses on environmental solutions for the waste products in the hydraulic fracturing industry. Nuverra has generated substantial losses during its growth phase while running into a tough industry before reaching profitability. The recent inability to hit EBITDA targets has investors concerned about the long-term debt position of roughly $535 million.
Nuance Communications - Voice Recognition On-Demand
Nuance Communications is leading the shift to voice recognition products in the healthcare and mobile sectors. Unfortunately another shift is on going in the software sector pushing customers into on-demand and subscription products away from perpetual licenses. This shift has hit revenue growth over the last couple of years while increasing upfront expenses. Once the shift is completed, Nuance will ride the wave of increasing demand and stable subscription revenue. For now though, it has meant a couple of years of missing financial targets and disappointing investors.
The company has plunged nearly 50% in the last two years placing it on the radar of Carl Icahn. His firm now owns over 19% of Nuance and has placed two members on the board. With a market cap of less than $5 billion, annual revenue exceeding $2 billion, and new products working with smart televisions and voice ads, the stock has extreme appeal. Considering Icahn started buying when the stock was around $20, new investors can purchase it considerably below his average price.
Conclusion
These three stocks starting with an N offer huge potential in 2014 based on cheap valuations. The promising catalysts could push the stocks to levels unexpected by most investors. Both Annaly Capital and Nuverra offer stocks facing interest rate risks for varying reasons. On the other hand, Nuance is the high-tech company that can't shift to on-demand services fast enough for the market.
Disclosure: I am long NLY, NES, . I wrote this article myself, and it expresses my own opinions. I am not receiving compensation for it (other than from Seeking Alpha). I have no business relationship with any company whose stock is mentioned in this article. The information contained herein is for informational purposes only. Nothing in this article should be taken as a solicitation to purchase or sell securities. Before buying or selling any stock you should do your own research and reach your own conclusion or consult a financial advisor. Investing includes risks, including loss of principal.