On Friday, GE (NYSE:GE) reported excellent fourth-quarter results that showed robust order and backlog growth. The company's revenue nudged 3% higher in the period as industrial sales advanced 6% (5% organic) offset in part by an expected decline in revenue from its finance arm, GE Capital. Industrial segment profit jumped 12%, with six of seven segments growing earnings. The conglomerate's industrial segment margins during the period advanced an impressive 100 basis points, to 18.3%. Fourth-quarter operating earnings per share leapt 20%, to $0.53. GE's cash flow performance continues to be top-notch, with full-year cash from GE operating activities (CFOA) coming in at $17.4 billion.
GE's infrastructure orders for the fourth quarter leaped 8%, "growth market" orders increased 13%, and expansion in Europe showed resilience (orders were up 3% in the region). We continue to be impressed by the significant backlog expansion at GE (shown in image below) and believe it bodes well for future top and bottom-line expansion at the industrial conglomerate. GE hauled in $6.4 billion in "Power & Water" equipment orders and $4.1 billion in "Aviation" orders during the period. Services order expansion at these divisions was also robust, while orders from China surged 25%. Overall, the firm's equipment book-to-bill ratio was 1.3 (above 1 is good) during the period, and its services backlog reached a high of $180 billion (shown in blue below), revealing significant expansion on a sequential basis.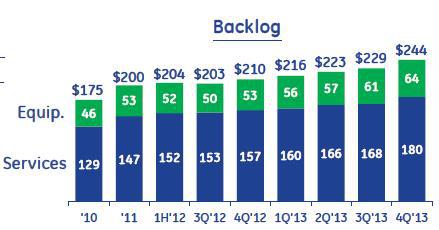 Image Source: GE
We're comfortable with GE's expected pace of top-line expansion in 2014 (industrial segment growth is expected to be 4-7%), and the company continues to look to enhance its profit profile. Having already removed $1.6 billion in structural costs in 2013 (ahead of plan), GE is targeting another $1+ billion in structural cost reductions this year. We expect the company's 'simplification' measures to result in strong consolidated earnings expansion in 2014, given order and backlog trends and in spite of shrinking GE Capital's book of business. GE's target for $14-$17 billion in cash from GE operating activities (CFOA) is roughly double the amount the company paid out in dividends to shareholders during 2013 (about $7.8 billion). We're expecting another big dividend increase at GE during 2014 as its cash flow can certainly support it.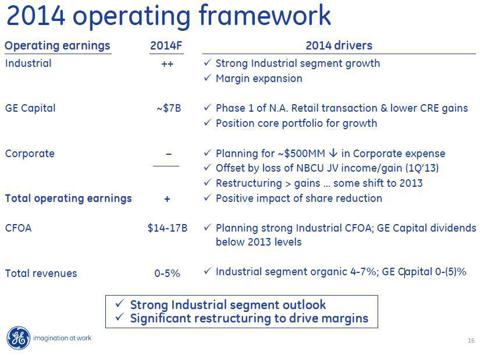 Image Source: GE
Valuentum's Take
GE's shares surprisingly faced pressure during the trading session Friday on news of this report. However, we attribute the modest sell-off to an "immaterial" miss of 4 basis points in the company's year-end margin improvement target (0.66 percentage points actual versus 0.7 percentage points expected). We're not reading much into this at all, and we applaud management for not only "apologizing" for the shortfall but for targeting such a precise figure in the first place. We expect the "miss" to act as a source of motivation for the executive suite to hit margin targets in 2014, creating what we'd best describe as a blessing in disguise. In any case, we're looking forward to an exciting year at GE, and the company remains a core holding in the actively-managed portfolios.
Disclosure: I have no positions in any stocks mentioned, and no plans to initiate any positions within the next 72 hours. I wrote this article myself, and it expresses my own opinions. I am not receiving compensation for it (other than from Seeking Alpha). I have no business relationship with any company whose stock is mentioned in this article. GE is included in the portfolio of our Best Ideas Newsletter and the portfolio of our Dividend Growth Newsletter.