Editors' Note: This article covers a stock trading at less than $1 per share and/or with less than a $100 million market cap. Please be aware of the risks associated with these stocks.
On Sunday, January 12, 2014, I arrived in San Francisco, CA for the annual JP Morgan Healthcare Conference, as well as the parallel Biotech Showcase and OneMedForum Conferences. This was the eighth year in a row that I made the trip to San Francisco for these events, which are a must-attend for serious healthcare investors.
During my three days in San Francisco, I conducted 25 one-on-one meetings with various managements of small and mid-cap biotechnology and specialty pharmaceutical companies. Below are some "notes" from five of these meetings. (I have also shared my notes from Day 1 and Day 2.)
Aastrom Biosciences (ASTM): Meeting took place with Dominick Colangelo, CEO, and Daniel Orlando, CCO.
Aastrom has had a difficult past twelve months, no doubt. The shares declined by 88% in 2013. The decline in the shares was sparked by the company's decision in March 2013 to discontinue new enrollment in the Phase 3 REVIVE-CLI trial and refocus efforts with ixmyelocel-T on ischemic dilated cardiomyopathy. The decision came only a few weeks after Dominick Colangelo was appointed to the role of President and CEO. Though a painful decision, we believe it was the right decision given the difficulties of enrolling patients with severe critical limb ischemia into the REVIVE-CLI study, and the growing costs associated with the program.
According to management, the company's Phase 2b ixCELL-DCM study, initiated in April 2013, continues on plan. Enrollment has progressed at 36 centers so far, and we believe will be completed by the middle of 2014. Aastrom has previously generated strong proof-of-concept in ischemic DCM. A twelve month follow-up analysis from the company's phase 2a Catheter-DCM study was presented at the Society for Cardiovascular Angiography and Interventions (SCAI) in May 2012. We learned that management will publish the combined data from both Phase 2a DCM studies, Impact and Catheter, sometime during the second quarter 2014. We believe publishing this data in a respected, peer-reviewed journal will help drive interest and awareness to Aastrom and the potential for ixmyelocel-T in this indication. Below we highlight the key primary findings from these two studies.

It is clear to us based on the data Aastrom has generated to date that ixmyelocel-T has utility in ischemic DCM. Management was clearly excited about the potential for the drug given the large market opportunity, with an estimated 170,000 patients seeking treatment, and "sweet-spot" focus for ixmyelocel-T positioned as an alternative to LVAD or heart transplantation. We expect top-line data from ixCELL-DCM around the middle of 2015.

All hope is not lost in CLI however. REVIVE-CLI did enroll 41 patients, and management expects to report findings from the study around June 2014. The data from these 41 patients, which essentially amounts as another Phase 2 study, along with the previous Phase 2 work from RESTORE-CLI, will be packaged for review by the FDA and potential development partners. Ultimately, we believe Aastrom will look to re-position ixmyelocel-T in CLI as an adjunctive therapy alongside of last-hope revascularization. During our meeting management spoke about the potential use of the autologous cell therapy in wound healing, an area of significant interest by managed care providers when treating severe CLI patients.
The biggest revelation from our meeting with Aastrom was an in-depth discussion of the economics behind ixmyelocel-T. Most investors will tell you allogenic products, mistakenly characterized as "off-the-shelf" products, will carry significant gross margin advantages over an autologous product like ixmyelocel-T. However, management tells us the cost of goods on one treatment with ixmyelocel-T is around $2,500 to $3,000. Given the suspected commercialization price for DCM around $40,000 per treatment, a bargain compared to the $150,000+ for implantation of an LVAD, ixmyelocel-T will carry greater than 90% gross margin once commercialized. Over 170,000 target patients, 90% gross margin, orphan drug designation…those impressive economics are sure to attract a pharmaceutical partner if the data is good when the timing is right.
Cynapsus Therapeutics, Inc. (CYNAF): Meeting took place with Anthony Giovinazzo, CEO
It was a good day to meet with Cynapsus because the company just put out a press release earlier that morning announcing the results from the CTH-103 pharmacokinetic pilot study. CTH-103 was designed to demonstrate dose proportionality between 10mg, 15mg, and 25mg of APL-130277, a sublingual film strip of apomorphine, and 2mg, 3mg, and 4mg of an injectable formulation of apomorphine solid outside the U.S. called ApoGo® in 30 healthy volunteers. We present the pk curves for the 10mg vs. 2mg and 15mg vs. 3mg arms below. The trial never progressed into the 25mg vs. 4mg cohort because patients on the 3mg ApoGo dose had too many adverse events, mostly vomiting and nausea, including one patient experiencing a seizure. We note that apomorphine is a notoriously difficult drug for volunteers with healthy and normal dopaminergic neurons to tolerate. In contrast, Parkinson's patients have fewer dopaminergic neurons and thus can tolerate much higher doses of a dopamine agonist like apomorphine.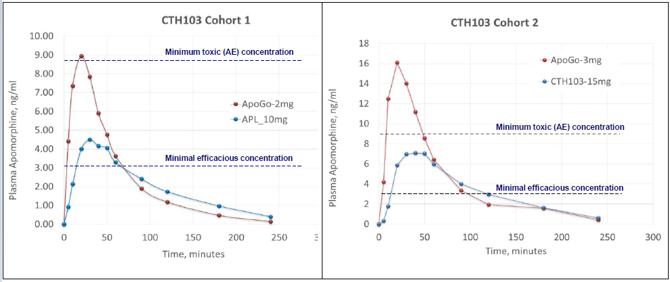 On first glance, the results were mixed for the company, as the pk curves were far from identical. However, management noted the 10mg film was well tolerated and offered rapid dissolution of around two minutes with 10 minutes until "On" time. The 15mg film demonstrated a slower onset of action, with time until "On" at 13.6 minutes, but a longer duration of action due to a much smoother curve. The lack of initial drug burst also lead to meaningfully lower adverse events. Cynapsus is planning to conduct another quick study with the 25mg film alone (no crossover to the 4mg ApoGo dose) and will compare the pk curve to the curves for the 10mg and 15mg doses.
On deeper analysis of the CTH-103 data, we've come to the conclusion that Cynapsus is really sitting on a potential breakthrough here for Parkinson's patients. Not only does the data above confirm that APL-130277 can follow the 505(b)(2) pathway that allows for expedited clinical studies and reduced costs to develop, but the adverse event profile for (healthy) patients on APL-130277 was about half that for ApoGo®. That leads us to believe Cynapsus will be able to capture the ApoGo® / Apokyn® label with respect to efficacy, but also potentially include improved safety and tolerability (lower adverse event profile) on the label allowing for a dramatically improved marketing message to the neurologists or movement disorder doctor. Under that scenario, the drug may be positioned superior to generic subcutaneous apomorphine. This will lead to significant market share gains over the generic apomorphine and expansion into a whole new prescribing base that was previously not amenable to Apokyn® due to the mode of administration or adverse event rate. We always suspected Cynapsus would capture a big piece of the apomorphine pie; what we now believe, however, is that the pie is three-to-four times the size that Apokyn sales suggest.
We expect that Cynapsus will present the results from the above CTH-103 study to the FDA in the next few months. The next steps after that for Cynapsus are to conduct two more pilot studies with APL-130277, but this time in Parkinson's patients instead of healthy volunteers; one study (CTH-300A) in apomorphine naïve patients and another (CTH-300B) in apomorphine experienced patients. There is still formulation and CMC work left to do, but nothing that prohibits Cynapsus from continuing down the 505(b)(2) pathway as noted above. The goal is to develop APL-130277 via the 505(b)(2) pathway, which would allow all the claims of Apokyn® in the product label, but also list a superior tolerability and adverse event profile to dramatically expand the market. We believe Cynapsus will be in position to begin the U.S. pivotal study with APL-130277 in early 2015. This should lead to a U.S. NDA filing in early 2016.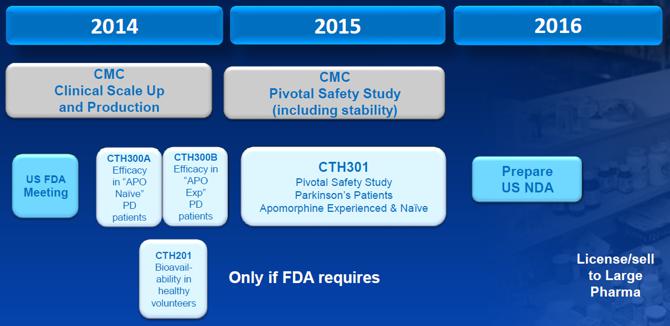 We remind investors that Apokyn® (subcutaneous apomorphine) is generic in the U.S., and over the last few years several attempts to develop alternative formulations including oral tablets, buccal wafers, intranasal sprays, and pulmonary inhalations have all failed. Cynapsus has been able to secure the intellectual property to a sublingual film formulation and so far the results look very promising. With similar efficacy and the meaningful reduction in adverse events seen in the CTH-103 study, APL-130277 should be a highly coveted asset by big pharma once approved. Management has conducted some initial market research and product positioning studies they have shared with us. It's impressive. We expect to share this information with investors in the next few weeks.
We have looked in detail at the sales opportunity for APL-130277. In the U.S., there are around one million Parkinson's disease patients, about half of who have significant "Off" episode issues. According to management's survey of over 500 neurologists and movement disorder specialists, the market breaks down as: ~40% with mild Parkinson's disease (might require 1 SL film per day), ~45% with moderate Parkinson's disease (might require 2 SL films per day), and ~15% with severe Parkinson's disease (might require 3 SL films per day). We estimate 2022 market penetration of 5% among patients with mild disease, 10% among those with moderate disease, and 15% among those with severe disease, for a total of around 35 million sublingual strips per year in 2022. Assuming reimbursement at $10 per strip (inflation-adjusted price of Apokyn), we estimate U.S. sales at roughly $350 million. Assuming RoW sales of a similar level, and we estimate 2022 global sales at $700M. Our financial modeling for Cynapsus tells us the stock is worth, conservatively, $1.75 per share. In the hands of big pharma, it could be worth a whole lot more.
Tonix Pharmaceuticals (NASDAQ:TNXP): Meeting took place with Dr. Seth Lederman, MD, Chairman & CEO, Leland Gershell, MD, PhD, CFO, and Bruce Daugherty, PhD, Senior Director of Drug Development.
Shameless plug time - Tonix Pharmaceutical shares are up 284% from our upgrade to 'Buy' on November 14, 2013. Needless to say, it was a good time for us to meet with the company. However, what we found most interesting is that very little time of our 45-minute meeting was spent on the talking about Fibromyalgia or the current BESTFIT Phase 2b/3 trial. We covered that pretty extensively in our upgrade report. Plus, having just met with management face-to-face in late October 2013 at the American College of Rheumatology (ACR) meeting and talking for over an hour on TNX-102SL and fibromyalgia, we wanted to delve straight into the rest of the pipeline at Tonix. We'll have more to say on BESTFIT later in 2014 when the results are near.
But before we get into the pipeline, we think it is important to highlight exactly why we are now so interested in the rest of the pipeline when our previous upgrade report (only two months ago) made no mention of TNX-102SL in post-traumatic stress disorder (PTSD) or TNX-201 in tension-type headache. It all comes down to cash. Checking the company's most recent SEC filings (see here, here & here), we've learned that Tonix has received $6.8 million in cash over the past month through warrant exercises. This has provided the company with enormous flexibility and the opportunity to move new candidates forward that have previously been placed on hold.
The first of these candidates is TNX-102SL in PTSD. This is the same formulation of sublingual low-dose cyclobenzaprine being used in the company's Phase 2b/3 BESTFIT study. Tonix was previously waiting for support from the U.S. Department of Defense (DOD) before they filed the IND for TNX-102SL in PTSD. However, with new cash on hand, management can now push-forward without DOD support. That's not to say the DOD may not still be involved in the planned Phase 2 trial, but Tonix doesn't have to wait for them. Almost all-things government related were at a stand-still in November and December 2013, so the ability to push-forward alone is huge for Tonix. As for PTSD, there is enormous overlap between Fibromyalgia and PTSD. According to Tonix, 50% of the FM or PTSD patient population meets the criteria for the other disorder. Plus, the manifestations and treatment paradigms are similar, and include disturbed sleep and painkiller abuse and addition.
Roughly 3.5% of the U.S. adult population suffers from PTSD. The numbers are shockingly high for U.S. military service personnel, a population with high incidence of suicide and opioid addiction. It's a sad and growing problem, and there have been no new approved medications for PTSD in over a decade. Tonix is preparing to start a Phase 2 study of TNX-102SL in PTSD associated with military / combat service in the third quarter 2014. Although management has narrowed the PTSD population, eliminating things like car accidents and sexual assault, the homogenous population should lead to improved data collection. Plus, the growing attention of the U.S. government in this area should eventually lead to grants or additional funding in the future. This is a major issue, and one that is gaining attention with the media (see Jon Stewart from The Daily Show link below). It's an astute development plan in our view in our view and one that will surely bring attention to the Tonix story.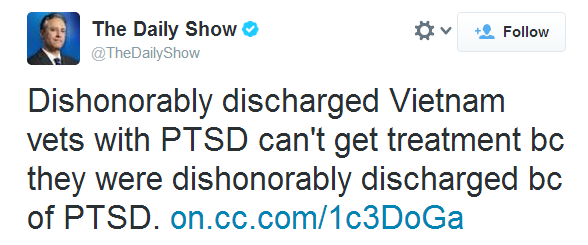 TNX-201 is a pure isomer isometheptene for tension-type headache. Tension-type headache is a different market from migraine headache. We've seen little evidence that triptans work in this indication. Most patients treat with over-the-counter or prescription NSAIDs. Isometheptene has been used in the U.S. for over 50 years as a treatment for headache thanks to its vasoconstricting properties, but is not FDA approved for any indication. The drugs availability is limited to compounding pharmacies. Isometheptene is composed of two isomers, one believed to provide efficacy and the other that provides only side-effects. Tonix strategy is to purify the active isomer and develop TNX-201 through the 505(b)(2) pathway for tension-type headache. A pre-IND meeting with FDA is scheduled for later this quarter.
With Tonix shares up roughly 300% over the past three months, investor have been asking if our $10 price target, established in November 2013 when the shares were just above $4, still holds. Some things to note about the $10 price target however:
It incorporated only the opportunity for TNX-102SL in fibromyalgia.
Our DCF model included a very aggressive 40% discount rate.
Our DCF model assumed additional dilutive financings in 2014.
Given that the company has been able to secure additional cash through warrant exercises (non-dilutive in a sense that these shares were already included in our fully-diluted share count) and diversify beyond just fibromyalgia, we are lowering our discount rate to a more conservative 25%. We've also lowered the fully-dilutive share count figure for 2016 given that the company has been able to secure additional cash and will be able to raise new cash at far less dilutive levels than previously believed. These adjustments increase our price target to $19 per share. As far as the rest of the pipeline, we normally do not include contribution in our valuation models for assets that are pre-IND. However, given that Tonix plans to develop TNX-102SL in PTSD, the same exact drug that is in Phase 2/3 for fibromyalgia, and the overlap between PTSD and FM is so clear and large, we believe it warrants inclusion in our model. Tonix plans a Phase 2 study with TNX-102SL to start in the second quarter 2014. Success from this trial will add another $6 to our price target. Therefore, we believe Tonix could be worth $25 by the end of 2014.
Depomed, Inc. (NASDAQ:DEPO): Meeting took place with Jim Schoeneck, CEO, and August Moretti, CFO.
Depomed has been an incredible deal making machine over the past two years, ever since new CEO Jim Schoeneck joined the company in April 2011. It's always interesting to sit down with this team because they have been so disciplined and methodical in building the company over the past 30 months. Before we get into the meeting, let's just review some of the bullet-points that have allowed this stock to triple since late 2011:
But beyond being disciplined and methodical, Depomed's management has been effective. We will not spend too much time going over our thoughts on Cambia in this summary. Investors can read our most recent article on Seeking Alpha if they want more information.
We started the conversation with a quick update on Gralise. Total prescriptions for the fourth quarter 2014 were around 67,000. That equates to around $10.5 million in sales - pretty much in line with what most predict. Below is our prescription tracking (blue line) and forecast (red line). Backing-out some noise around the end of the year, Gralise has been very consistent. Management took an 11% price increase on December 19, 2013, and now cost $2.80 per pill ($8.40 per day). We note that's still 15-20% discount to Pfizer's Lyrica. The company had a recent small Part-D win with MedImpact for 2014. Total Medicare Part-D lives are up to 8 million of the 30-32 million total. The big names Depomed continues to pursue on the Medicare Part-D front are Humana and United. The CVS win last year was huge for re-accelerating the TRx trend (notice the red line below) in 2013. Gralise is currently at a $50 million run-rate. For 2014, we model $60 million in sales.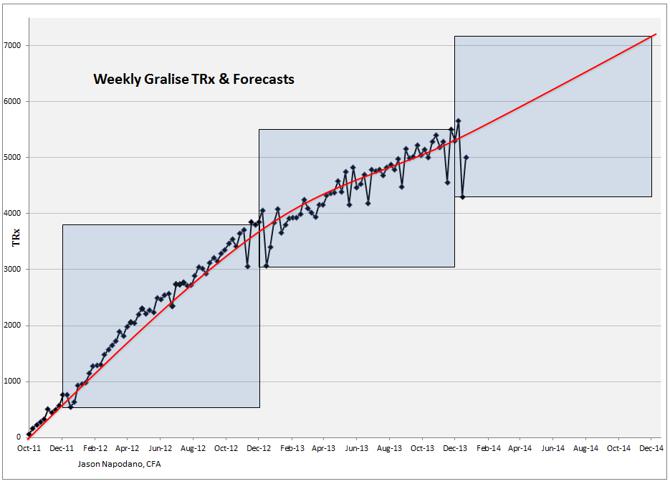 Zipsor is chugging along nicely at Depomed. Prescriptions are generally flat, but Depomed has been raising the price to catch up with competing products like Duexis at Horizon Pharma. Horizon has been very aggressive in raising the price of Duexis over the past several quarters. We remind investors that Horizon just acquired the rights to Vimovo as well, so it will be interesting to watch how Horizon raises the Vimovo price in 2014. We think Depomed has found a nice niche market with Zipsor below Duexis and Vimovo pricing. We also think the newly acquired Cambia fits very well into the sales reps bag considering it is also a diclofenac product.
The 165 sales reps are now armed with three products to promote: Gralise, Zipsor, and Cambia. To pain specialists, the call is generally with Gralise and Zipsor. With Neurologists, the call is generally with Gralise and Cambia. We asked management if three products is a "full bag", or does it make sense to pick up one more? Jim Schoeneck thinks it makes sense to get the team at least one, if not two more pain / neurology products. We touched only briefly on Lazanda. Depomed has a separate specialty sales force of 20 reps promoting the product. Management thinks it makes sense to eventually pick up a second TIRF product as well, but we got the sense the immediate focus is on pain and neurology, along with growing Gralise. With a clean balance sheet and $240 million in cash, Depomed has plenty of flexibility to strike more deals in 2014.
Zalicus (ZLCS): Meeting took place with Dr. Mark Corrigan, MD, CEO, and Justin Renz, CFO.
Going into our meeting with Zalicus management we had one major goal - find out as much as we could about Z944 and why it has a chance to succeed where Z160 failed. Z944 is the company's novel, oral T-type calcium channel (Cav 3.1, Cav 3.2, and Cav 3.3) modulator for chronic, acute, or visceral pain. The profile of the drug candidate clearly has enormous potential for Zalicus, but it is in early stage, having only just recently completed a Phase 1b study in November 2013.
There are a number of things management plans to do different from the development of Z160 to Z944. Namely, Zalicus will proceed slower and more cautiously into clinical development with Z944. With Z160, management took the initial proof-of-concept data from Phase 1 and jumped right into two large-scale Phase 2b studies, one for PHN and another for LSR. With Z944, we expect Zalicus to do several smaller and more focused pilot efficacy studies. This is not because management doesn't believe the potential with Z944 is large, it's more a factor of things like cash burn and making sure the company fully understands the mechanism and utility of the drug before they invest heavily in its future.
The preclinical data generated to date with Z944 is very encouraging. In February 2012, the company published a paper in Science Translational Medicine identifying Z944 as a potential therapy for seizure and generalized epilepsy. In May 2013, the company presented Poster #383 at the American Pain Society highlighting the mechanism of action for Z944 and its potential utility in various nonclinical models of acute and inflammatory pain. Below we highlight some of this data showing how Z944 compared well to naproxen in rat complete freund's adjuvant (NASDAQ:CFA) model, mouse formalin model, and in a model of rat visceral pain.

The Phase 1b data has some good nuggets of information. Firstly, Zalicus saw dose proportional pharmacokinetics with similar exposure to preclinical doses where efficacy was achieved. The data show rapid absorption and a pk profile that supports twice daily dosing. The drug was also well tolerated, but the company did identify a maximum tolerated dose. In fact, when doses got too high there were limiting CNS side effects. This is in contrast to Z160 where Zalicus saw very limited side effects and incredible tolerability. It's important to note companies want to see dose-limiting CNS side effects. That confirms the drug is hitting the target organ. With Z160, no dose-limiting side effects should have been a clue that the efficacy wasn't there. Water has no dose-limiting CNS side effects!
The Phase 1b study utilized state-of-the-art experimental clinical model measuring Laser-Evoked Potentials (LEP) following administration of capsaicin or exposure to UV light. The trial was designed to efficiently provide objective and subjective data on a drug's ability and modulate neuropathic pain signaling. This provided management with better sense of the efficacy signal than with Z160. Data shows that Z944 reduced peak-to-peak amplitudes in both neuropathic (capsaicin) and inflammatory (UV) pain models (see graphs below taken from the company's investor presentation). The drug also reduced subjective VAS pain scores for both models, with the highest dose of 80mg comparing well to preclinical data on Pfizer's Lyrica (pregabalin).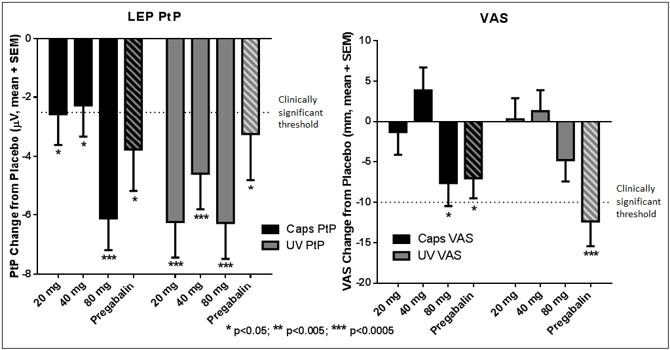 Heading into Phase 2 Zalicus has a better sense of the objective and subjective endpoints and complete profile of Z944 compared to Z160. As noted above, management will proceed into smaller Phase 2a studies to further qualify the efficacy. We note that the 80mg dose cohort of Z944, the one that compared the best with pregabalin on neuropathic pain signals, did have four serious adverse events. In total, 16 patients in the 80mg cohort had 47 total adverse events, 21 mild, 22 moderate, and four severe. One patient had to discontinue due to a severe CNS-related SAE. Therefore, before Zalicus can truly proceed forward with Z944 they will need to modify the formulation from the current profile to an extended-release profile. Management believes this "smoother" pk curve should eliminate many of the adverse events and allow them to push forward into future clinical studies with the drug.
Disclosure: I have no positions in any stocks mentioned, and no plans to initiate any positions within the next 72 hours. I wrote this article myself, and it expresses my own opinions. I am not receiving compensation for it (other than from Seeking Alpha). I have no business relationship with any company whose stock is mentioned in this article.