By David Russell
Starwood Hotels & Resorts Worldwide (HOT) is moving straight up, and the bulls are chasing it higher.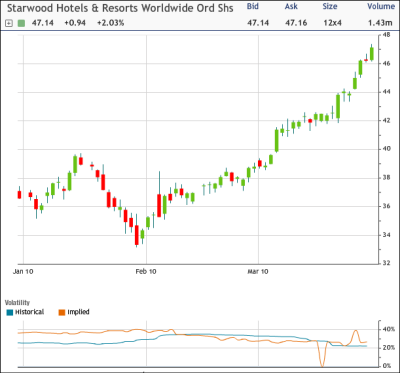 optionMONSTER's Heat Seeker tracking system detected heavy buying of the April 48 calls, which traded 5,037 times against open interest of 156 contracts. All of the institutional-sized purchases occurred for $0.65 after the stock pulled back from an initial surge early in the session.
HOT rose 2.03% to $47.14 in morning trading and is up 22% in the last month. The hotelier has been exploding higher on signs of an improving economy and amid positive comments by debt and equity analysts.
The company raised its full-year guidance the last time it reported results on Feb. 4. Its next earnings release is scheduled for the premarket on April 29.
Today's call buyers are apparently betting that the stock will rally into the next release. They need to see HOT climb another 3-4% by expiration to earn a profit.
Overall options volume in the name is running at more than twice its average pace today. Calls outnumber puts by almost 9 to 1.
(Chart courtesy of tradeMONSTER)