2013 was a great year for stocks overall but not for most stocks in the Basic Materials sector and the Gold industry in specific. Goldcorp Inc (GG), the focus of this article, began 2013 at almost $40 per share and closed out the year at $20. Barrick Gold Corporation (ABX) started 2013 at $35 and ended the year at $17. Basic math tells us both stocks lost 50% of their "price" in 2013. Note that we didn't say "value".
Price is what you pay for a stock and value is what the business is worth. For investors with a long investing horizon, Goldcorp seems to be a reasonable risk/reward play right here and this article presents a few positive aspects for Goldcorp. Let us get into the details.
Dividend Yield: Goldcorp currently pays a monthly dividend of 5 cents per share, which equates to a yield of 2.6% as of this writing. Goldcorp's well known peer and rival Barrick Gold Corporation has a yield of just 1.10%. The increasing yield the chart below shows has been a result of falling share price plus dividend growth, which brings us to the next point.

(Source: YCharts.Com)
Dividend Growth: According to Yahoo Finance, Goldcorp has been paying dividends since 2008. It gets even better when you consider the fact that the company has managed to pay increasing dividends each year since then. The table below shows the yearly increases. The average is a bit skewed due to the bump in 2011 but the major point here is that the company has been paying more each year and will likely continue the trend in 2014.

To top it off, Goldcorp is a monthly dividend payer and this has a positive impact on compounding for those who reinvest dividends over the long run.
Valuation: Everyone knows about PE and its usage in evaluating stocks. As helpful as it is, there are some scenarios where PE doesn't help. In cyclical businesses like Goldcorp's, almost all companies go without earnings/profits periodically. In such cases, using PEG and Price/Sales might be better. Goldcorp's 5 year expected PEG is 2.52 versus Barrick Gold Corporation's 3.67. Goldcorp however loses out to Barrick Gold in Price/Sales comparison but that is based on trailing twelve month numbers while the PEG number mentioned is forward looking.
J.P. Morgan Upgrade: It doesn't hurt to have the "big boys" in your corner when things are turning around for a stock. J.P. Morgan recently recommended quite a few mining stocks and Goldcorp is one of them. According to the article linked above, "Goldcorp has very deep pockets to withstand a profit drought while gold prices recover." This should convince investors about the company's dividend payments as well as funding its own operations while waiting for the cyclical turn around.
Price Target and Estimates: Goldcorp is expected to grow earnings at 10% per year over the next five years and has a mean price target of $27.5 according to Yahoo Finance. That's an 18% upside from here, not including dividends.
Historical Lows: This goes hand in hand with the J.P Morgan upgrade mentioned above. One of the prime reasons J.P Morgan recommended the miners is that quite a few of them are trading at historical lows. Goldcorp has lost close to 60% from its peak price of $56 shown below to the present $23 level. That by itself does not make the stock a buy but we are talking about cyclicals and cyclical experts love bottom fishing.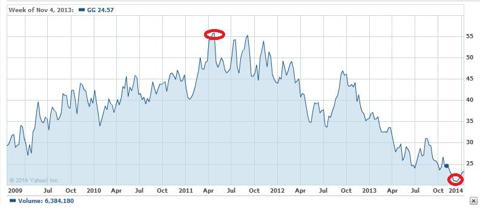 (Source: Yahoo Finance)
Technical Indicator: Needless to say, all the selling indicated in the chart above pushed the stock's Relative Strength Index [RSI] to below 30 quite a few times in the recent past. The stock's RSI is now moving into the 40s, suggesting that it is starting to garner strength.
Conclusion: In a nutshell, if you are looking for stocks in the value and bargain bin in a record breaking market, miners will be a good starting point. Goldcorp stands out for its:
Yield of 2.6%, which handily beats the S&P's yield.
Dividend growth, with an increase on its way in 2014 most likely.
Valuation, Historical trends and Technical indicators.
Potential 20% return.
Support from the big leagues.
Disclosure: I have no positions in any stocks mentioned, but may initiate a long position in GG, over the next 72 hours. I wrote this article myself, and it expresses my own opinions. I am not receiving compensation for it (other than from Seeking Alpha). I have no business relationship with any company whose stock is mentioned in this article.